Visitors Can Now Tip You Directly With the Donation Box in 'New Horizons'
With the 2.0 update, players can now craft and add a donation box to their island – but what is it used for? Here's what to know and how to get it.
With the 2.0 update in Animal Crossing: New Horizons, thousands of new items and DIYs have been added to the game that has captivated players for more than a year now. There's an immense community of Animal Crossing players online who share their custom design codes, builds, and other ways to get creative with your island.
One of the new items added in the 2.0 update is the donation box, but what is it used for, and how do you acquire it?
Article continues below advertisement
What is the donation box?
Since New Horizons was released at the start of the COVID-19 pandemic, it quickly became a way for many players to connect with others. By visiting friends' islands and having parties or other celebrations, players were able to hang out without ever meeting in person.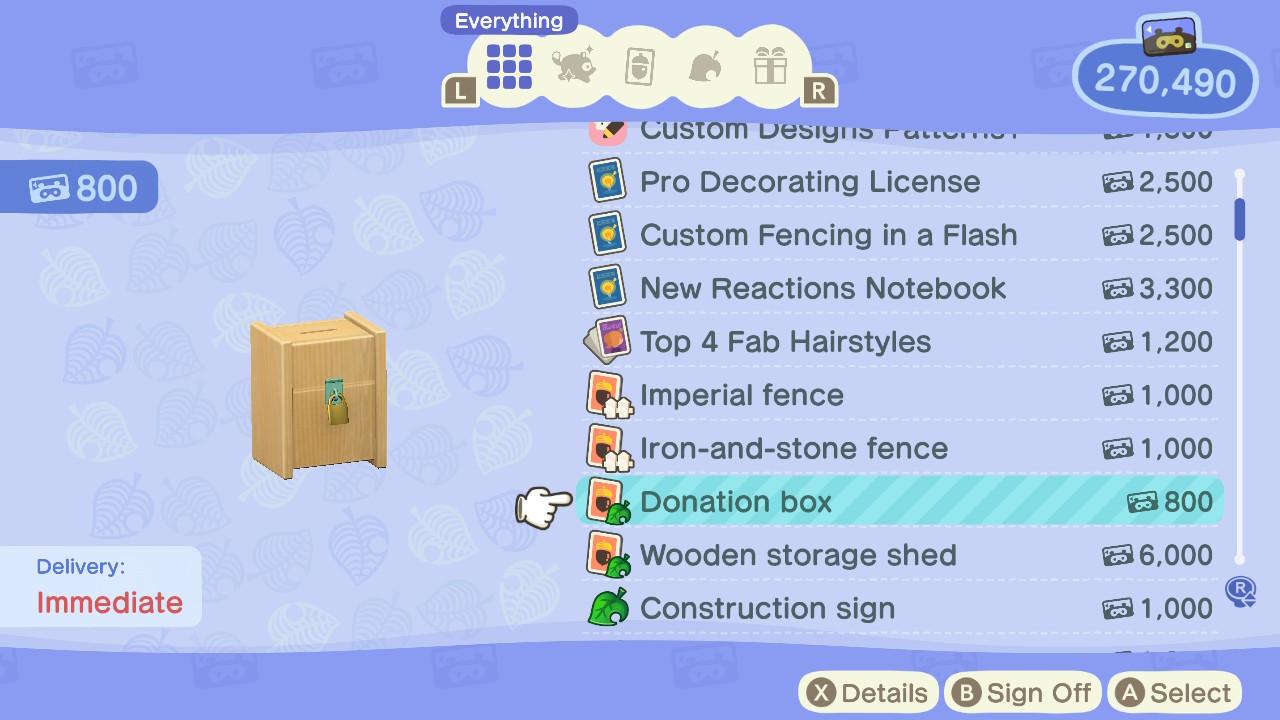 Article continues below advertisement
This, partially, is what led to such a robust Animal Crossing community online. Whether you're looking to catalogue an item you just can't seem to get your hands on, or are looking to sell your turnips for top dollar, there's always someone online who's more than willing to help you out with whatever you need.
But as a courtesy to the players who open their gates for strangers online, many have begun tipping, either with Bells or Nook Miles tickets. When visiting someone's island (especially the island of someone you don't know in real life), it's become courtesy to leave a couple thousand Bells or some Nook Miles tickets as a way to say thank you for the hospitality. Typically, users would just leave the bags of Bells or the tickets on the ground of the host's island before leaving.
Article continues below advertisement
But depending on how many visitors the person decides to invite to their island in one go, this can easily become chaotic, and some users have had issues with other visitors stealing the tips left behind for them.
The donation box fixes that issue, offering visitors an opportunity to donate 1,000 Bells at a time to the host. To donate, all you have to do is walk up to it and select "Donate 1,000 Bells." You can do this as many times as you'd like, depending on how large of a tip you want to leave.
Article continues below advertisement
Unfortunately, you can't leave Nook Miles tickets in these boxes, so any donations of those will still have to be left on the ground of the hosting party's island.
If you're the one setting up the donation box, all you have to do is interact with it and select "Withdraw Bells" to receive the donations others have left for you.
How to get the donation box in 'New Horizons.'
Acquiring the donation box is actually incredibly simple. All you have to do is visit the kiosk in Resident Services and select "Redeem Nook Miles." Here, you can purchase the DIY recipe for the box for only 800 Nook Miles.
The donation box only requires four wood and four softwood to craft, and can be placed anywhere on your island. It also comes with three different finish options and the option to add stickers (or custom designs), to go along with your island's aesthetic.