Josh Duggar's Family Members Speak out After His Arrest: "It Is Very Sad"
The Duggar family statements show the '19 Kids and Counting' family is "disturbed" after Josh Duggar was arrested on child pornography charges.
Trigger warning: This article covers topics of sexual assault, child abuse/pedophilia, and abuse.
The Duggar family of 19 Kids and Counting and Counting On has spoken out via statements to the press after Josh Duggar, the eldest son of Michelle and Jim Bob Duggar, was arrested in Arkansas on Thursday, April 29.
Article continues below advertisement
Josh was arrested on federal charges, one count of receipt of child pornography and one count of possession of child pornography, according to the U.S. Attorney's Office in the Western District of Arkansas, per CNN.
A statement from the U.S. Attorney's Office alleged that the former reality star downloaded material depicting sexual abuse of children under the age of 12, and that he faces up to 20 years in prison and fines of up to $250,000 if convicted.
Jim Bob and Michelle Duggar posted a statement on their family's website.
On April 30, 2021, Jim Bob and Michelle posted the "Duggar Family Statement" on their family website. "We appreciate your continued prayers for our family at this time," the statement read. "The accusations brought against Joshua today are very serious. It is our prayer that the truth, no matter what it is, will come to light, and that this will all be resolved in a timely manner. We love Josh and [his wife] Anna and continue to pray for their family."
Article continues below advertisement
Jinger Duggar's statement revealed she and Jeremy were "disturbed."
Jinger Vuolo (née Jinger Duggar), the fourth daughter of Michelle and Jim Bob, and her husband, Jeremy Vuolo, posted their own statement via joint Instagram posts on Friday. "We are disturbed to hear of the charges against Josh," they wrote. "While this case must go through the legal system, we want to make it clear that we absolutely condemn any form of child abuse and fully support the authorities and judicial process in their pursuit of justice."
Article continues below advertisement
Jill Duggar released a statement, too.
Jill Duggar Dillard, the couple's second daughter, and her husband, Derick Dillard, offered a statement to People on Friday, telling the magazine, "We just found out this information yesterday. It is very sad."
Jessa Duggar said she was "saddened" in her statement.
On May 1, Jessa and her husband Ben Seewald released a statement about Josh via Instagram.
"We are saddened to hear of the charges against Josh," they wrote. "As Christians, we stand against any form of pornography or abuse and we desire for the truth to be exposed, whatever that may be. Our prayers are with their family as they walk through this difficult time."
Article continues below advertisement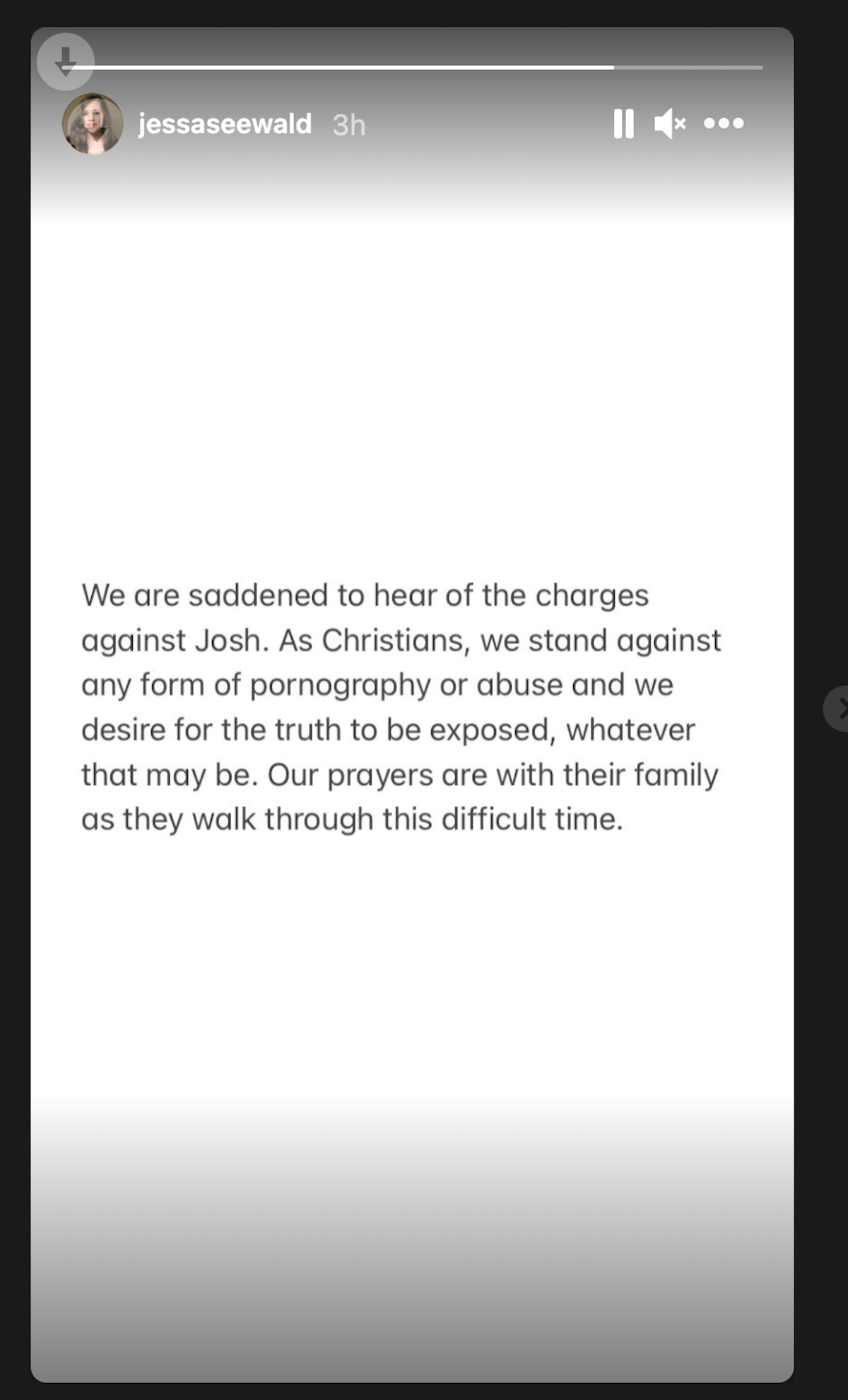 Here's Josh Duggar's attorney's statement.
Josh's attorneys Justin Gelfand, Travis W. Story, and Greg Payne emailed a statement to CNN, writing, "We intend to defend this case aggressively and thoroughly. In this country, no one can stop prosecutors from charging a crime. But when you're accused, you can fight back in the courtroom — and that is exactly what Josh intends to do."
Article continues below advertisement
This isn't the first time Josh has been in the middle of a scandal: TLC canceled 19 Kids and Counting in 2015 amid the news that Josh was investigated for the alleged child molestation of six people when he was a teen, according to People. Jill and Jessa, Michelle and Jim Bob's third daughter, later came forward as victims, the magazine adds. Josh was not charged for those alleged crimes, CNN reports.
Article continues below advertisement
Josh pleaded not guilty to the two new charges on April 30 in a Zoom court appearance from the Arkansas detention center, where he is awaiting a bail hearing, per People. U.S. Chief Magistrate Judge Erin L. Wiedemann said if Josh is awarded bail, he will have to stay "in a residence where there's no minor in the home."
If you need support, call the National Sexual Assault Hotline at 1-800-656-4673 or visit RAINN.org to chat online one-on-one with a support specialist at any time.