"This Is Giving Diabetes" — Dunkin' Employee Exposes Customer's Bizarre Coffee Order
In a now-viral video on TikTok, a Dunkin' employee shared what she thought was a crazy, disgusting coffee order from a regular customer.
If you've ever thought you had a wild coffee order, think again because this Dunkin' regular customer we're about to discuss makes your drink request look normal AF. No, seriously, this older woman is coming for the title of "Craziest Coffee Order," and we don't think anyone will ever dethrone her.
Article continues below advertisement
On Oct. 16, 2023, TikTok creator and Dunkin' employee Jennalee (@therealjennalee) shared that this woman always asks for 14 pumps of flavored, sugary syrup in her large iced coffee, along with whipped cream and caramel drizzle. We don't know about you, but we think we would die if we had just a sip of this.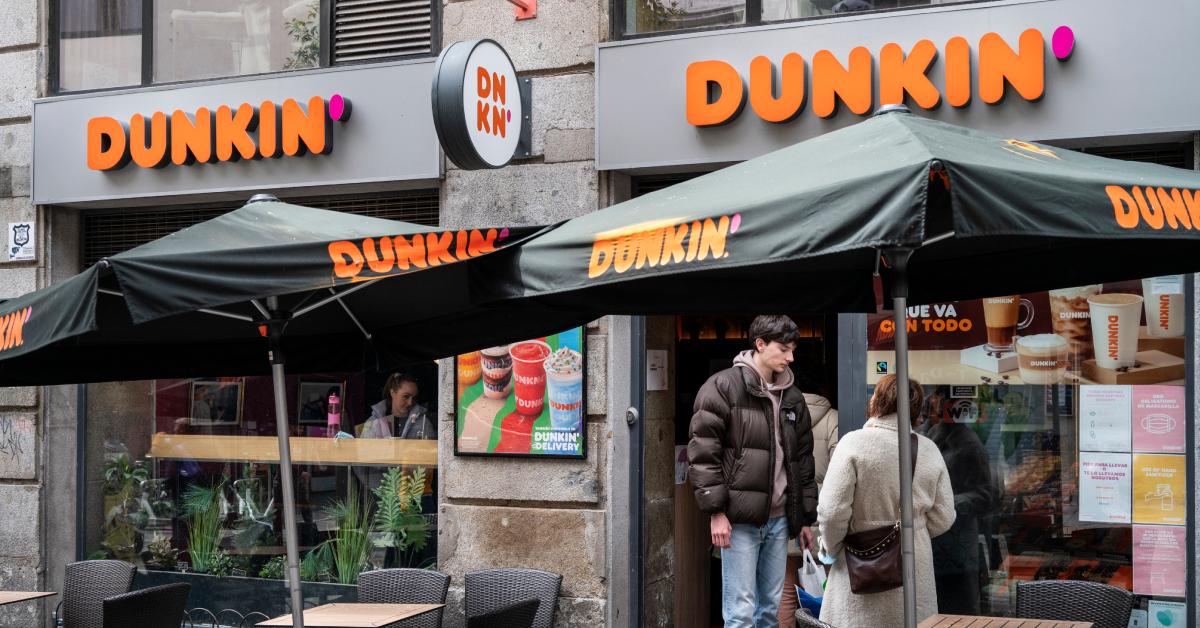 Article continues below advertisement
A Dunkin' employee exposed a regular customer's crazy coffee order.
Jennalee began the video by claiming that the order on the receipt "made my chest hurt." The order in question was a large iced original coffee with seven pumps of Caramel Swirl and seven pumps of Butter Pecan Swirl. Wow, talk about a sugar overload! We hope this customer ate ahead of time because a drink like that can do some serious damage.
Like any normal person, Jennalee couldn't believe someone would actually order this. Nevertheless, she prepared the drink and said, "So she comes all the time and orders this, right? And I usually be like side-eyeing her because butter pecan is sweet as hell. But I'm about to show you guys what it looks like in the cup, with all the swirls that she wants."
Article continues below advertisement
"Right? This is it," Jennalee added before showing off a large cup that's nearly halfway filled with just syrup. "And I can only smell the butter pecan, I can't even smell the caramel. ... She doesn't get any sugar, thank God, 'cause it's full of sugar ... I'm gonna make the drink 'cause I'm gonna actually try it for you guys."
Article continues below advertisement
Jennalee dumped ice into the cup and poured in a hefty amount of cream. She told her followers, "These orders [have] been crazy for these past two days. But this is just swirls, this looks [like] a mess. She does get cream, she gets cream, so look what's left for coffee." She then pointed out that most of the cup was already filled, leaving little room for the actual coffee. Ugh, but that's the best part!
"She also gets whipped cream and caramel drizzle on top," Jennalee said as she mixed up the overly sweet drink, "and every time she orders her coffee she's like, 'Fresh coffee, please!' Girl, like I'm gonna go brew a whole entire batch of iced coffee, which takes like six minutes ... 10 minutes to brew, just to make you a large iced coffee. You're getting the coffee that's already brewed that's sitting here, OK?"
Article continues below advertisement
Jennalee continued, "So we're gonna put the whipped cream, this is what it looks like stirred up, I know this is giving like diabetes but, and she's older too, so like for her to get all of this… like, woo, Lord."
Article continues below advertisement
At last, she topped the drink off with whipped cream and caramel drizzle — then it was time to taste this bizarre (and gross) concoction. "This is what it's hitting for. It's pretty, but seven caramel and seven butter pecan? That's crazy," she said. "At least she doesn't add sugar in it." Jennalee took a sip, and as expected, she despised its flavor.
Before the now-viral video ended, however, Jennalee called out the commenters who were bashing her for criticizing customers' orders. She turned off the replies for this particular clip, and we think this might've been the reason why.
Article continues below advertisement
"So I had somebody comment was like, 'Oh, just do your job. Why are you complaining?'" Jennalee explained. "I'm not complaining. I'm surprised at what people put in their drink and the amount of what they put in their drink, it's never a complaint. I chose my job. So, I'm not complaining, I'm just showing y'all other people's drinks, that's what I've always done on here. If y'all don't like it, y'all don't have to watch."
What do you think? Would you try this sugary coffee order? Let us know!