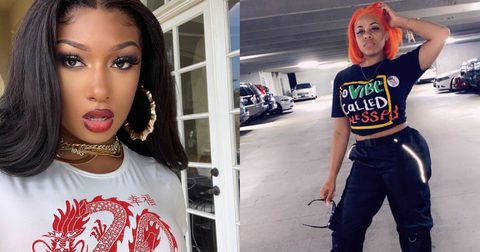 Eazy E's Daughter Is Upset With Megan Thee Stallion's New Song
By Katie Garrity

Updated
Megan Thee Stallion has become a household name in the world of hip-hop after her song "Savage" became a viral dance trend on the mega-popular social media app, TikTok. She did give us all "Hot Girl Summer" prior to this, but "Savage" is what has truly set her apart. She even got the Queen B herself, Beyonce, to rap on the remix.
Megan Thee Stallion is ready to drop a brand new single at the stroke of midnight that samples the late rapper, Eazy-E, and his song "Boyz-n-the-Hood" — much to the chagrin of his daughter, ReeMarkable.
Megan Thee Stallion announced the single just hours before release.
The Houston, Texas rapper shared a brief snippet of her upcoming track on her Instagram just hours ahead of its release. On the snippet, a listener can clearly hear that she's sampling Eazy E's classic 1987 hit "Boyz-n-the-Hood."
Eazy-E's daughter, ReeMarkable, spoke up about her frustration with the song.
ReeMarkable, who is also a rapper and hip-hop artist, stated in a video on Instagram that she has trouble getting the right to use her father's records, but somehow other artists are able to do so without an issue.
In the caption to her clip, she wrote, "So tired of the bullsh*t games we gotta keep playing , I'm done being quite [sic] ! We want involvement when it come to our daddy , tired of my sister crying about the unfairness," ReeMarkable said, "I'm fed the f*ck up ... WE EAT OFF NOTHING MY DADDY LEFT BEHIND."
She also mentioned in the video that Eazy-E's children want to "be apart of the legacy." Eazy-E died from complications due to AIDS when ReeMarkable was just a little girl.
Eazy-E's other daughter, Ebie, showed support for Megan.
Eazy-E's other daughter, Ebie Wright, released a video in which she praised Megan Thee Stallion and other artists who pay homage to her father by using samples of his music.
She said that she doesn't feel that her father has "gotten the proper respect" that he deserves, and she dismisses ReeMarkable's comments by saying that she just "popped up" and Eazy-E didn't even know her.
Ebie, aka Erin Bria, was also involved in a working documentary that told a different side to her father's life and eventual death. "You're gonna see a lot more of my dad's life, stuff that you didn't really get to see in the movie, touch on a lot more things that people don't know about him," she says of the film, A Ruthless Scandal: No More Lies.