Emme Rylan and William deVry Are Reportedly About to Leave 'General Hospital'
Is Emme Rylan leaving 'GH'? The actress made her debut on the show in 2013. She has become practically synonymous with Lulu Spencer's character.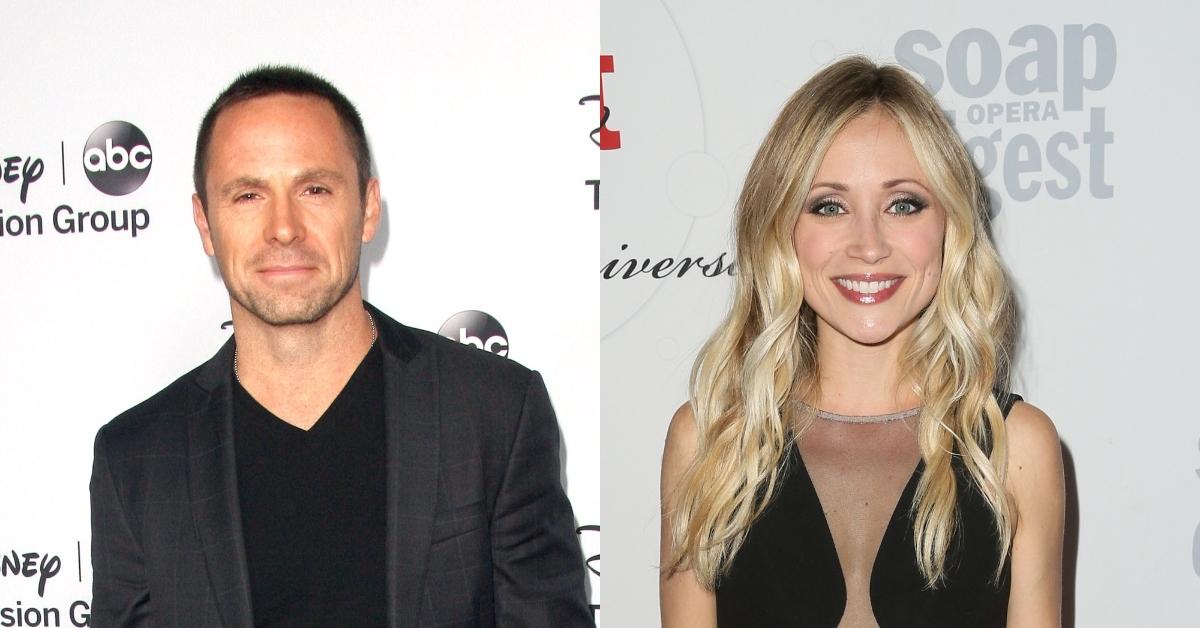 Things are about to get heated over at General Hospital.
According to a fast-spreading rumor, Emme Rylan, the actress playing Lulu Spencer, might be the next star to depart from the show. She posted a teary-eyed photograph of herself on Instagram on Tuesday, Oct. 27, 2020, further fueling the increasingly widespread suspicion. Some believe that her co-star, William deVry, is facing a similar predicament as well. So, what's the truth? Are the stars leaving GH?
Article continues below advertisement
So, are Emme Rylan and William deVry about to depart from 'GH'?
Emme and William joined the star-studded cast of GH in 2013, and they have become mainstays on the show. While Emme replaced the extraordinarily talented Julie Berman in Lulu's role, William was given the mighty task of portraying two-faced ex-mobster Julian Jerome. As the latest fan theory has it, however, Emme and William might be on the cusp of getting fired.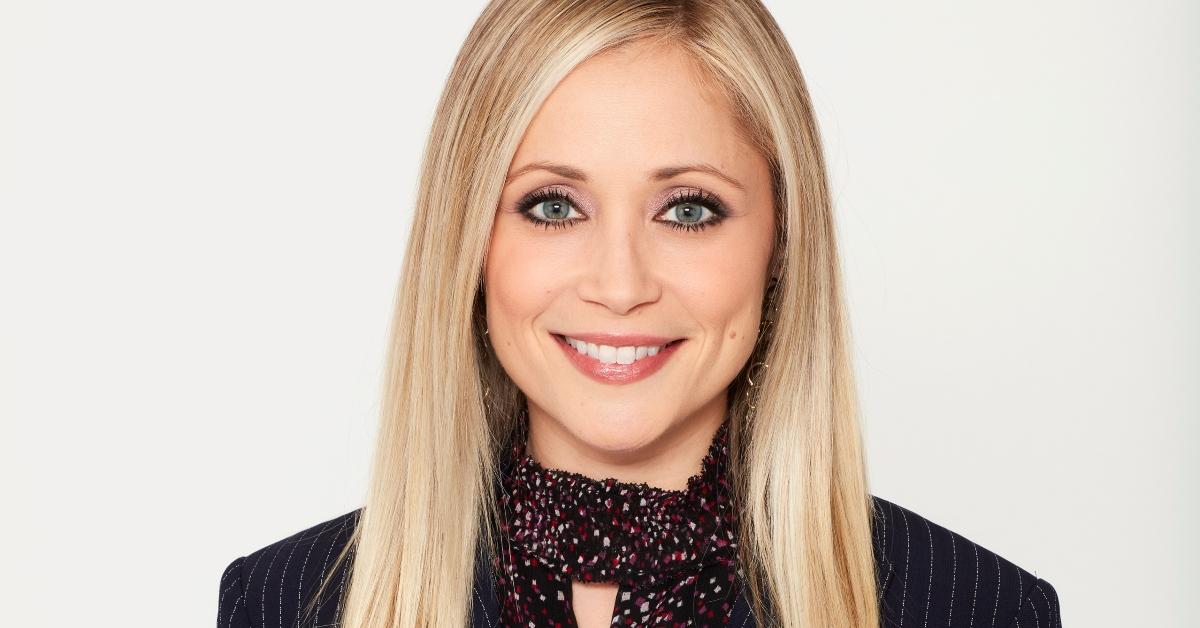 Article continues below advertisement
The reasons behind the supposed decision aren't entirely clear. A new article by Daytime Confidential hypothesizes that Emme and William might be facing the impending threat of getting axed due to budgetary cuts.
Unfortunately, however, the report published by Daytime Confidential doesn't go into much detail about the circumstances surrounding the abrupt decision. Even worse, there's little information available on what would necessitate the simultaneous departure of the stars.
Article continues below advertisement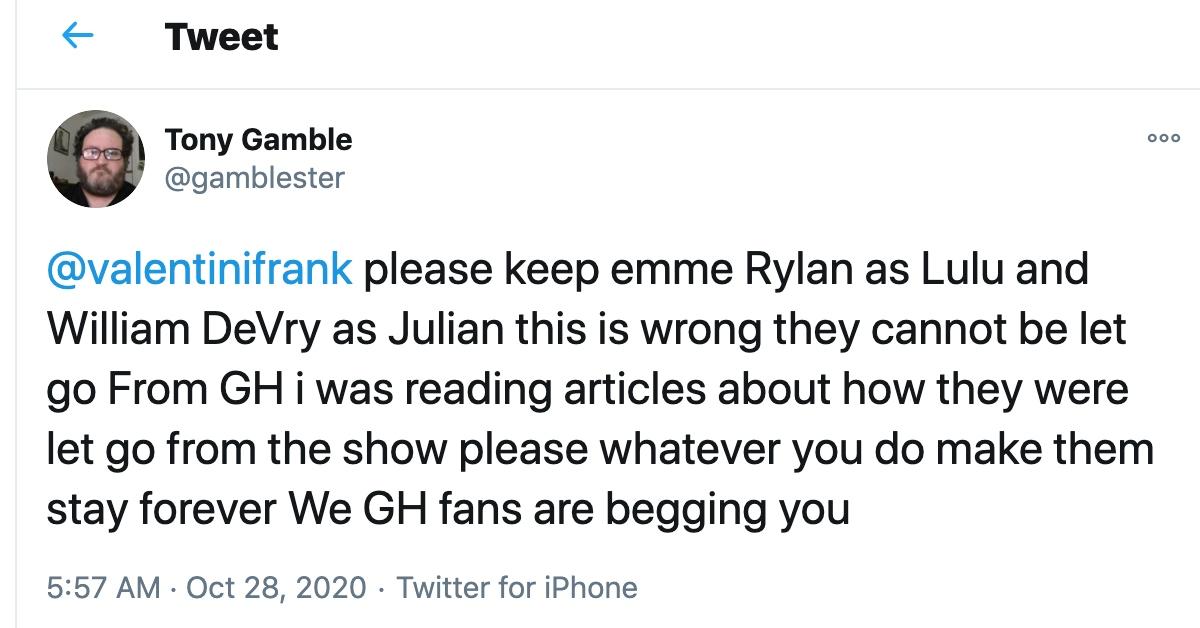 ABC has yet to issue a press release. Neither Emme nor William has addressed the rumors on social media. Frank Valentini, the executive producer of the show, has remained surprisingly quiet about the alleged developments as well.
Article continues below advertisement
Aside from an Instagram post, there's little evidence proving that the stars are about to leave 'GH.'
According to Celebrity Dirty Laundry, Emme's latest Instagram activity can be taken as evidence proving the validity of the rumors. The star posted a disheartening photograph that sees her and her family embrace in a tight hug — her eyes are notably teary in the photo — which some believe is in direct correlation with the potential changes taking place over at GH.
Emme's character, Lulu, and William's character, Jerome, are both embroiled in robust storylines — which would imply that their future on the show has been pre-scripted, with scenes ready to shoot.
Lulu is caught up in a love triangle between her husband, Dante Falconeri, who had at least one elaborate nightmare about shooting her, and her lover, Dustin Phillips (Mark Lawson). Big changes were supposed to happening for Jerome as well.
Article continues below advertisement
"This better not be true. Dante and lulu are the sole reason for me watching general hospital in the first place. Lulu spencer has been my favorite character. Also, the lante storyline is one of the only story lines right now that is interesting. This just doesn't make any sense," tweeted a person.
"@valentinifrank You are an idiot if you let William & Emme go!!! You are destroying the history of General Hospital and making lifetime viewers wanting to stop watching GH!!" wrote somebody else.
Article continues below advertisement
Let's take the new rumors with a pinch of salt — at least until the creators of the show address them directly.
Catch new episodes of General Hospital every weekday at 2 p.m. ET on ABC.