An Employee Had to Change Her Co-Worker's Colostomy Bag at Work, but It Gets More "Worrying and Upsetting" From There
A movie theater employee was inadvertently made to change her elderly co-worker's colostomy bag in an awkward and "upsetting" workplace interaction.
When you're an employee who is in semi-close quarters with other co-workers, you're bound to pick up on some of their habits, quirks, and even some unclean hygiene practices. One person might be a loud chewer and another might shake shake their leg up and down when they're bored. In worse scenarios, a fellow employee might even sneeze without covering their mouths. Unfortunately, this movie theater employee may have most folks beat in the unsavory co-worker interaction department.
Article continues below advertisement
In late May 2023, @cherrybombshe11 on TikTok posted several videos about an unlikely and unhygienic interaction she inadvertently had with her elderly and disabled co-worker. Reportedly, she was made to change her co-worker's colostomy bag, an external medical apparatus typically used by senior citizens in lieu of restrooms.
OP had uploaded one TikTok where she stated that she was "literally shaking and crying" after having had to change the bag, but the story apparently gets much worse.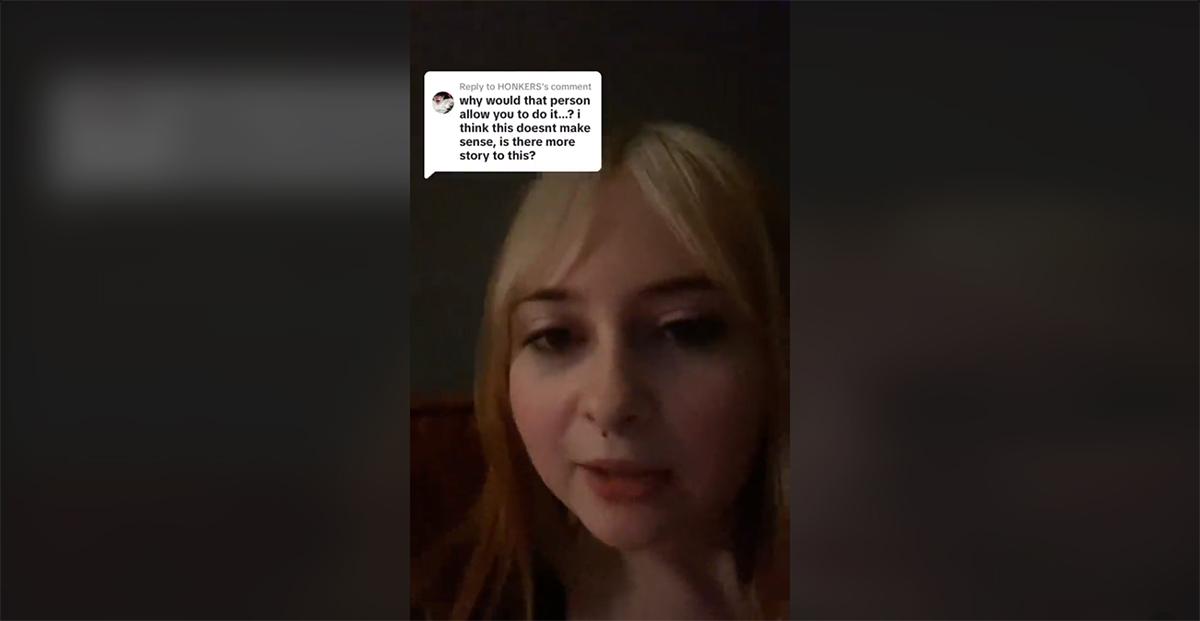 Article continues below advertisement
An employee had to change her co-worker's colostomy bag, but the situation gets murkier.
@cherrybombshe11 fully explains the situation in two videos. In the first, she reveals that she was led to believe by upper management that she was helping her elderly co-worker with a "lady problem" and presumed it had to do with a "pad." It wasn't until they were both in the bathroom together where the co-worker revealed that she was asking the young woman to change her colostomy bag.
"I was very shocked and anxious," OP recalls, having reportedly seen too much of her co-worker's private medical affairs.
While she initially tried to be respectful of her co-worker's privacy, OP began spilling the tea in a follow-up TikTok after her general manager looked into the situation.
"He said some things that were genuinely worrying and upsetting and made me 10 times more angry," she revealed, also stating that she no longer has any sympathy for her co-worker upon learning what she knows now.
Article continues below advertisement
Reportedly, this has been an ongoing issue. Many of her fellow employees have had to assist the elderly co-worker with her colostomy bag. Upper management has even been made aware of the situation multiple times, but still did not protect OP from going through the same thing. The elderly co-worker was supposedly even given the option to have her professional caretaker, someone who is physically and emotionally prepared to assist with these matters, come into her place of work and help her.
Article continues below advertisement
"Instead, she decided to put co-workers in a very unsafe, unprofessional position," OP claims.
She has attempted to contact her HR representatives about the situation, but as of this writing, she has not posted any more follow-ups.
Nevertheless, other TikTokers have sided with @cherrybombshe11 over her plight. One person in the comments section of her videos asked whether or not this was a biohazard, to which many replied that the whole thing borders on a labor violation.
Another person commented, "That's so unsafe. You have no training in changing that and it's literally dealing with biohazard."
In her video posted on May 24, OP has expressed that the entire conundrum may lead her to quit her job entirely.