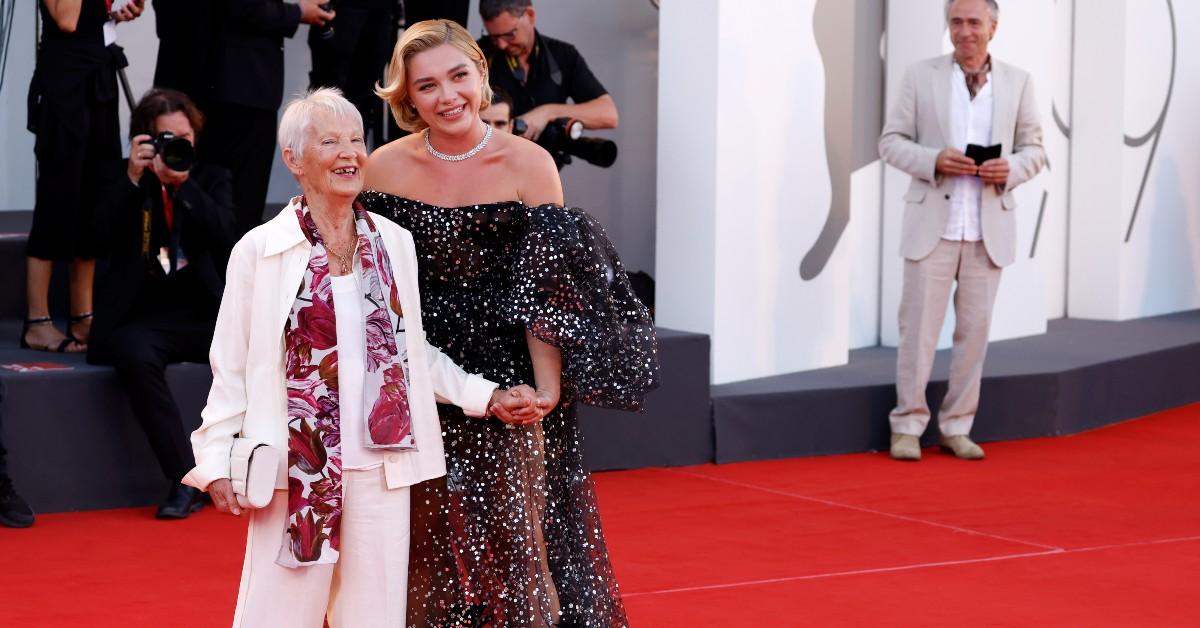 We Need to Talk About How Florence Pugh's Grandma Is Total Granny Goals
An icon made her red carpet debut at the 2022 Venice International Film Festival, with Don't Worry Darling star Florence Pugh by her side — and no, we're not talking about Olivia Wilde. We're referring to Florence's own grandmother, of course!
Florence wrote on her Instagram that her Venice International Film Festival moment with her grandma was "truly the most special moment [she has] ever had on a carpet."
Article continues below advertisement
So, who is Florence Pugh's stylish grandma? Florence referred to her as an "adventurer" in her adorable Instagram tribute. Here's all we know about Florence's grandma.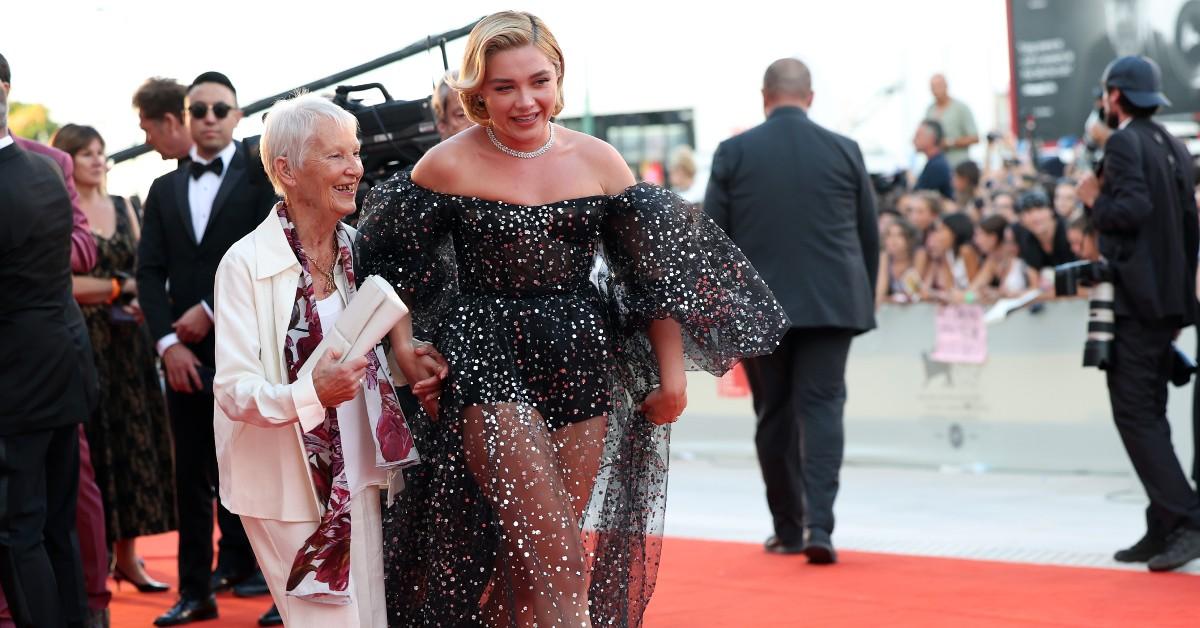 Article continues below advertisement
Details on Florence Pugh's grandma.
Apparently grandma Pat is quite the adrenaline junkie! Florence revealed in a moment during her guest appearance on Running Wild with Bear Grylls: The Challenge (via People) that Pat was jealous that she got to be on a Bear Grylls show.
Florence revealed in the show clip that, "My gran is a bit of an adrenaline junkie. ... We'd go climbing, and she still goes now. ... She's 85. She goes climbing with her friends." Pat even asked Florence to be invited along for the next Bear Grylls episode!
The clip jokingly transitioned to a shot of Pat in the woods on her daily dog walk, and Bear followed up with the joke, "Welcome to Running Wild with Florence and Granny Pat."
Can we say Pat is total grandma goals?
Article continues below advertisement
Florence also posted another cute pic with her grandma when she arrived at the Venice Film Festival.
Clad head to toe in her purple Maison Valentino outfit (you know, the same one that made the internet rounds when Florence was spotted drinking an aperol spritz in it without a worry in the world), Florence captioned the pic with, "I'm here. With Granzo Pat." The adorable film festival pics aren't the only times Florence has dedicated Instagram posts to her grandma, either.
Article continues below advertisement
Florence and her grandma have always been close.
In yet another adorable Pat post, Florence shared a snap of her walking hand in hand with her grandma: "She's elegance, she's grace, she's Granny Pat." Does anyone else want Granny Pat's hot take on the Don't Worry Darling gossip and tea? Because we needed it, like, yesterday!
We hope Pat had an Aperol spritz with Florence while her granddaughter skipped the Don't Worry Darling press conference. Wouldn't you rather spend time with Florence's grandma instead of dealing with drama?
Article continues below advertisement
Florence has actually been posting about her adoration for granny Pat for years on her Instagram. She posted a pic of Pat in the woods in March 2019, captioning it, "The lady. The real G. The legend Granny Pat."
Now that Granny Pat has renewed her passport, here's to hoping she'll make more appearances on red carpets with that famous granddaughter of hers, Aperol spritz in hand!