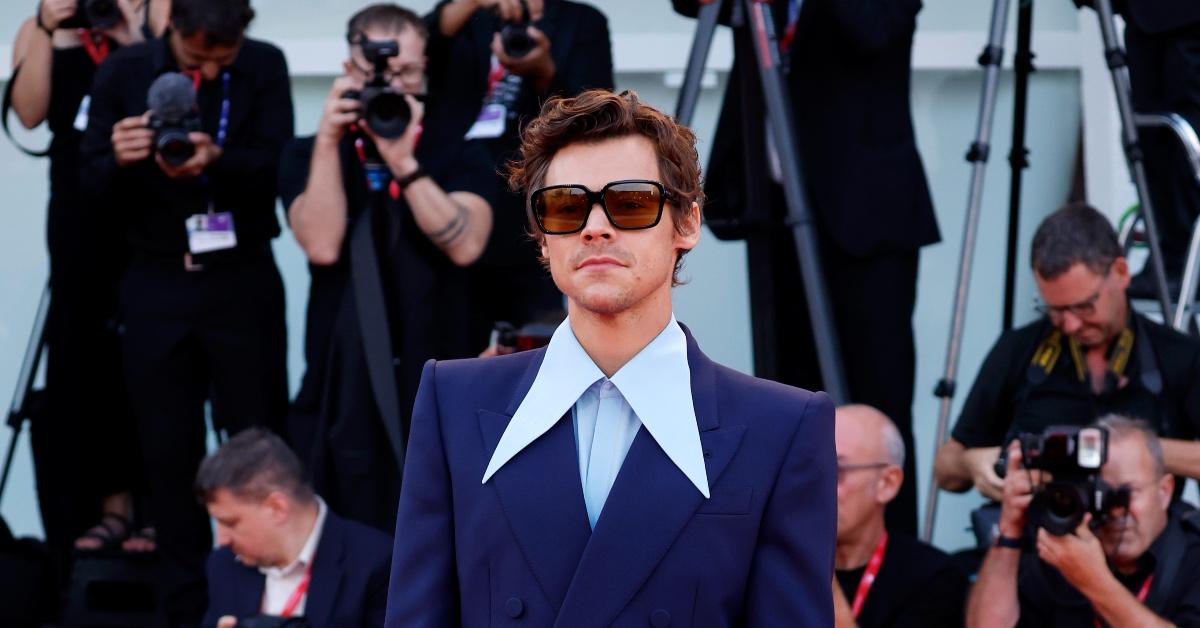 Harry Styles Addressed the #SpitGate Rumors at His Recent Concert
The premiere of Don't Worry Darling, held on Monday, Sept. 5, 2022, at the 2022 Venice International Film Festival, provided fans with plenty of food for thought.
Harry Styles, who plays Jack Chambers in the movie, sent the internet aflame by apparently spitting on his co-star Chris Pine at the prestigious event.
Article continues below advertisement
So, what actually happened? Did Harry's saliva get spontaneously lodged on Chris Pine?
Well, the musician made light of the brazen headlines at his most recent concert. Here's what you should know.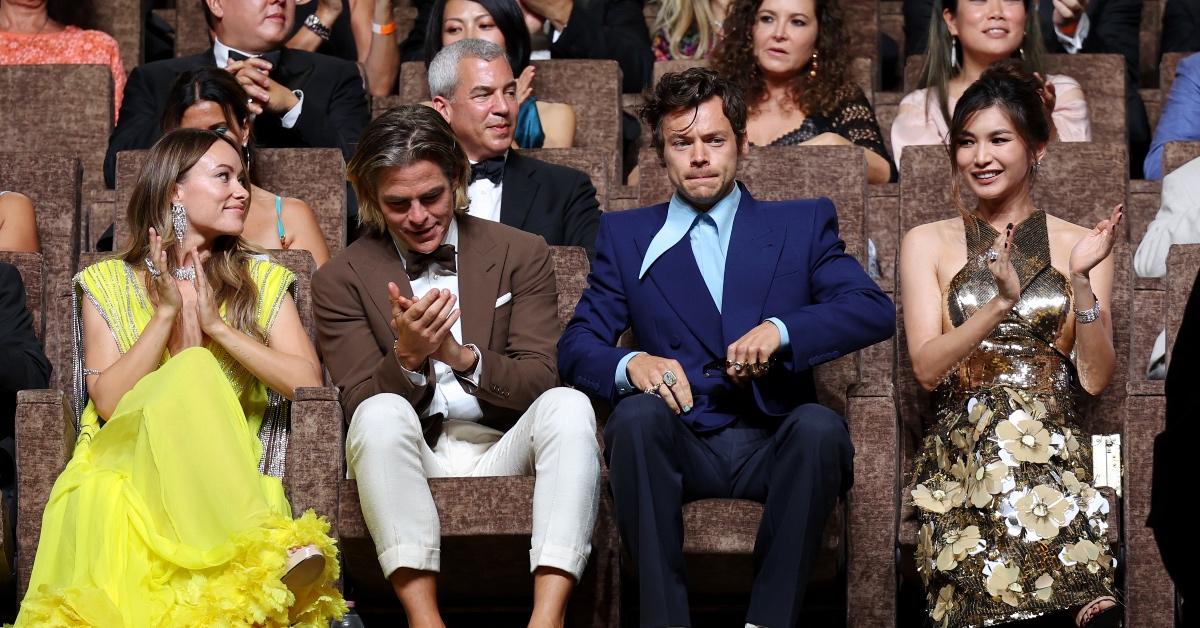 Article continues below advertisement
Some eagle-eyed fans claim Harry Styles spit on Chris Pine during the premiere of 'Don't Worry Darling.'
Harry and his partner, Olivia Wilde, arrived separately in Venice ahead of the premiere of Don't Worry Darling. The thriller appears to be cursed when it comes to promotional events.
Olivia was famously served custody papers at a CinemaCon presentation of Don't Worry Darling in the spring of 2022, and the film's star, Florence Pugh, was noticeably absent from the press conference for the movie at the festival, apparently due to her stringent shooting schedule for Dune 2 but also maybe due to a rumored feud with the director.
Article continues below advertisement
On top of all that, things seemed to be going less than smoothly between Harry and Olivia at the premiere event, possibly because of the video that surfaced concerning Olivia's attempt to keep problematic actor Shia LaBoeuf in the cast (in the role that eventually went to her now-beau, Harry).
Article continues below advertisement
Harry then made headlines by seemingly spitting on Chris just as he was taking his seat at the Sala Grande. Olivia appears to have taken notice of the odd gesture, but the videos circulating online don't provide that much detail on her reaction.
Harry Styles joked about the internet's claim that he spit on Chris Pine at the 'Don't Worry Darling' premiere.
While performing at Madison Square Garden on Wednesday, Sept. 7, Harry joked to the audience that he "just popped very quickly to Venice to spit on Chris Pine," per several fan videos.
Following the headlines that Harry hocked one at his co-star, Chris's rep told People magazine on Sept. 6 that the "ridiculous" story is "a complete fabrication and the result of an odd online illusion that is clearly deceiving and allows for foolish speculation."
Article continues below advertisement
"Just to be clear, Harry Styles did not spit on Chris Pine," the rep stated. "There is nothing but respect between these two men and any suggestion otherwise is a blatant attempt to create drama that simply does not exist."
Not too surprisingly, the Harry Styles spitting rumors brought about an onslaught of tweets and jokes. It was dubbed #spitgate.
As the internet went wild with speculation around whether the singer spat or not, Harry undoubtedly scored a meme-able moment — but his co-stars weren't resting on their laurels either.
Article continues below advertisement
"Watching the [timeline] try and break down the Harry Styles Chris Pine spitting allegations like it's the assassination of JFK," tweeted @zo1oft.
"I don't know how I'm supposed to focus on The Bachelorette when Harry Styles is out here spitting on Chris Pine," tweeted @BarstoolRia.
Article continues below advertisement
"There is a person out there who potentially has video evidence of Harry Styles spitting on Chris Pine walking around with what I can only describe as a modern-day Zapruder film in their pocket," tweeted @crispinophurs.
"Everyone is asking why Harry Styles spit on Chris Pine, and no one is asking why Chris Pine isn't spitting in my mouth!" tweeted @MrRandyHavens.
"The 'I did not spit on that man' notes app apology Harry Styles will soon be forced to tweet is already shaping up to be an all-timer," tweeted @been_herde.
Article continues below advertisement
Apparently, Harry Styles's go-to tour move also involves spitting and he has earned a nickname: "the whale."
Harry previously garnered controversy among fans by taking big gulps of water while performing a concert and spitting it back at fans during the COVID-19 pandemic, per the Daily Mail. Several compilations, which capture the move in its various iterations, are available on YouTube. Some date back to 2018.
Some fans ventured so far as to reference the whale in their tweets delving into the Harry Styles vs. Chris Pine controversy.
"I'm only disappointed Harry styles didn't do the whale over Chris Pine," tweeted @daniellemxfad.