7 Easy and Delicious Friendsgiving Recipes Courtesy of TikTok
From Snickers salad to cheesy creamed corn, these easy TikTok Friendsgiving recipes are sure to please a crowd. Read on for instructions.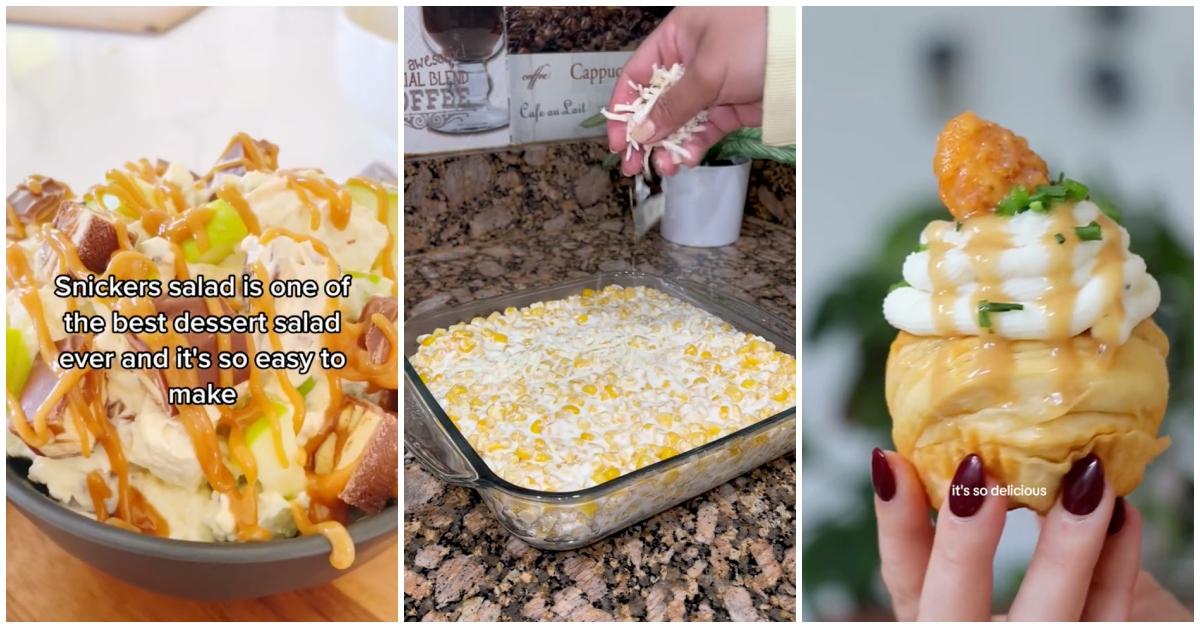 Friendsgiving is like Thanksgiving, except your grandma won't ask you why you're single and your uncle won't talk about politics. It's just a fun meal with the crew, the squad, or whatever you and your cronies go by.
Article continues below advertisement
Over the years, there has been much debate over Friendsgiving's origins. Some claim the show Friends birthed the idea in 1994 when the six pals all enjoyed an informal, but delicious Thanksgiving dinner together in Monica's apartment. However, the word "Friendsgiving" was never actually used in the episode.
Per Merriam-Webster, the term was first used in a tweet in 2007, although the exact definition still hadn't been ironed out.
That said, the idea of friends getting together for a potluck Thanksgiving meal known as "Friendsgiving" didn't officially take off until 2011. That's when Bailey's Irish Cream used the word in an ad campaign, which became a plot point on an episode of The Real Housewives of New Jersey.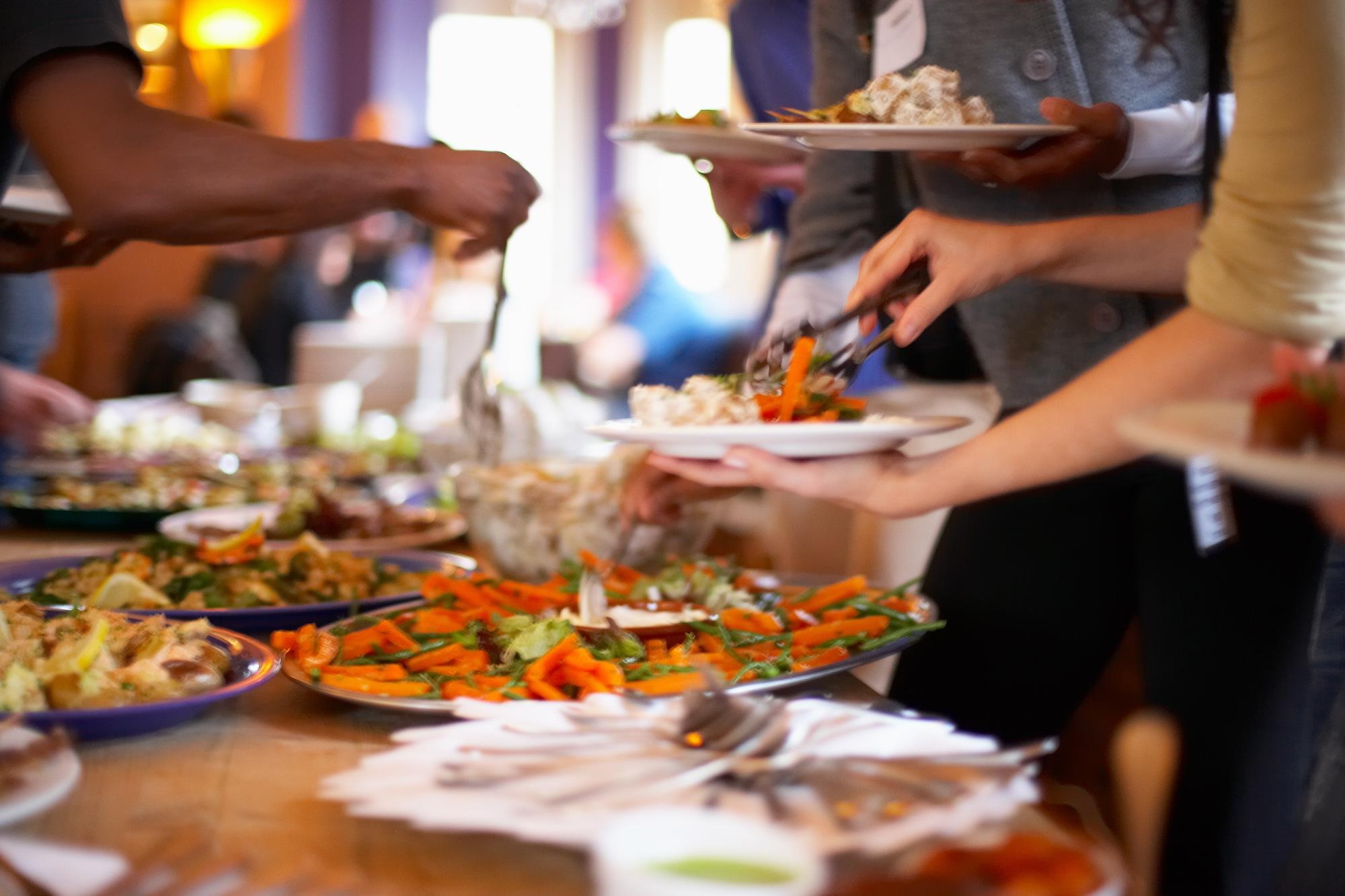 Anyway, the concept of Friendsgiving is that everyone brings a dish to share. Some friend groups may opt for takeout, while others prefer to make their own food. If you're looking to put your cooking and baking skills to the test, TikTok has you covered.
Savory Thanksgiving Cupcakes
Unlike your regular cupcakes, these savory Thanksgiving cupcakes from @naughtyfork are not for dessert. Instead, they are like a handheld Thanksgiving dinner.
Unfortunately, she does not include a recipe, but the base of each cupcake is a biscuit layered with cheese. For frosting, she uses buttered mashed potatoes and drizzles a gravy glaze on top. Then, she places a crispy popcorn chicken piece doused in honey butter as a cherry on top.
Article continues below advertisement
Easy Friendsgiving Mac and Cheese
Creator @misslegarda shows guests an easy Friendsgiving mac and cheese dish. She shares the full recipe on her Instagram page.
Cook 1lb of elbow macaroni.
In a skillet, melt 1/2 stick of butter w/ 3 tbsp all-purpose flour. Once it's golden add 3 3/4 cups warm heavy whipping cream.
Now add 1 1/2 cups of sharp cheddar, 1 cup of colby jack, 1/2 cup of smoked gouda, and 5 tbsp of cream cheese.
Article continues below advertisement
Season with dry mustard, smoked paprika, salt, paprika, nutmeg, cayenne, and garlic.
Once it's ready, mix in with macaroni with the cheese.
Bake for 15 minutes at 350 degrees, then broil until it's golden.
Article continues below advertisement
Baked Spinach Artichoke Dip
While Friendsgiving can feature a traditional spread, it doesn't have to. If you and your friends fancy Spinach artichoke dip, then by all means, have some during your meal. Luckily, @eatsbyramya has the best recipe, which you can view here.
Article continues below advertisement
Cheesy Creamed Corn
TikToker @latelylesly has got you covered with this fun recipe for her Cheesy Creamed Corn. She said she starts by melting 1/2 cup butter on the stovetop in her skillet. Then she cooked four 15 oz cans of whole kernel corn in the same skillet. As she cooked it, she sprinkled in salt for taste. Then she mixed in two cups of sour cream and sprinkled shredded mozzarella cheese on top.
Article continues below advertisement
Fall Bruschetta
TikTok user @thedailytayste shares a quick and easy recipe for autumn-themed bruschetta. As she explains in her video, start with baking mini garlic toasts per the instructions on the box. When they come out of the oven, spread goat cheese on top of each piece, and add a pear (or apple) slice, a piece of prosciutto, and sprinkle on parsley and hot honey on top.
Article continues below advertisement
Snickers Salad
It's salad so it has to be healthy, right? Wrong. The Snickers Salad is actually a very popular dessert option in the Midwest. It is made with vanilla pudding, green apples, Cool Whip, caramel, and Snickers bars. You can check out the recipe from @simplystacierecipes here.
Article continues below advertisement
Thanksgiving Charcuterie Board
Everyone loves a good charcuterie board! Although it may not require any baking or cooking per se, it does involve some visual flair. Follow @whatsfordinnerclub's lead as she assembles a stunning Thanksgiving charcuterie board with just a few items.