Fans Think They've Spotted Elsa's New Girlfriend in the New 'Frozen 2' Trailer
Disney dropped the new 'Frozen 2' trailer today, introducing us to a slew of new characters. Could one of those new characters be Elsa's new girlfriend? Here's what fans think!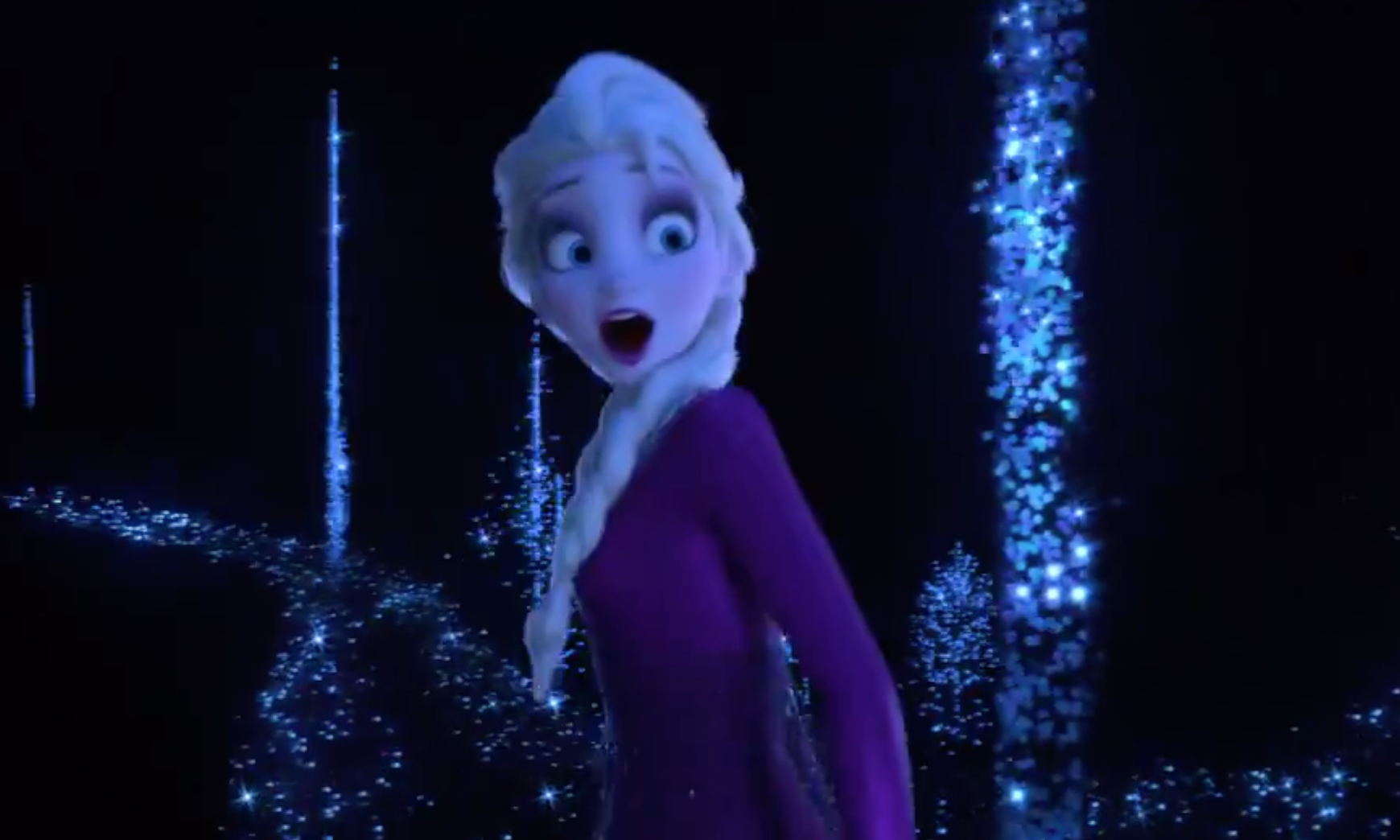 Disney blessed our first day of fall with a new Frozen 2 trailer, and we have never felt more ready for November 22. The new Frozen 2 trailer shows Anna and Elsa as children, their dad telling them a story about a magical place where something went terribly wrong (it involved foreboding purple mist).
Article continues below advertisement
In the new movie, Anna and Elsa go on an adventure to the Enchanted Forest to find out where Elsa got her powers — important information they need in order to save Arendelle from the same purple mist that destroyed the place Elsa and Anna's dad was talking about.
While there are plenty of new character in the trailer (Sterling K. Brown's Mattias and Anna and Elsa's mom Iduna, played by Evan Rachel Wood), some are wondering if one of the new characters, briefly shown, is Elsa's love interest.
Article continues below advertisement
Did the 'Frozen 2' trailer show Elsa's girlfriend?
We replayed the trailer a few times, and while nothing seems concrete, Frozen 2 does introduce a new female character for a second or two. Back in February when the first teaser trailer dropped, fans begged Disney to show Elsa's girlfriend so that we'd finally have a queer Disney princess.
Article continues below advertisement
Soon after the new Frozen 2 trailer dropped today, fans once again took to the Twitter to express their disappointment that Elsa isn't given a same-sex interest in the trailer.
Article continues below advertisement
BUT. Some think this new character is Elsa's girlfriend. So maybe there's some hope after all.
Article continues below advertisement
The character's name is Honeymaren (according to some IMDb sleuthing), voiced by Rachel Matthews, although we have no idea whether she's romantically involved with Elsa or not. We do know that she's part of the Northuldra group outside of Arendelle.
Article continues below advertisement
The Northuldra people, according to Good Morning America, just want to bring peace back to the Enchanted Forest. Honeymaren has a brother named Ryder (Jason Ritter) who has been longing to see what's beyond the Enchanted Forest but never has. Will Elsa bring both Honeymaren and Ryder back to Arendelle with her? Or will she stay with the Northuldra group?
Article continues below advertisement
Here's what we know about Elsa's sexuality.
The official answer from the film's director, Jennifer Lee? It's neither a yes nor a no. "I love everything people are saying [and] people are thinking about with our film―that it's creating dialogue, that Elsa is this wonderful character that speaks to so many people. It means the world to us that we're part of these conversations. Where we're going with it, we have tons of conversations about it, and we're really conscientious about these things," she told The Huffington Post back in 2018.
She added, "For me… Elsa's every day telling me where she needs to go, and she'll continue to tell us. I always write from character-out, and where Elsa is and what Elsa's doing in her life, she's telling me every day. We'll see where we go."
Article continues below advertisement
Hopefully Elsa told Jennifer that she would like a girlfriend for Frozen 2, please and thank you. It's not fair that Anna has had two relationships (the first was TERRIBLE, but still) in the first Frozen movie and Elsa is alone (romantically speaking). Not that there's anything wrong with being single! Elsa is a powerful, magical woman and doesn't need anyone to make her happy. But still...it would be nice to see some representation (and Elsa deserves love, too).
Watch the new Frozen 2 trailer here:
Article continues below advertisement
Frozen 2 hits theaters November 22.