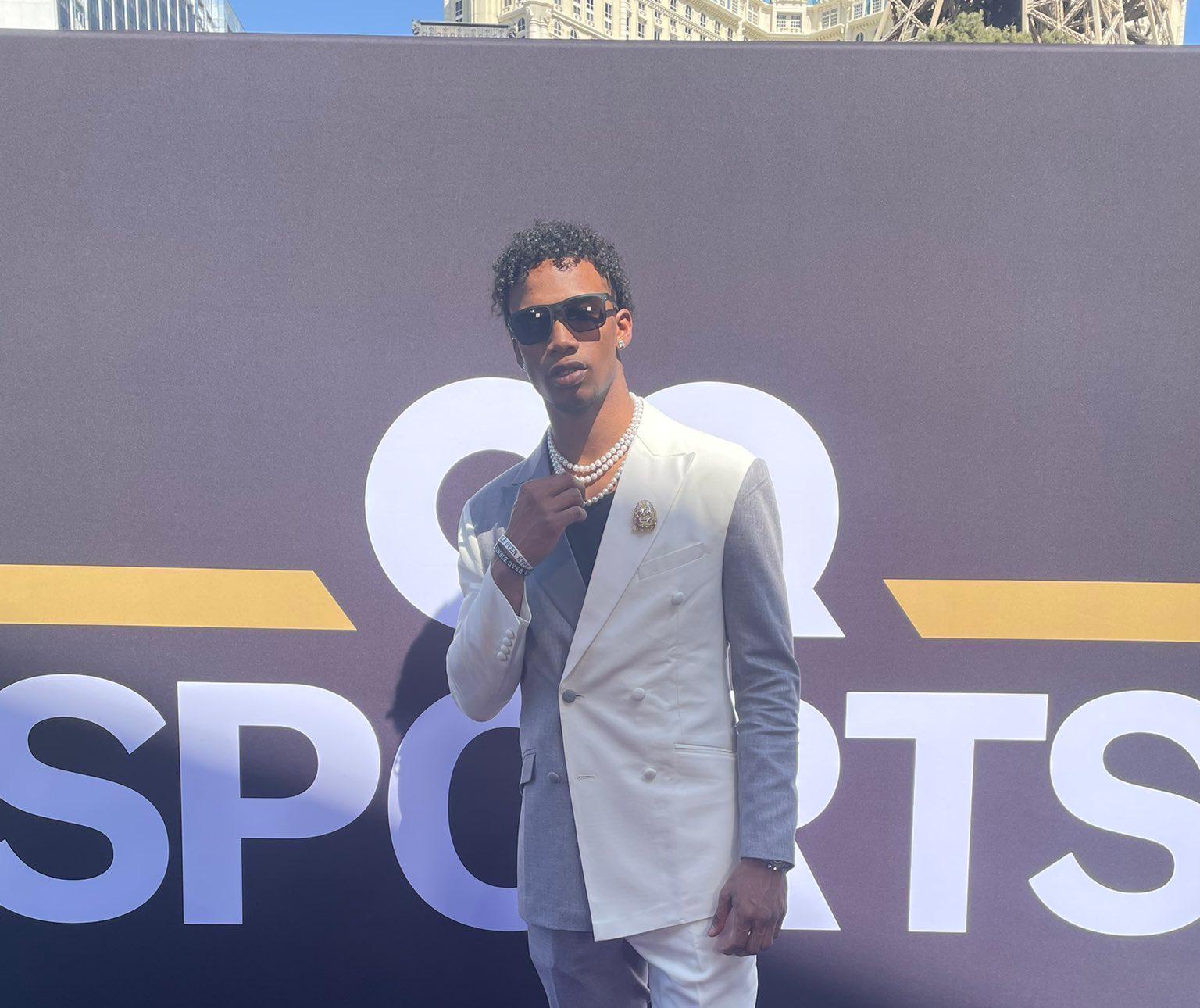 Garrett Wilson Joins the New York Jets in a Pearl Necklace at the NFL Draft
"With the 10th pick in the 2022 NFL draft, the New York Jets select... Garrett Wilson!"
Following NFL commissioner Roger Goodell's announcement, the former Ohio State wide receiver appeared to be talking on the phone (most likely taking the official draft call from the Jets) and smiling wider than the Cheshire cat.
Article continues below advertisement
As the 21-year-old began the unusually long trek from the green room to the stage to officially join the league, all anyone could focus on were the pearls he sported around his neck. Let's talk about them!
Article continues below advertisement
Garrett Wilson and his pearls were the talk of town at the 2022 NFL draft.
Let's be honest: Garrett Wilson deserves the title of best dressed at the 2022 NFL draft. Not only did he arrive in a two-toned Prada suit and chunky black boots, but he also rocked a three-tier pearl necklace (very Harry Styles, we must add).
Of course, the statement jewelry received mixed responses from NFL fans nationwide; some praised Garrett for rocking the stunning pearls, others claimed he looked ridiculous sporting his "granny's pearl necklace."
Article continues below advertisement
Nevertheless, several draft spectators commended Garrett for being so fashion-forward.
"Can we talk for a minute about the fact that a football player is wearing a multi-string pearl necklace for the draft. I LOVE seeing this! Go Garrett Wilson! Wear whatever makes you feel badass," one person wrote on Twitter. Another added that they have "lots of respect" for him, noting that it's inspiring to see an NFL player "challenge the traditional norms in the mainstream."
Meet Garrett Wilson's parents, Kenneth and Candace.
Sitting beside Garrett at the 2022 NFL draft were none other than his parents, Kenneth and Candace Wilson. Although he's kept relatively quiet about his family life, it's clear how much his parents support his career and passion for football.
Article continues below advertisement
In August 2020, Candace and several other Ohio State parents traveled to the Big Ten headquarters in Rosemont, Ill. and held a rally demanding "more transparency and communication" from the athletic conference during the COVID-19 pandemic. The group also protested the Big Ten's decision to postpone fall sports.