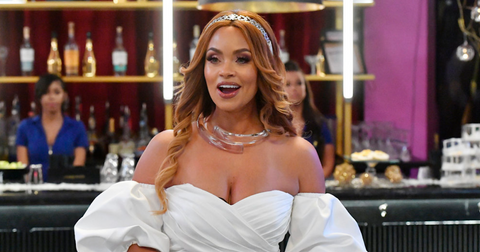 Gizelle Bryant Was Part of the Same Sorority as This Other 'RHOP' Cast Member
By Michelle Stein

Updated
When fans of The Real Housewives of Potomac think of what Gizelle Bryant might have been like during her college days, chances are that visions of her as a member of a sorority are prominent. But was Gizelle part of the Greek life scene when she attended university? Let's take a deep dive into how she — along with some of her other RHOP co-stars — spent her late teens/early 20s.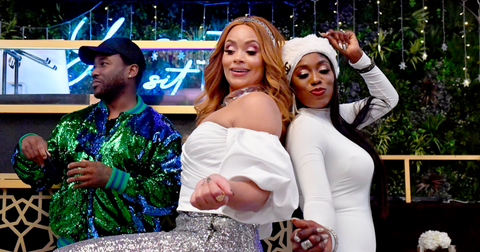 Was Gizelle Bryant part of a sorority?
Yes, she was! Gizelle spent her college years at Hampton University, where she earned a degree in marketing. And while she was there, the philanthropist/entrepreneur was an active member of the Alpha Kappa Alpha sorority.
Gizelle seems to still have a soft spot in her heart for her old sorority decades later, judging by a series of photo booth shots she shared via Instagram in 2015. The snaps featured Gizelle wearing an AKA shirt while striking various poses when she visited the campus for homecoming.
"Wind blowing photo booth...genius!" she captioned the post with a number of hashtags proclaiming her love for both Hampton University and her sorority.
Love my Sorors! The Ladies of Alpha Kappa Alpha!! 💚💕💚💕 #RHOP

— Gizelle Bryant (@GizelleBryant) June 18, 2018
Source: Twitter
Fellow 'RHOP' star, Dr. Wendy Osefo, was also a member of Gizelle's sorority.
Gizelle isn't the only RHOP cast member who was part of the Alpha Kappa Alpha sorority during their college days. That's because a relatively new member of their crew, Dr. Wendy Osefo, was also an AKA sister back in the day.
Osefo, who is a political commentator as well as a professor at Johns Hopkins University, is the first African cast member of the Real Housewives franchise. Gizelle told Entertainment Weekly that she "brings all kinds of Nigerian flavor."
"We haven't seen that culture and their view on America and what it means to be educated here, and how they raise their children," Gizelle explained. "And Wendy talks about all of this, so I hope that they show it because it's different from being Black [American], migrating here from Africa now."
Gizelle went on to describe her fellow RHOP star as "a breath of fresh air."
"It's hard to join a group of women in this capacity that have been together for years," she told EW. "It's kind of like where do you fit in, and are you going to try too hard to fit in? And she didn't do that, she just came and was herself. She's very comfortable in her own skin, and I love a confident smart Black woman."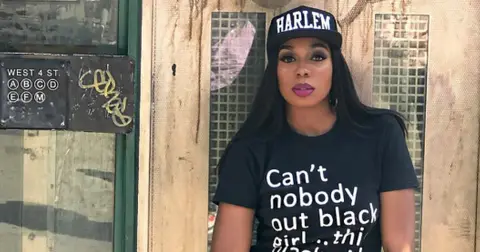 We wouldn't be surprised if Gizelle and Wendy's shared experience as members of the Alpha Kappa Alpha sorority while attending college — even though it wasn't at the same time or university — helped them bond in some way when Wendy first joined the RHOP cast. At this stage in their lives, though, they're "sisters" in a whole different way.
Be sure to watch new episodes of The Real Housewives of Potomac on Sundays at 9 p.m. ET on Bravo.