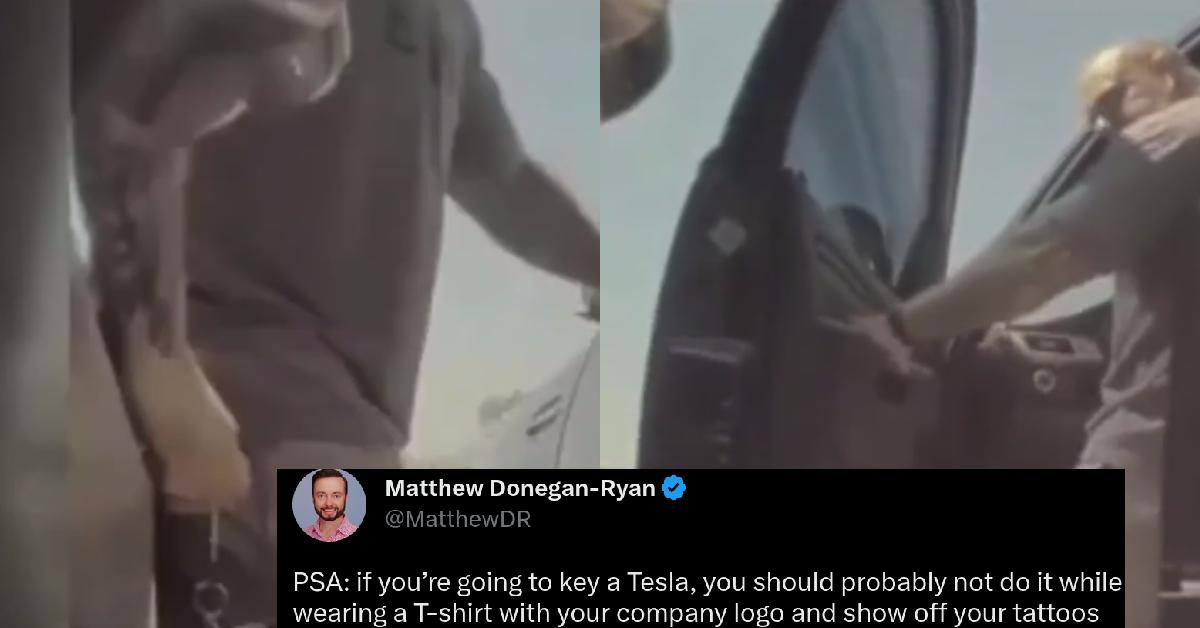 Tesla Owner Gets the Last Laugh as Sentry Mode Captures Hater Keying His Car
A guy who was caught keying a Tesla was caught in dead to rights committing the act on the car's exterior camera surveillance system.
It's no secret that Teslas are, for better or worse, outfitted with a ton of technology that are integral to the operation of many of the vehicle's functions.
Article continues below advertisement
In addition to regenerative braking that delivers power back into the car's battery (it's pretty satisfying to see those levels go up once you've been driving downhill for a while, or if you're getting towed by another vehicle on the highway and you basically get to supercharge for free), and safety features that can predict crashes, there are a slew of cool features Tesla customers can enjoy.
Sure, sometimes these safety features can be a liability as there are numerous Tesla customers who have slammed the brand's corrective steering as causing accidents rather than preventing them (this author included), but there are others, like the slew of cameras outfitting the exterior of the vehicle, that have proven to be pretty handy.
Article continues below advertisement
Tesla's Sentry Mode allows users to activate the cameras outfitted on the exterior of the vehicle to record the car's exterior surroundings, which gives owners the opportunity to catch folks who may hit and run their car.
Or in the instance of this clip posted by Twitter user Matthew Donegan-Ryan, capturing someone keying a Tesla while trying to be slick about it.
Article continues below advertisement
In the video, a man with a tattoo rocking a t-shirt that Matthew says is emblazoned with his company's name can be seen surreptitiously dragging his keys alongside the passenger side door of a Tesla before getting into his truck.
Article continues below advertisement
Matthew writes in the tweet: "PSA: if you're going to key a Tesla, you should probably not do it while wearing a T-shirt with your company logo and show off your tattoos"
Article continues below advertisement
Folks who saw the video highlighted that the damage done to the vehicle was not insignificant and depending on the car shop that its brought to, and the depth of the markings, it could end up costing the offender a pretty penny.
Twitter user Richard Bruce wrote: "That's about $3,750.00 to $4,500.00 damage, roughly. You have to repaint the doors and "blend" into the fenders. You can't "touch up" keyed damage that deep. The police should be involved and this written up. Sad for a grown man with children to do this."
Article continues below advertisement
Another person, who seems to be a Tesla fan (as it's part of their Twitter profile name as of this writing) said: "Here in California that's a felony if enough property damage. That's easily a quote of thousands. Have to paint and blend the whole side of car"
Article continues below advertisement
This isn't the first time a Tesla's Sentry Mode has captured someone keying a car. Local news station News on 6/KOTV shows a video of a man, recorded by a Tesla vehicle, casually walking by the car and keying one of the doors before briskly ambling away.
Article continues below advertisement
One Tesla recording that captured a man keying the vehicle ended in the perpetrator's arrest, according to the YouTube account Wham Baam Teslacam.
Article continues below advertisement
Have you ever caught someone in the act of keying a vehicle, either in person or on a security camera? Have you used dash cams before and have they helped you to get out of sticky situations?