Michael Myers' Legacy Lives on Through These Hilarious 'Halloween Ends' Memes
David Gordon Green's 'Halloween Ends' may not be the best of the franchise, but it sure has spawned a slew of god-tier memes. Here are the best of the best.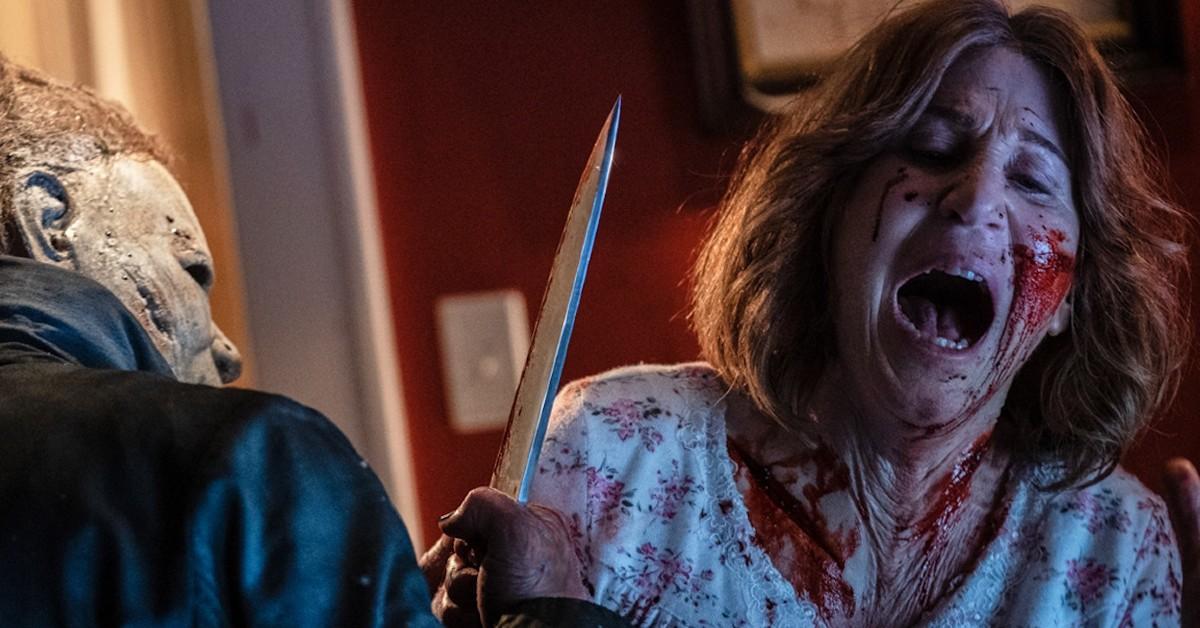 Spoiler alert: This article contains spoilers for Halloween Ends.
Director David Gordon Green's Halloween Ends features the battle that ends the war between resilient final girl Laurie Strode (Jamie Lee Curtis) and infamous silent villain Michael Myers (James Jude Courtney). After nearly 45 years of battling it out, we imagine that these two are exhausted by each other. It seems as though a truce was never an option.
Article continues below advertisement
The official Peacock synopsis reads as follows: "Four years after her last encounter with Michael Myers, Laurie Strode finally decides to liberate herself and embrace life. However, a local murder unleashes a cascade of violence and terror, forcing her to confront the evil she can't control."
Not only does Halloween Ends complete David Gordon Green's sequel trilogy — which began with 2018's Halloween followed by 2021's Halloween Kills — but it supposedly wraps up John Carpenter's classic slasher franchise birthed in 1978.
And given that Halloween has likely been put to bed for good, the internet has found a way to commemorate the franchise's legacy: via meme. Whether it be about undeniably sexy Michael Myers copycat Corey Cunningham (Rohan Campbell), The Real Housewives of Beverly Hills icon Kyle Richards, or the melancholy reaction to Michael's demise, these hilarious Halloween Ends memes are keeping the conversation going.
These two murderous goons were vibing for much of 'Halloween Ends.'
When copycat murderer Corey Cunningham teamed up with the notorious masked serial killer — much to the fanbase's surprise — the jokes came flooding in.
We'd like to imagine that these partners in crime practiced the Pennywise dance together.
Article continues below advertisement
This video of Jamie Lee screaming lives in our heads rent-free.
See what we mean? Flooding in. Corey is the obvious Robin to Michael's Batman.
Article continues below advertisement
When 'RHOBH' meets 'Halloween Ends.'
We all know that Real Housewives of Beverly Hills meme. The one where Kyle Richards holds Taylor Armstrong back from squabbling with Smudge the cat. (People who aren't chronically online are certainly confused right about now.) Well, this pivotal moment in meme history found its way into Halloween Ends ... kind of. Was it intentional? For the sake of the bit, we're going to say absolutely.
Article continues below advertisement
Ghostface will soon seek his revenge.
When universes collide! It's fun to imagine celebrated horror villains like Scream's Ghostface, Child's Play's Chucky, It's Pennywise, and Halloween's Michael Myers planning a wholesome get-together. They're best buds!
Because Michael Myers ultimately meets his demise in Halloween Ends, his BFF, Ghostface, is devastated. Watch out, Haddonfield, Ill.
Article continues below advertisement
Dance partners by day, partners in crime by night.
Article continues below advertisement
If you know, you know.
If these four pictures make no sense to you, go watch Halloween Ends and come back.
Article continues below advertisement
Hannibal Lecter has entered the chat.
As the town of Haddonfield looked on in awe, Laurie Strode loaded Michael's body into an industrial car crusher at the local scrapyard. Was Michael dead prior to the gruesome squashing of his blood-soaked body? Possibly, but if you know this franchise, you know that Michael has implausibly cheated death a multitude of times. Laurie needed to ensure her archenemy was 150 percent dead. Like minced meat dead.
We'll let our favorite cannibal, Hannibal Lecter, take it from here.
Article continues below advertisement
The evil has been defeated!
After attending Michael's violent funeral on Halloween night, so to speak, Haddonfield residents could finally breathe. His looming presence haunted the town for over four decades, and a weight has finally been lifted.
Thanks to Laurie Strode, there's no way that coveralls-donning pile of ground meat is ever coming back. Burgers on Nov. 1, anyone?
Halloween Ends is currently streaming on Peacock.