This Hotel Didn't Mess Around After a TikToker Found a Bedbug in Her Room
A TikToker chronicled how the hotel her and her family were staying at handled the discovery that there were bedbugs in their room.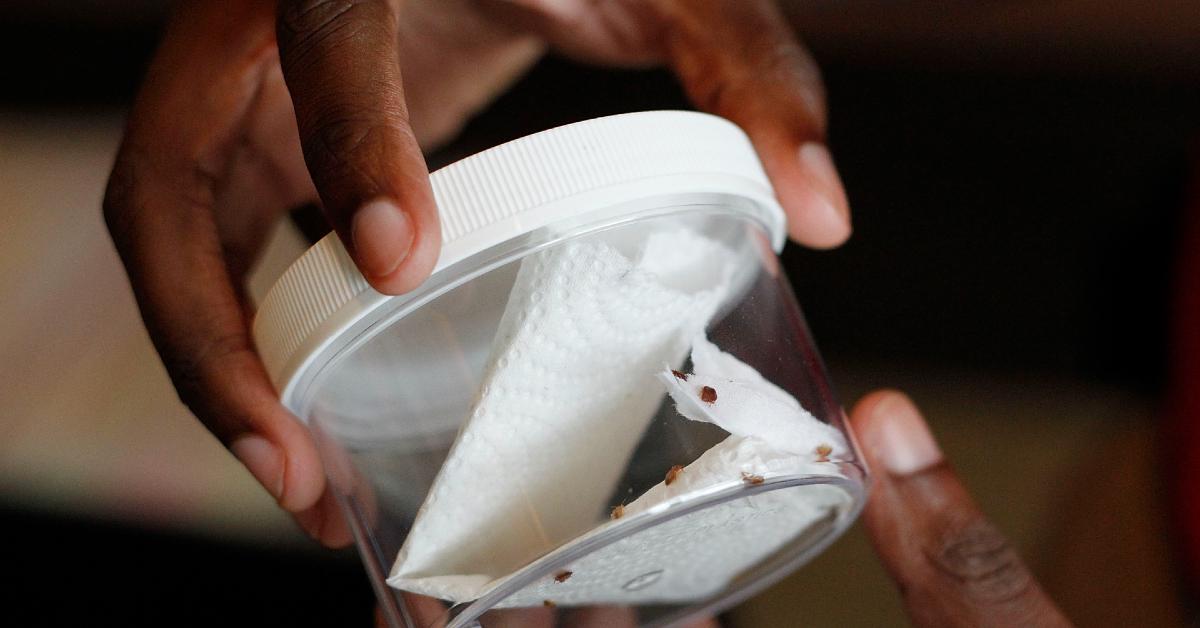 Take it from a hotel worker: you should always check key areas of your room for bed bugs before unpacking any of your bags or getting too comfortable in your room.
Of course, the allure of plopping right down in your bed and relaxing is an enticing one, especially if you've been traveling for a long time and just want to rest.
Article continues below advertisement
However, all sorts of folks are coming in and out of the hotel rooms you're staying in, which could carry bed bugs, or the hotel itself may've not been as punctilious as they could have in ensuring the room they're renting you is bedbug free.
This is something a TikToker by the name of Georgina (@pompouswomp) experienced while on what appears to be a family trip.
Georgina uploaded a now viral clip about the experience on TikTok and as of this writing, it's racked up over 94,000 views. A text overlay in the video reads: "We found a bedbug in our hotel room at 2AM." Someone in the clip says off camera that the insect appears to be, "too wide and flat to be a bedbug," however someone else in the clip states "That's, bed bugs are wide and flat, Georgina."
Article continues below advertisement
The video then cuts to them putting the bed bug in a glass of water in the hotel and it looks like they're on the phone with someone from the hotel staff. The video then transitions to the family putting all of their belongings in biohazard bags, which appear to have been given to them courtesy of the hotel.
Article continues below advertisement
Management also handed the customers a bunch of robes to wear during their stay, which they donned after their shower. The hotel then took their clothes to get heat treated and relocated them to another room, filling it up with complimentary snacks and drinks for their troubles.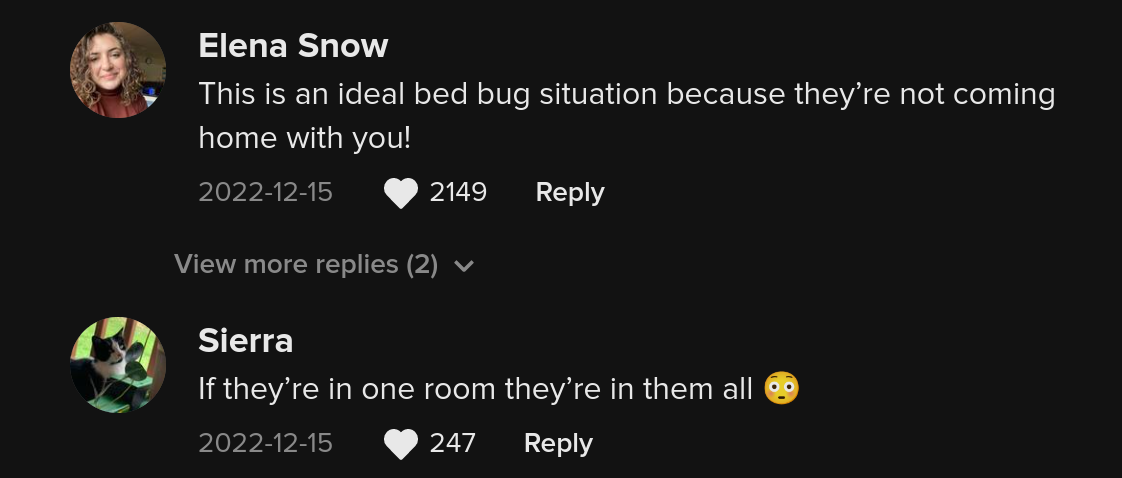 Article continues below advertisement
The following morning the family was still waiting for the heat treating on their clothes to be completed, and the hotel sent them a breakfast buffet to their room for the inconvenience.
The TikToker said that while it was a bummer they couldn't go anywhere while they were waiting for the heat treatment on their clothes to be completed, they were impressed by the response, "One small win for Sheraton," the TikToker said.
Article continues below advertisement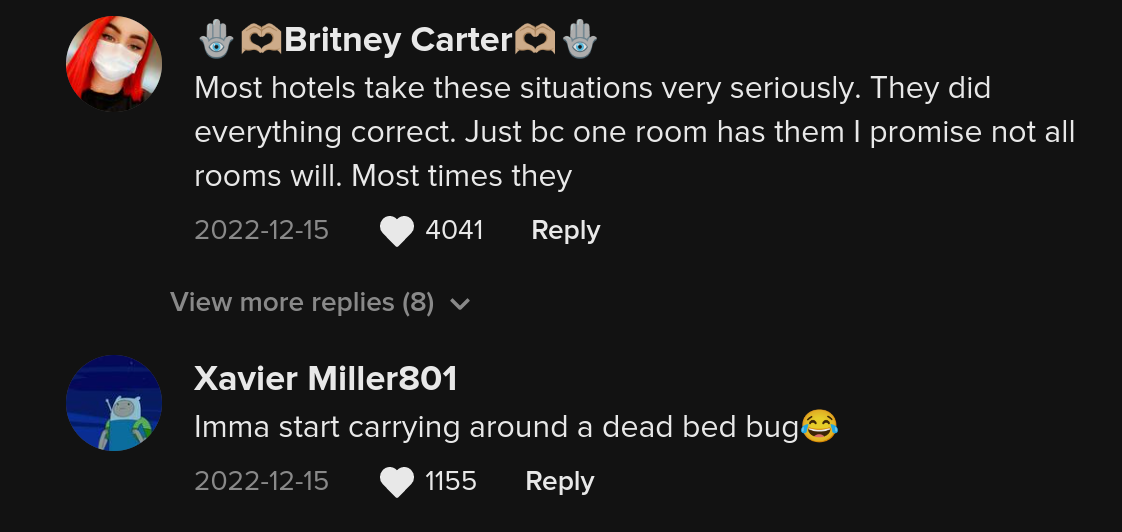 Bed bugs are such a nuisance because of how much meticulousness goes into getting rid of them once and for all. According to Healthline, extreme temperatures are usually enough to do away with the little suckers, and there are two directions folks can go in.
Article continues below advertisement
One of them is extreme heat: temperatures must reach 115 degrees Fahrenheit for this to work. The only issue in this scenario is apply such high temperatures to all of the potentially affected areas. If you think that your mattress might be affected with bed bugs, then you'll have to meticulously hit every single nook and cranny of the mattress with a steam cleaner that at least hits 115 Farhenheit.

Article continues below advertisement
One must also consider other crevasses and cloth items in the room the bed bug was found in for heat treating. Another option is extreme cold. It would be pretty difficult to turn an entire room into a refrigerator. You could seal off the room and turn it into a temporary freezer, but that might present a ton of other problems, like frozen pipes, not to mention the logistics of even pulling such a feat off.
The outlet also suggests washing any affected items that can fit into a washing machine for 30 minutes on the highest heat seating and then putting them in a dryer for at least 30 minutes also on the highest heat setting.
Article continues below advertisement

You could also put affected items in trash bags and leave them outside on a particularly hot day for a few hours. This could work for a mattress by placing them in a mattress bag and leaving it outside on a hot day as well. Heck, even just putting one of these bags over your mattress could be a good preventative measure for ensuring you don't get bed bugs in your mattress in the first place.
Article continues below advertisement
TikTokers who saw Georgina's post seemed divided over the bed bugs discovery. While some folks said that they wouldn't trust any of the rooms after spotting one bug, other commenters remarked that just because one room contained bed bugs didn't necessarily mean that all of them did.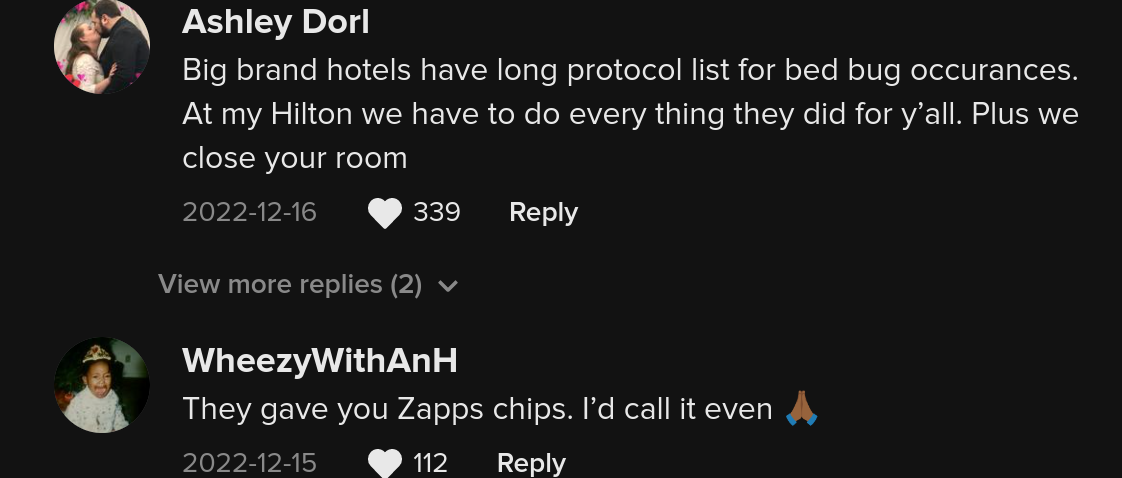 Article continues below advertisement
Others commented that they were impressed with the way that the hotel handled the situation and went out of their way to assist their guests while comping them items in recompense.
Bed bugs typically rely on humans or animals in order to get from place to place and can hide in unlikely locations. Like AMC movie theater customers who visited the chain's Times Square Location and complained about bed bugs found in the chairs in one of the screening rooms.