Bindi Irwin Met Her Current Husband at the Zoo, Because of Course She Did
Bindi Irwin just revealed the gender of her baby, which got some wondering how she met Chandler Powell, the man who is now her husband.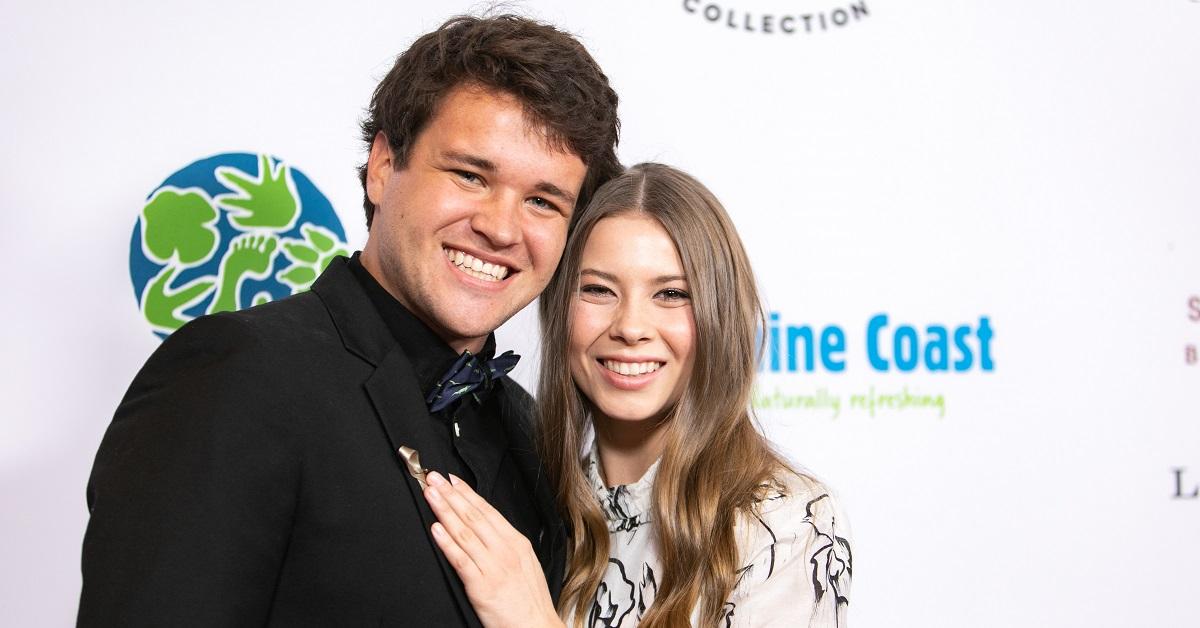 It's been more than a decade since Bindi Irwin lost her father, Steve Irwin, but it seems that his tragic death did nothing to impede her love of animals. Now, as she continues her father's mission of animal awareness and conservation, Bindi is also growing up in her personal life. She just revealed the gender of her baby, but the details of her marriage are still a mystery to some.
Article continues below advertisement
How did Bindi Irwin meet her husband?
Bindi Irwin met Chandler Powell, the man who is now her husband, way back in 2013. At the time, Bindi was still a teenager, and she was doing tours at the Australia Zoo. Chandler was visiting the country for a professional wakeboarding competition, and decided to visit the zoo during his downtime. Bindi just happened to be giving tours that day, and the two formed a connection.
Article continues below advertisement
Although Chandler and Bindi met that day, they didn't start dating until weeks later. "He sent a letter asking my mom if he could stay in contact with me, and then Mom gave the letter to me and said, 'Is this person real?'" Bindi explained during an interview with Entertainment Tonight. After they started dating, they were in a long-distance relationship for five years.
The relationship required frequent flights between the U.S. and Australia, and Bindi even attended Chandler's prom in 2015. In 2018, Chandler stopped competing as a professional athlete and moved to Australia. There, he began working with the rest of the Irwin family at the zoo. Chandler proposed in July of 2019 on Bindi's 21st birthday, and did so with a lab-grown diamond and recycled rose gold.
Article continues below advertisement
When was Bindi Irwin's wedding date?
Bindi and Chandler were married in March of this year, but they didn't announce the exact date of the wedding. Bindi first posted about it on March 25, and explained at the time that many of the details had to be changed because of the coronavirus pandemic.
Article continues below advertisement
"We held a small ceremony and I married my best friend," Bindi wrote on Instagram. "There are no words to describe the amount of love and light in my heart right now. We've planned this beautiful day for nearly a year and had to change everything, as we didn't have guests at our wedding." She added that, while it was a tough decision to cut the attendee list down, she knew that it was ultimately the right one.
Bindi Irwin paid tribute to her dad during her wedding ceremony.
The only attendees at Bindi and Chandler's wedding were her mother, Terri, who helped her get ready, her brother, Robert, and her father's best friend, Wes Mannion. Bindi said that they were sorry they couldn't share the day with Chandler's family as well as all of their friends. During the ceremony, Bindi and Chandler said "I do" near a portrait of her father.
Now, the couple is preparing for the arrival of a baby. In an Instagram post, Bindi revealed that she was having a girl, saying that her baby was now the same size as a hatchling Aldabra tortoise.