Kailyn Lowry Addresses Rumor That Chris Lopez Has a Baby With Another Woman
In the 'Teen Mom 2' season premiere, Kailyn discussed the rumor that her ex Chris Lopez was expecting a baby with someone else. Is the rumor true?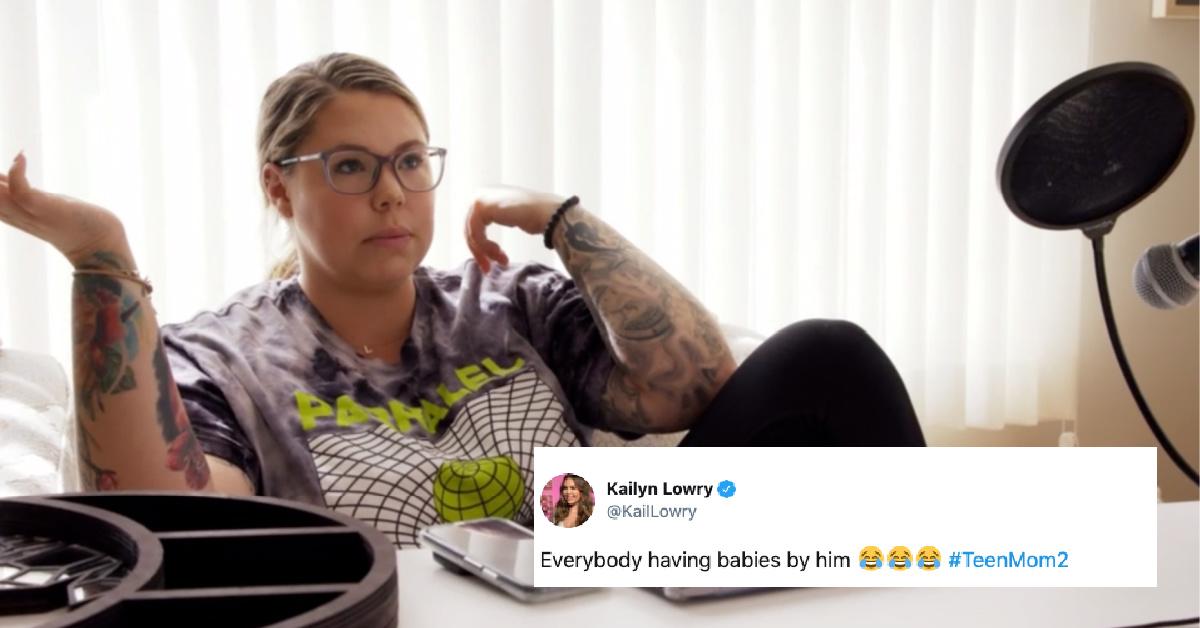 There's a brand-new season of Teen Mom 2, and you know what that means. More drama, more babies, and (obviously) more rumors. Each of the moms on the show is dealing with all three of these things, but Kailyn Lowry might have had one of the biggest bombs dropped on her in the first episode of Season 10.
Article continues below advertisement
While Kailyn was pregnant with her son Creed (her second child with Chris Lopez), rumors started flying that Chris may have been expecting a baby with another woman at the same time. After a sneak peek of Kailyn discussing the rumor, people want to know: How many kids does Chris Lopez have? Here's what we know.

Article continues below advertisement
How many kids does Chris Lopez have?
It's definitely tricky trying to suss out details of Chris' personal life because he prefers to remain pretty private. We totally get that — being on a show like Teen Mom 2 certainly opens one up to all kinds of attention (which in turn often results in a lot of criticism). He's typically blurred out from episodes of the show, and that's only when he agrees to make "appearances."
That being said, we know for sure that Chris has at least two kids because he shares them with Kailyn. Kailyn gave birth to their son Lux Russell Lowry on Aug. 5, 2017. Creed Romello Lopez was born on July 30, 2020. Creed is Kailyn's fourth child (and fourth son), and her second child with Chris.
Article continues below advertisement
In a sneak peek for Season 10 of the show, Kailyn revealed that while she was pregnant with Creed, rumors started to spread that Chris was also expecting a baby with someone else. In a clip of the show that was filmed before Creed's birth, a Teen Mom 2 producer asks Kailyn to address the rumors. "I guess he said something on his Instagram Live — he said something to insinuate there's a baby on the way," Kailyn said.
Article continues below advertisement
She then said that she had received a call from Chris and he had told her that if she heard a rumor saying he had gotten someone else pregnant, it wasn't true. Kailyn decided to believe Chris but she admitted that her initial thought was that the rumors were true.
"My f----d up way of thinking was, OK, he's doing damage control and maybe he potentially has somebody else pregnant and he doesn't know, so he's telling me it's not true until he confirms," she told the producer.
Then, Kailyn started receiving text messages from a "strange number" from someone saying Chris needed to talk to them about the baby he had on the way. Kailyn immediately called Chris to demand answers, but he continued to deny the rumor. Kailyn was upset — she says that's mostly because she doesn't want to keep any of Lux and Creed apart from any siblings they may have.
"I don't want my kids to grow up without their siblings like I did," she said. "That is so important to me. I'm going to cry."
Article continues below advertisement
For now, there hasn't been any official confirmation about whether Chris does indeed have another child with someone other than Kailyn. That being said, we have a pretty good feeling that the possible existence of Lux and Creed's half-sibling will be a major plot point in this season of the show.
Catch new episodes of Teen Mom 2 Tuesdays at 8 p.m. on MTV.