Teen Mom 2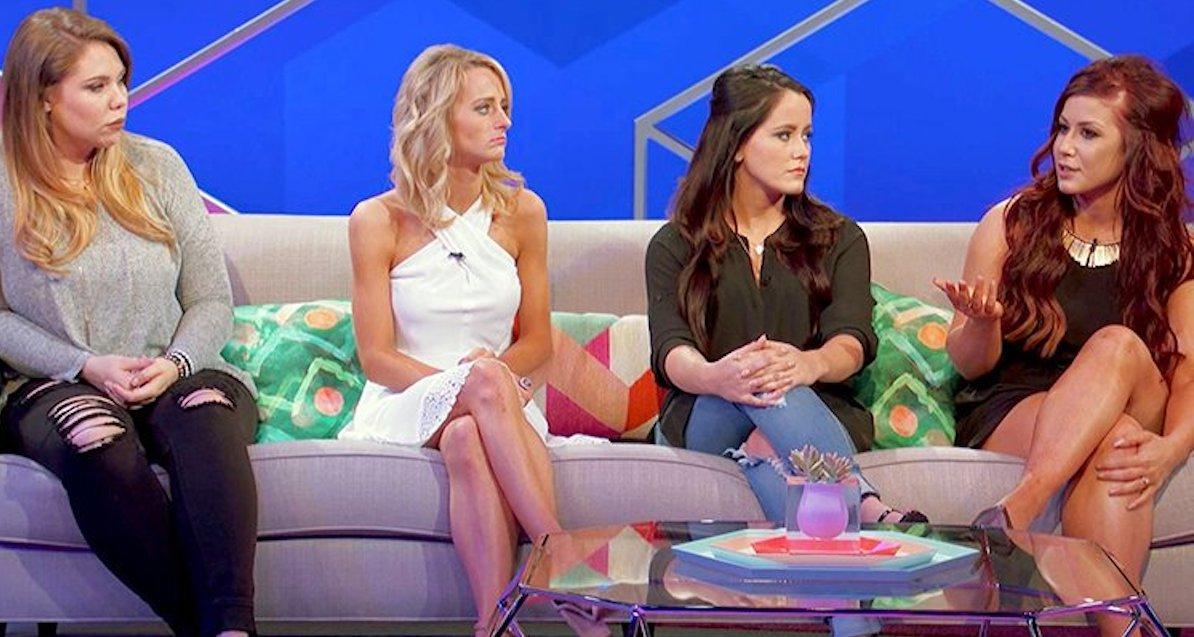 Following the success of 16 and Pregnant Season 2, it only made sense that MTV would keep the cameras on Jenelle Eason, Chelsea DeBoer, Kailyn Lowry, and Leah Messer and release Teen Mom 2 in 2011.
Nearly one decade later, the four original cast members are still on the show, albeit with more kids, new husbands (and baby daddys) and way more drama.
Teen Mom 2 cast:
Jenelle Evans (Season 1-9) — Before being fired by MTV in 2019, fans watched as Jenelle battled her mom, Barbara, over custody of her first-born son, Jace, welcomed her second child, Kaiser, with ex-boyfriend, Nathan Griffith, and tied the knot with baby daddy No. 3 (and dog killer) David Eason. Janelle was fired from Teen Mom 2 in 2019.
Chelsea Houska (Season 1-10) — Chelsea has turned her life around since we met the teen who was struggling to raise her daughter Aubree with deadbeat boyfriend Adam Lind. Today, she is a mother of three and happily married to Cole DeBoer. And yes, her dad Randy is still very much a Teen Mom 2 fave. She left the show in 2020.
Kailyn Lowry (Season 1- ) —Kailyn Lowry has been keeping busy since her 16 and Pregnant days. Kailyn is mom to sons Isaac (with ex Jo Rivera), Lincoln (with ex-husband Javi Marroquin), and Lux (with ex Chris Lopez). She has also written two books, launched a podcast, and started a haircare company.
Leah Messer (Season 1- ) — The former cheerleader welcomed twin daughters Ali and Aleeah in 2009 with boyfriend-turned-husband Corey Simms. Unfortunately, the couple split in 2011, but by 2012, Leah married Jeremy Calvert. They welcomed daughter Addie one year later but divorced in 2015. Today, Leah is engaged to Jaylan Mobley.
Briana DeJesus (Season 8- ) — Originally a star of Teen Mom 3 — the show was canceled in 2013 — Brianna joined the cast along with her daughters, Nova and Stella, during Season 8. Since then, Briana has hooked up with Kailyn's ex and baby daddy Javi Marroquin and introduced fans to her newest boyfriend, Bobby Scott.
Jade Cline (Season 9-) —Making the move from Teen Mom: Young and Pregnant, Jade joined the show in 2019 to replace Janelle. She is the mom of Kloie Kenna Austin with her boyfriend Sean Austin.
Ashley Jones (Season 10-) — Originally from Teen Mom: Young and Pregnant, Ashley is married to Bariki Smith, and a mom to daughter Holly Isabella Lockett. She joined Teen Mom 2 in 2020, replacing Chelsea.
The kids steal the spotlight on Teen Mom 2!
Jenelle Evans welcomed her oldest son, Jace, in 2009, with ex-boyfriend, Andrew Lewis. In 2014, she gave birth to son, Kaiser, with then-fiancé Nathan Griffith and three years later, she welcomed her first girl, daughter Ensley, with estranged husband David Eason.
Aubree — whose dad is Chelsea Houska's ex Adam Lind — is now a big sister to siblings Watson and Layne, and has gotten close to her stepdad Cold DeBoer.
Kailyn Lowry is a proud mom to three boys — Isaac (with ex Jo Rivera), Lincoln (with ex-husband Javi Marroquin), and Lux (with ex Chris Lopez).
Leah is also a mom of three, welcoming twins Ali and Aleeah in 2009, and her daughter Addie in 2013.
Briana DeJesus has two daughters, Nova Star and Stella Star.
Jade Cline has one daughter, Kloie Kenna Austin, with her boyfriend Sean Austin.
Ashley Jones shares a daughter Holly Isabella Lockett with her husband, Bariki Smith.
How much do the Teen Mom 2 stars get paid?
The cast has come a long way since Season 1. It has been reported that the current participants — not counting newcomers – make anywhere from $250,000 to $300,000 a season. Not too shabby for a bunch of "teen moms."
Latest Teen Mom 2 News and Updates