Already Opened Your Winterfest Presents in 'Fortnite'? There's One More
Following the 'Fortnite' servers being shutdown for hours over the holidays, there will be a 15th Winterfest present. What to know about the secret present.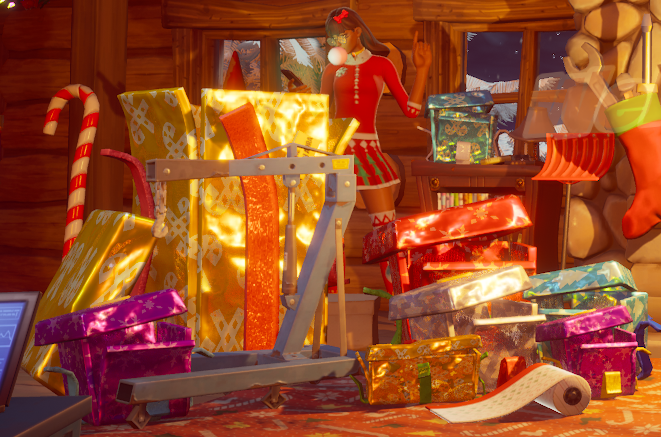 2021 was another successful year for Fortnite, with the game starting its third chapter and bringing even more collaborations (with many more still in the rumor stages).
As Winterfest slowly comes to a close, players should finally be unwrapping the last of their holiday presents in the lodge. But many are thinking there may be a secret present to unwrap still. Is there? Here's what we know about the rumored 15th present.
Article continues below advertisement
Many players are looking for the secret present in 'Fortnite.'
As a part of the Winterfest celebration, Fortnite players could open one new present from Sgt. Winters every day, each containing a new piece of swag specific to this year's Winterfest. This collection of packages gifted the player new skins, emotes, wraps, pickaxes, and more, most with winter-inspired designs and others as part of new crossovers.
Article continues below advertisement
While many players have already opened all of their presents for the fest, many are noticing that there's still a notification in the upper-left corner of the screen when they walk into the lodge, suggesting there's another present to open.
Many have searched throughout the lodge and map for this secret present, though it's been to no avail. Unfortunately, while there's a notification for it, the present has not yet been dropped in the game and should be coming soon.
When will the 15th present in 'Fortnite' drop?
At this time, we don't know when exactly players will be able to access this secret 15th present, but considering Winterfest goes until Jan. 6, there's still some time before it runs out.
While it may seem as though Fortnite is just continuing to have more problems and this is just a glitch, Epic Games confirmed it would be giving players another present to open.
Article continues below advertisement
On Dec. 29, the Fortnite servers had massive issues, with the game being inaccessible to players for hours — obviously resulting in much frustration from players, some of who were hoping to clock in extra time with the game during their time off for the holidays.
Article continues below advertisement
The developers first notified players of this issue at 11:13 a.m. EST, noting through its @FortniteStatus Twitter account that it was aware of the issue and working to come up with a resolution. Unfortunately, much of the day had passed before the game was back online. But Epic Games wouldn't let players' patience go unnoticed.
Article continues below advertisement
Following the news that the game was back online, the @FortniteStatus account tweeted at 6:50 p.m. EST: "We appreciate everyone's understanding as we worked to resolve these issues and we'll have more details next week on what we're doing to help you make up for lost time."
"Already opened all your presents but still see one extra present left to open? Sit tight, we're working on that," the thread continued.
While it doesn't appear that you can open this secret present just yet, players should be able to access it before the end of this year's Winterfest. For now, you'll just have to be patient until Epic Games reveals what this mysterious 15th present will be.