"The Catch" Is a Rather Unconventional Polearm in 'Genshin Impact' — Here's How to Obtain It
Want to know how to get "The Catch" in 'Genshin Impact'? This exclusive polearm weapon can't be collected by any of conventional means.
After nearly three years of live service and over $4 billion in revenue as of March 2022, you've probably either played or at least heard of Genshin Impact. The popular open-world RPG from HoYoverse follows the Traveler, an otherworldly being who searches the magical land of Teyvat for their missing sibling. The game first launched in September 2020 and has since become a worldwide phenomenon.
Article continues below advertisement
Players can unlock new characters, weapons, and equipment through all sorts of methods. Whether you can unlock characters through special events or cutscenes, craft weapons at a blacksmith, or are willing to spend real money on the game's infamous gacha system, there's a nigh-endless amount of things you can obtain in-game to strengthen your playthrough.
But there are a number of weapons that can only be obtained through certain other methods, like "The Catch". Here's how to get it.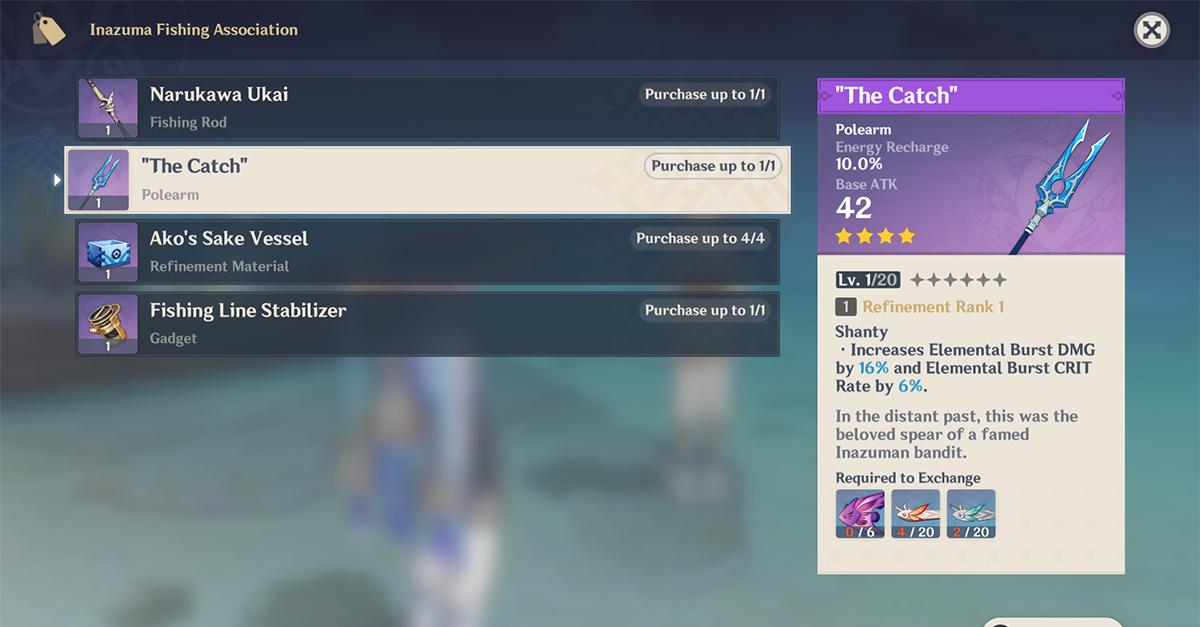 Article continues below advertisement
Here's how to get The Catch in 'Genshin Impact'.
Playable characters in Genshin Impact use one of five types of weapons: Swords, Claymores, Bows, Catalysts, or Polearms. For many characters, you may not even use their physical weapons all that much, depending on the type of kit they're running with. However, weapons always provide unique stat boosts that can considerably alter the way you use certain characters.
Normally, you can obtain decent weapons via Crafting with a local Blacksmith or by taking your chances with gacha. But "The Catch" is different.
"The Catch" is a 4-star Polearm. Its inherent ability, "Shanty," increases the damage dealt by your Elemental Burst by 32 percent while also increasing the Critical Rate of your Elemental Burst by 12 percent. "The Catch" is best used by characters such as Raiden Shogun, who are built specifically around dealing damage with their Elemental Bursts.
If you're looking to add "The Catch" to your arsenal, then you won't have to spend any of your Primogems. You will, however, need a decent fishing rod.
Article continues below advertisement
You can only obtain "The Catch" by purchasing it from Kujirai Momiji, an NPC located in Inazuma who runs one of several fishing shops located throughout Teyvat. Instead of Mora or any other traditional currency, fishing shops require you to catch specific kinds of fish and exchange them for items. Different fish shops will have different items for sale, and each one will require you to trade different kinds of fish.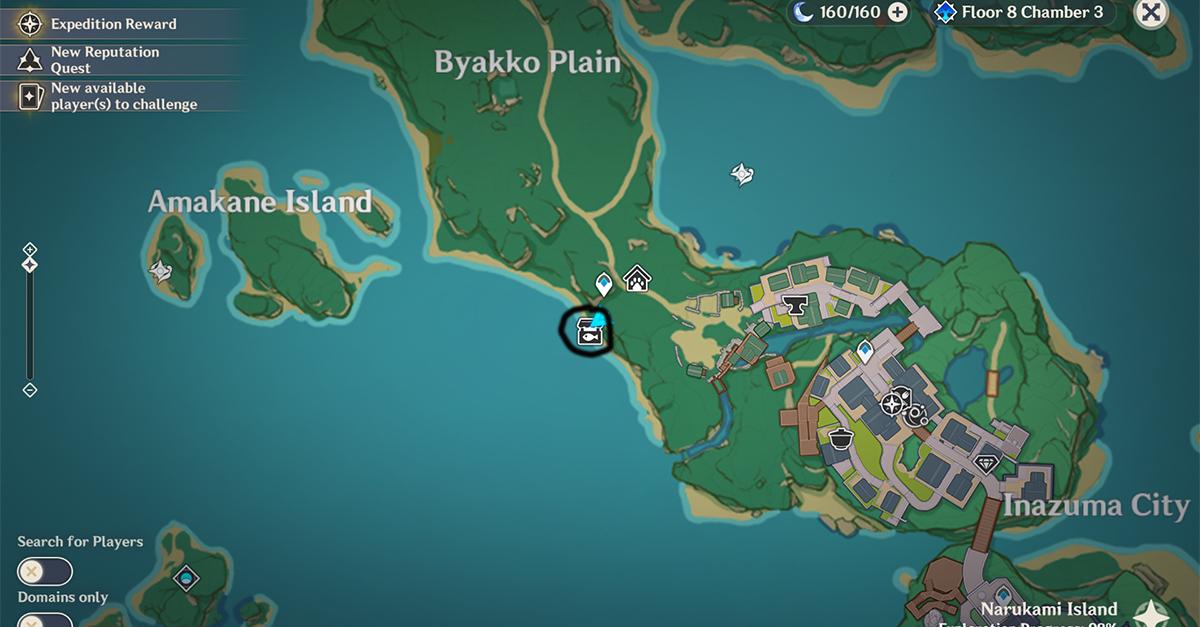 Article continues below advertisement
That means, of course, that you'll have to go out and fish to catch the ones you need for... "The Catch." You can unlock the fishing minigame by completing the "Exploding Population" sidequest if you haven't already. From there, you can find different places around the world where you can catch fish.
Here are the fish you'll need to find in order to obtain The Catch:
| Fish type | Amount Required | Location |
| --- | --- | --- |
| Raimei Angelfish | 6 | Tatarasuna (Inazuma) |
| Golden Koi | 20 | Stormbearer Mountains (Mondstadt); Wangshu Inn, Guili Plains, Luhua Pool (Liyue); Koseki Village #1 (Inazuma) |
| Rusty Koi | 20 | Cider Lake #2 (Mondstadt); Wangshu Inn, Guili Plains, Luhua Pool (Liyue); Koseki Village #1 (Inazuma) |
Once you obtain the required amount of fish, then "The Catch" will be yours. You can also purchase its optional refinement materials, "Ako's Sake Vessel" from the same fish shop in Inazuma for three Raimei Angelfish, 10 Pufferfish, and 10 Bitter Pufferfish.
Genshin Impact is free to play on PlayStation 4 and 5, PC, and mobile platforms.