You Will Be Able to Catch Manhattanhenge a Total of Four Times in 2022
The sunset phenomeon Manhattanhenge has become a huge photo opportunity for New Yorkers. Here's everything you need to know about Manhattanhenge in 2022.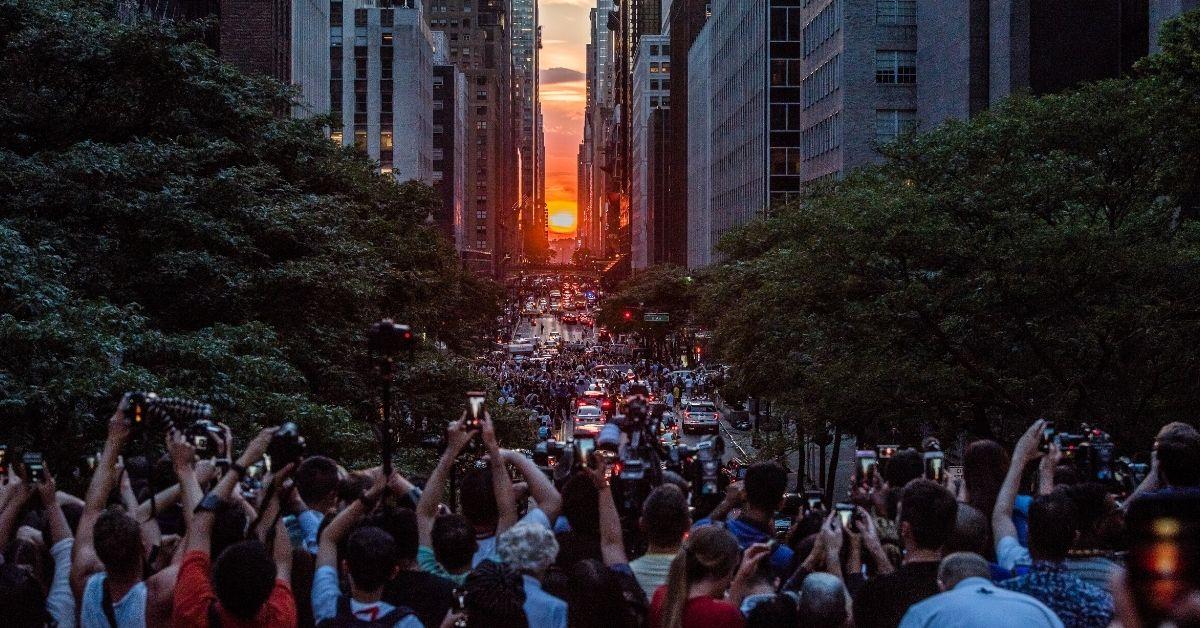 Let's be real: Even though Manhattan isn't always the cleanest and may attract some untraditional visitors (I'm looking at you, rats!), its sunset is always serving looks.
But as I'm sure we all know, not all sunsets are equal (at least when it comes to how cool it looks on your Instagram Story, duh). That said, the ranking is as follows: Manhattanhenge sunsets are No. 1. Any other NYC summer sunset will always be No. 2.
Article continues below advertisement
But if you're new to the city and need a breakdown of what exactly Manhattanhenge is, we've got the Cliffs notes. Plus, we'll share the exact times and dates to mark in your calendar for 2022, as well as the best places to watch Manhattanhenge from.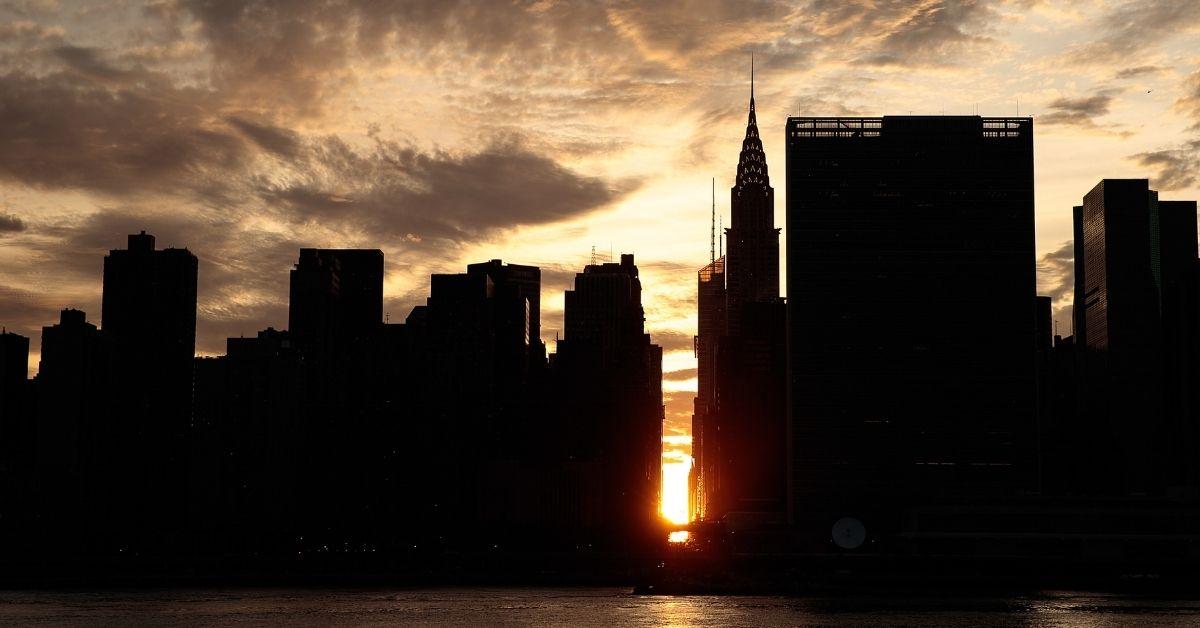 Article continues below advertisement
What is Manhattanhenge? It's more than just a pretty photo op.
Manhattanhenge is a natural phenomenon that takes place a couple of times in the late spring and mid-summer. Basically, it occurs when the setting sun perfectly aligns with the street grid of Manhattan. For just a few moments, literally every cross street on the north and south sides of the borough is illuminated.
It's a beautiful sight, and New Yorkers never miss an opportunity to take a photo of it.
Article continues below advertisement
As you might have guessed, the name of the phenomenon is a nod to Stonehenge, which is a prehistoric monument in Wiltshire, England that consists of a circle of massive slabs of stacked stone.
Each year during the summer solstice, an outlying stone, known as the Heel Stone aligns with the rising sun to create a stunning visual. The same is said to happen in New York as the sun lines up with the city's architecture.
Here are the Manhattanhenge 2022 dates:
Per the Farmer's Almanac, there are four times to catch Manhattanhenge in 2022. During two of these occurrences, only half of the sun will line up with the city's landscape. Generally speaking, full sun dates are usually more captivating to the eye. However, all of these dates are guaranteed to get you a pretty fire shot for Instagram.
May 29, 2022: 8:13 pm (half sun)
May 30, 2022: 8:14 pm (full sun)
July 12, 2022: 8:20 pm (full sun)
July 13, 2022: 8:21 pm (half sun)
Article continues below advertisement
Here are the best places to watch Manhattanhenge:
While you can technically watch Manhattanhenge from any street, you probably won't notice much of a difference in the sunset unless you're on one of the larger cross streets facing New Jersey. When it comes to picking a street, 14th, 23rd, 34th, 42nd, and 57th are the most popular.
The Museum of Natural History suggests you "arrive a half-hour earlier than the times given. For best effect, position yourself as far east in Manhattan as possible. Be sure that when you look west across the avenues, you can still see New Jersey."
If you're not sure where to stand, just head to one of the streets above and look for a big group of folks with cameras and iPhones. There's always of parade New Yorkers trying to capture this moment. Good luck!