'Heartstopper' Twitter Is Divided Over Star Kit Connor's 'Forced' Outing
Fans of 'Heartstopper' are currently taking over Twitter as they argue about Kit Connor, who was recently forced out of the closet by fans. What does "HSTWT" mean?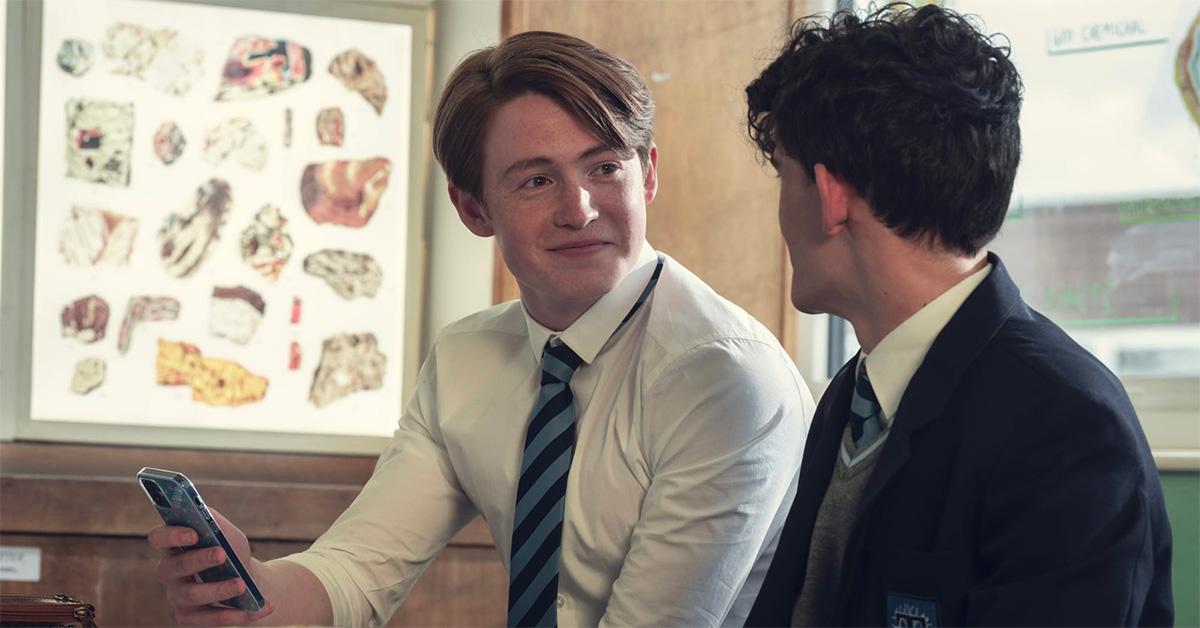 One of the most surprising hits on Netflix in recent years was Heartstopper, a tender British series about two boys who discover that their friendship may actually be romantic. The show's first season was tender and lovely, but the fanbase around the show hasn't always offered the same level of support.
Article continues below advertisement
Recently, the show's online fans have faced backlash after star Kit Connor was "forced" to come out as bi. Keep reading to learn what "HSTWT" means and how it relates to Heartstopper.
What does "HSTWT" mean?
"HSTWT" is the acronym used to describe Heartstopper Twitter, which is the part of Twitter where fans of the show engage one another and debate about it. Fans of the show have been trending recently because of a debate raging over whether backlash to the casting of actor Kit Connor ultimately forced him to come out as bi. On Oct. 31, Kit made a brief return to Twitter to officially come out.
Article continues below advertisement
"Back for a minute. I'm bi. Congrats for forcing an 18-year-old to out himself. I think some of you missed the point of the show. Bye," Kit wrote.
On the show, Kit plays a popular rugby player who falls for a more nerdy, shier boy at school. The show is careful about how it discusses both character's sexuality, but fans have been much less nuanced in their own discussions online.
Article continues below advertisement
Kit felt the need to explain his sexuality in large part because he was facing backlash online after some believed he had been cast to play a queer character even though he's straight. That backlash, which was based only on speculation, led Kit to step away from Twitter for almost a month before returning to explain that he's bisexual.
The 'Heartstopper' creator rushed to Kit's defense.
After Kit posted his tweet, writers, actors, and other people who work on Heartstopper jumped to his defense, and expressed their disappointment that the show's fans had been the ones to force Kit out of the closet.
"I truly don't understand how people can watch Heartstopper and then gleefully spend their time speculating about sexualities and judging based on stereotypes," show creator Alice Oseman wrote on Twitter. "I hope all those people are embarrassed as F--K. Kit you are amazing."
Article continues below advertisement
Fans also weighed in to express their disappointment, saying that the show made them feel accepted, but the fandom left them heartbroken.
"Heartstopper was the first thing to make me feel safe and accepted as a bisexual person, and seeing that hstwt bullied Kit Connor into coming out is absolutely gut-wrenching. That's the one thing that Nick Nelson was afraid of, and you've done it to the person who embodied him," one person wrote.
"A big fat f--k you to everyone who said that Kit Connor was queerbaiting and an even bigger f--k you to everyone who wouldn't leave him alone about his sexuality. An even bigger f--k you to anyone who says anything bad about the Heartstopper cast. Kit I love you and we're sorry," another person added. This incident has clearly left many disappointed in a fandom they once thought they were a part of.