Husband Has Been a Student for 20 Years — Wife Wonders if That's a Red Flag
A woman wonders if it's a red flag that her husband has been a university student for 20 years. Here's what the internet has to say!
Life after college can be stressful — the real world is much scarier than any could've ever imagined, and finding a job is almost impossible. But the most terrifying thing of all is losing the ability to call yourself a student, an identity many of us held onto for 16 whole years.
Article continues below advertisement
The transition from student to working adult is hard, so much so that many think about ditching a conventional career path to stay in school forever. Luckily, it seems that being a professional student is possible!
In the "No Stupid Questions" subreddit, a woman revealed her 40-year-old husband has been a university student for 20 years. She then asked, "Would that be a red flag for you?" And let's just say many were jealous AF.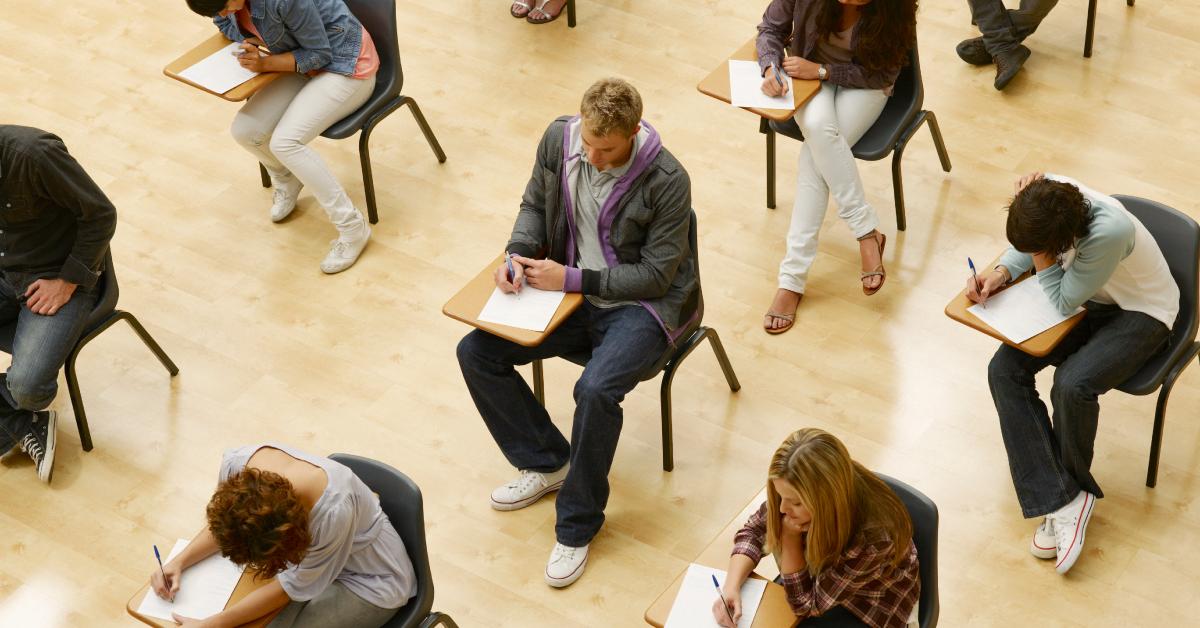 Article continues below advertisement
This woman's husband has been a university student for 20 years.
"He gets paid to go to school, about $40,000 a year equivalent," the OP disclosed, adding that the university "offers a bursary for aboriginal students, and he's been the only applicant in some time. He gets it every year."
The woman further explained that her husband also gets "age-based grants and bursaries," none of which have to be paid back — how do we sign up?! She said her husband describes himself as a "career student," as he loves being in school. The university even encourages him to stick around, which is a bonus!
Article continues below advertisement
"He has degrees in linguistics, history, chemistry, computer science, accounting, and is currently working on a physics degree. He loves to learn and teach others; he's the smartest person I know," the OP said. "He says he stays in school because it's his 'hobby,' and he's paid a pretty penny for it. We're completely debt free."
Yes, you read that right — they are completely debt free.
Article continues below advertisement
Despite having no issues, the woman said she'd like to see her husband "apply himself outside a school setting." She asked what other people thought of their lifestyle, as it's not something she usually tells her friends. Instead, she tells them that her husband is in school part-time and "doing other things."
"His 10~ hour commitment a week puts food on our table; we don't live in luxury but live comfortably," she concluded.
Redditors agree that the OP's husband is living the dream.
Don't lie — we would all love to get paid to learn about whatever we want for a living! Many fellow Redditors took to the comment section and assured the OP that her husband being a professional student isn't a red flag.
Article continues below advertisement
"It sounds like he's not amassing crippling debt, and he's providing for both of your needs. Doesn't seem like a [red] flag to me," Reddit user u/gamiscott said. "As long as you're comfortable with it, then that's an awesome way to live. Don't let societal expectations ruin something awesome."
Article continues below advertisement
Another wrote, "Seems like he's living the dream. Would love to do the same!" A third Reddit user jokingly asked what country the OP is from and how they can become a professional student (it's actually a super serious question that we all need an answer to because we also want to live our best life).
Article continues below advertisement
"I have literally expressed the sentiment, 'If someone paid me to just keep getting college degrees, I would do that until I died.' I'm so unbelievably enviable of this man, and his lady is asking if it's a red flag lol," one user commented.
"For real," Redditor u/aolson0781 replied. "I'd rather [do this] than win the lottery."
One user pointed out, "This man is stable, intelligent, and provides for her/their family(or future family, idk), and that's a red flag??" The OP responded, "I wouldn't go that far. I'm happy, he's happy, I'm happy he's happy and provides more than enough for our simple life."
Article continues below advertisement
"The only thing that worries me is eventually, he'll need to enter 'the real world' and work for someone else," the OP continued. "Not a lot of entry positions — irrespective of your education — for someone who's 40 (and to be realistic, he'll be older were push come to shove and he's no longer eligible to go to school anymore)."
Article continues below advertisement
A few other Redditors believe the OP's husband's "job" *is* a red flag.
Others agree with the OP, claiming that her husband is abusing the education system.
"I'd never want to be married to someone who hasn't held a job," one user expressed. "If he has that many degrees, why not become a professor? Give back, instead of take."
Article continues below advertisement
A second Reddit user penned, "I hate to rock the boat, but to me, this isn't great. If he keeps this up for a few more decades, he would be the most educated retiree in existence. What's the point of all this knowledge without any chance of practical application?"
"Educating for two decades off the backs of others while applying none of it to society... and finding nothing wrong with it... is definitely a red flag. Pretty gross IMO," said another person.
What do you think? Is the OP's husband's "occupation" a red flag? Let us know!