In a Now-Viral TikTok, an Instacart Worker Takes the Groceries After Making a Delivery
In a now-viral TikTok, an Instacart worker takes the groceries after making a delivery, though it may not be what it seems. We break it down for you.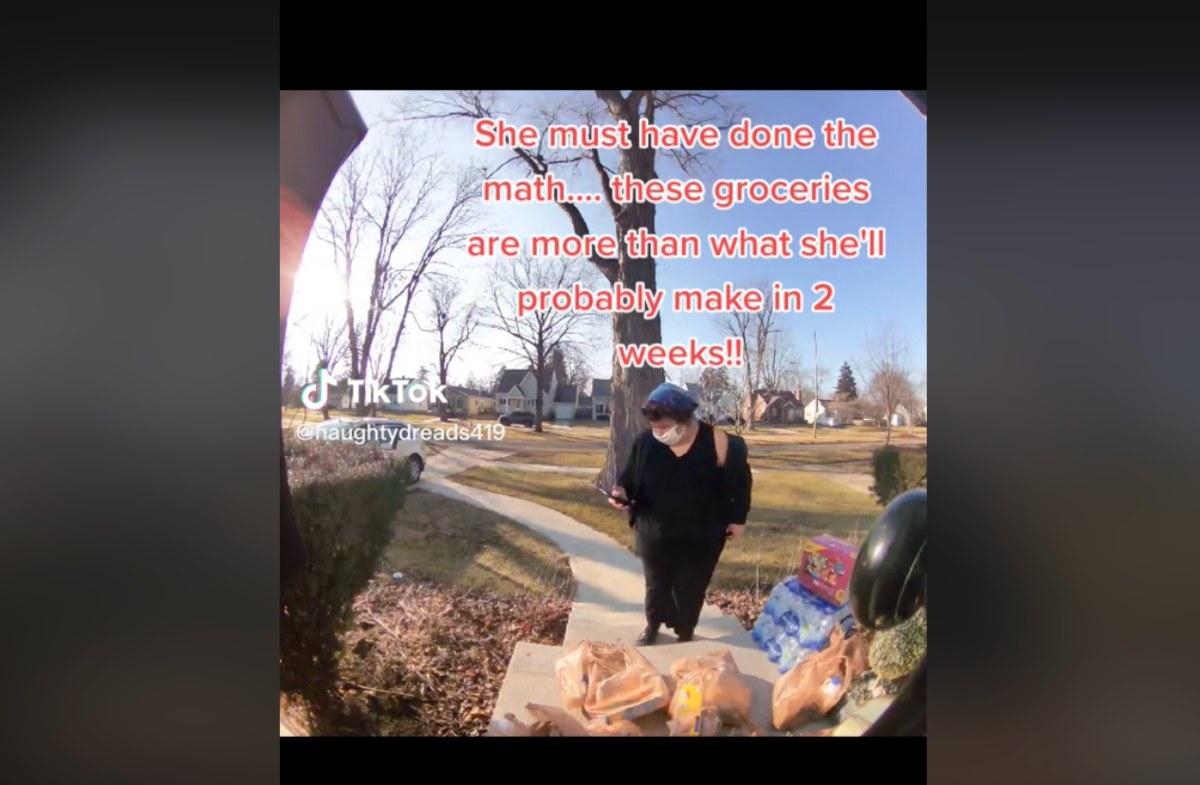 Nowadays you can get just about anything delivered. You want a burger from your favorite restaurant? There's an app for that. Need a couple things from CVS? There's an app for that. All out of groceries? That's an app for that as well.
And we, as a society, have just put our trust in those who make these deliveries. We trust UPS and FedEx employees not to steal our packages, so it doesn't seem far-fetched to expect your Instacart worker not to steal your groceries. However, as one TikTok video shows, perhaps we've put too much blind trust in the latter.
Article continues below advertisement
A customer's doorbell camera caught an Instacart worker taking their groceries after the delivery!
Doorbell camera footage from an Instacart customer was posted to TikTok and went viral with over 2.1 million views and counting.
In the video, you can see that all the groceries have been put in front of the house, with the Instacart worker checking something on their phone, most likely confirming the safe delivery in the app. The worker even makes their way back to the car.
The video then cuts to that worker coming back up to the house and taking the items back to their car. The words on the video read, "She must have done the math... these groceries are probably more than what she'll make in 2 weeks!!" (We mean, with the price of groceries today with inflation? Yeah, probably.)
Article continues below advertisement
The caption on the video says, "She unloaded all the groceries, only to make an executive decision. She'll just find another job later, but she's gonna eat tonight. She sat in the car for a minute and loaded all the groceries back in her car and drove off."
Some of the commenters seemed shocked:
Article continues below advertisement
While others are out here defending Instacart's policy:
So naturally, being the hard-hitting journalists that we are, we had to investigate Instacart's policy.
Instacart's website says, "Unless you specifically request for them to do so, drivers are unable to leave an order unattended. Orders containing alcohol can never be left unattended. When a customer can't be found or contacted for an extended period of time, the order may be cancelled."
Since the original TikTok was clipped, this situation could have feasibly happened. Luckily for us, one person took to TikTok to explain what happens from the delivery person's side of things...
Article continues below advertisement
In the video above, TikTok user @five_star_shopper, who chronicles her life as an Instacart shopper, described what happens when a customer is a "no show." She says that if a customer chooses the "hand delivery" option and aren't there to accept their groceries, the Instacart worker is not allowed to leave the groceries unattended.
The shopper is to message the customer twice and then, after clicking a couple things in the app, is able to call the customer. After that call, the shopper waits five minutes and then calls shopper support. Shopper support will try one final time to get in contact with the customer before canceling the order.
The worker can either return the items to the store for $10, or "throw away or donate" those items. So, if we take what @five_star_shopper said to be true, then the Instacart worker from the original video could have just been doing their job.
TikTok sure is always trying to start something and TBH we are here for it.