TikTok Star Addison Rae Shuts Down Pregnancy Rumors on Social Media
By Abi Travis

Jul. 15 2020, Updated 9:44 a.m. ET
If you're one of the 50 million people who follow Addison Rae on TikTok, then you may have noticed that the Hype House member took a two-week hiatus from her social media throne. After cultivating her online brand for a year (you saw the part where she has 50 million followers on TikTok, right?), people are wondering where the TikTok star has disappeared to.
Article continues below advertisement
And, because this is the internet, the theories for Addison's mysterious disappearance were running rampant. People started wondering: Is Addison Rae pregnant? Here's what we know about the rumors.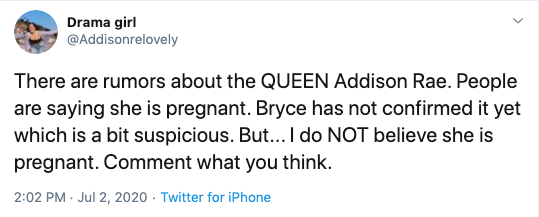 Article continues below advertisement
Is Addison Rae pregnant? The TikToker finally shuts down the rumors in a simple comment.
Well, you know you've made it as a celebrity when pregnancy rumors start circulating around the internet. Many fans started posting about the expectancy rumors — and non-fans who feel like stirring the pot. At the time, the starlet hadn't addressed the baby rumors on social media... until now. 
When a fan account posted a recent paparazzi video of Addison holding a hand in front of her stomach, the individual captioned the video: "Is [Addison].......[pregnancy emoji]." 
The 19-year-old commented, "No just insecure."
Article continues below advertisement
Back in April, Addison addressed the constant scrutiny surrounding her body. "I've seen 5-10 tweets & TikToks today talking negatively about my body and weight.. it makes me feel insecure, but luckily I'm looking at it in a different light," she tweeted. "I've been very motivated to start eating better and working out everyday to become the healthiest version of myself!" 
Whether you're a fan of the TikTok star or not, the body-shaming needs to end. Period.
Article continues below advertisement
Is Addison Rae back together with Sway House member Bryce Hall?
Some people have also been hinting that Addison is back together with her ex-boyfriend Bryce Hall. Neither Bryce nor Addison has confirmed that they are back together, but they have been posting videos together (or mentioning each other in videos) recently. He even shut down rumors about his ex on the YouTube channel Celebrity Livin.'
"Let me just clear it up: She's not pregnant," he stated. "I don't know why that's a thing."  
Prior to defending his former girlfriend, Bryce spoke to Entertainment Tonight about their current relationship status. "We're still like really good friends," he said. "We never broke, I mean, we never separated for real bad reasons, you know? Like we were just busy doing our own things. Now with quarantine, [we're] not so busy. Not saying anything but we're really good friends." For all the Braddison shippers out there, maybe there's hope!
Article continues below advertisement
Addison Rae has been the subject of some recent controversy.
One reason Addison may have taken a step back from social media is that there has been some controversy surrounding her actions. Specifically, people have accused Addison of "blackfishing" (trying to make herself appear Black). In a now-deleted Snapchat video, Addison is seen getting her makeup done. She's wearing a shade of makeup that is quite a bit darker than her natural skin tone.
Article continues below advertisement
Some people think Addison was purposefully blackfishing, while others insist the video used a filter that made Addison look darker than her actual makeup did. For her part, Addison has stayed pretty quiet on the topic.
Article continues below advertisement
Ultimately, it's obviously up to Addison when she posts on TikTok or her other social media accounts. There's no denying that her level of fame brings a lot of pressure from the public eye with it — and her virtually overnight success would be hard for even the most well-adjusted person to handle. 
From what we can tell, it seems as though Addison simply took a break from social media — something we should all probably do more often.