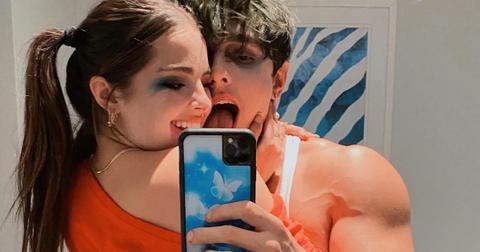 Did Addison Rae and Bryce Hall Just Confirm Their Breakup — Again?
By Shannon Raphael

Mar. 24 2021, Updated 8:21 p.m. ET
Aside from Charli D'Amelio, TikTok's biggest star is 20-year-old Addison Rae Easterling. With more than 70 million followers on the short-form video-sharing app, Addison has an enviable platform, and she's one of the top members of the TikTok collective Hype House.
As Addison's star power continues to grow, some of her followers are dying to know more about the girl behind the dance challenge videos.
Article continues below advertisement
While Addison's family life, feuds, net worth, and career outside of TikTok have all been notable topics of discussion online, there has been a lack of clarity on her dating life. She teased for months that she was on again with her ex Bryce Hall, and in October of last year, they finally confirmed their relationship. 
But after rumors of infidelity surfaced, fans are wondering — who is Addison Rae dating in 2021? Is she still with Bryce, or is she a single gal? Read on to find out.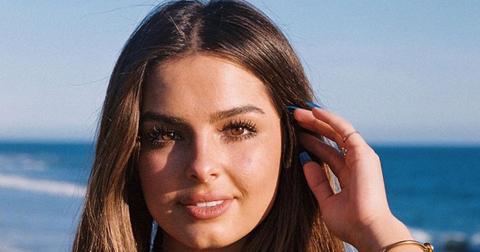 Article continues below advertisement
Who is Addison Rae dating in 2021?
Users love to see a romance between TikTok stars (remember the days when Charli D'Amelio and Chase Hudson were an item?), so many were happy to see all of the content between Addison and Bryce Hall. Bryce was a member of Sway House, another TikTok collective that was in competition with Hype House, which made their romance a modern TikTok version of the Romeo and Juliet story. 
The two teased their relationship for months beginning in October of 2019, and the only indication fans got that it existed at all was when Bryce confirmed that he and Addison were just friends in late January of 2020. 
"Addison and I are NOT dating!!!" he tweeted on Jan. 30. "She's doing her own thing and I'm doing mine. We're still friends and plan to remain that way!! I still love her and we're still gonna hang [and] stuff, but we're just not gonna be kissy kissy anymore."
Article continues below advertisement
In February of 2020, Addison confirmed in an interview with Entertainment Tonight that she and Bryce had originally met in October of 2019. They began spending more time together when Addison permanently moved to Los Angeles in November of that year. She noted that they were close friends and that things were romantic for a bit. But, she said, they soon decided that they should be friends.
"Right now we're better off as friends and we both mutually decided that," she said in the interview.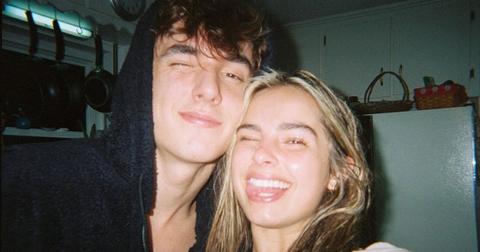 Article continues below advertisement
But at the end of October, for the first time in a long time, Bryce popped into one of Addison's TikToks, where he, umm, does a really poor job of pretending he's not staring at her derrière. Fans also noted that Bryce was in Addison's latest YouTube video, "MY FIRST BILLBOARD MUSIC AWARDS!!!!!" in which they could be spotted working out together. The TikTok, however, has since been deleted.
After months of social media moments to fuel the rumors, Addison and Bryce finally gave the fans what they wanted — explicit confirmation of their relationship status.  
Article continues below advertisement
In December of 2020, TikTok's royal couple announced that they were back on.
Because their potential reconciliation was so well-documented, many TikTok fans assumed that Addison and Bryce were just teasing their fans for clout and that the will-they-won't-they drama would continue for the foreseeable future.
Like any self-respecting Gen Z pair, Addison and Bryce both shared that they were back together in vlogs on their respective YouTube platforms.
Article continues below advertisement
In Addison's video, "The Truth About Us," the two answered fan questions while working out. And, wow, did they drop a few bombshells about how their relationship began. Bryce shared that he had liked the Hype House member as soon as he met her, but he knew that she had just gotten out of a five-year relationship. 
Addison said she didn't have feelings for Bryce upon their first meeting. 
Article continues below advertisement
The influencers were then asked to share their first impressions of each other. 
"I thought she was hot," Bryce responded. 
"My first impression of Bryce was that he was a player," Addison said. 
Later on in the video, Addison confirmed that she and Bryce were officially back on. 
"This year is going to be me and Bryce's second Christmas together," she shared.
The two then hinted that they've been back together for a lot longer than people may have realized. They officially began dating again on Oct. 13.
"How many times have we been on-and-off?" Addison asked, before giving her response and referencing Bryce's arrest in the summer. "We've only broken up one time, and that was because we dated for three days. It's true, I know I denied that, but we did date for three days one time. And then I broke up with him. After Bryce's little mishap, we started talking every day and hanging out again. We ended things again — talking — after his birthday. I didn't say a word, do you remember?"
Article continues below advertisement
"Yeah," Bryce answered.
"And then we saw each other at places and I would not talk to you," Addison continued. "After the birthday scandal, then he bought me a gift and wrote me a letter. It was really sweet, and we were hanging out every single day. He asked me out Oct. 13 to be his girlfriend. So this is our second time dating ever."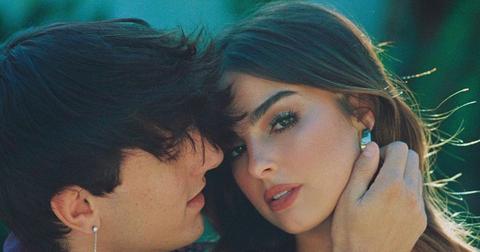 Article continues below advertisement
The final question in the Q&A was to define their relationship status. Though Addison already did, she spelled it out again for her fans.
"So we are dating, and we've been dating since Oct. 13," she said at the end of her video. "We're dating officially, and it'll be really interesting to see where this goes."
In Bryce's Dec. 2 vlog, "I have a Girlfriend," he made a passing comment about his relationship with Addison.
While enlisting the help of two women from OnlyFans to hang out with some of his friends, Bryce shared that he would not be part of the bit.
"I'm not going to be here because I have a girlfriend," he said.
Article continues below advertisement
Sadly, it wouldn't be long before drama would derail their romance once again. In March of 2021, breakup rumors surfaced and were later confirmed by Addison Rae. 
I didn't cheat on addison.

— Bryce Hall (@BryceHall) March 1, 2021
Article continues below advertisement
Did Bryce cheat on Addison?
Despite the couple's former proclamation that they are officially on, it seems things might not be as smooth sailing as we had hoped. Rumors that Bryce was cheating on Addison began when he was spotted holding hands in public with fellow TikTok star Loren Gray, though the sighting was quickly chalked up to a prank.
But the cheating rumors only returned after Bryce made a trip to Las Vegas and claims began that he had gotten with budding influencer Dana Wolf.
Popular drama creator Keemstar uploaded a video allegedly showing screenshots that proved he had cheated on Addison, though Bryce adamantly denied the rumors. 
He is reportedly seeking legal action following the video, though he addressed the rumors to his followers directly in a tweet. 
"I didn't cheat on Addison" was all it read.
Article continues below advertisement
Although Addison hasn't addressed the rumors directly, she did give fans the impression that she and Bryce have decided to call it quits — again — after her March 23 podcast interview with Zane Lowe where she referred to the TikTok star as her "ex-boyfriend" when promoting her new song "Obsessed."
Article continues below advertisement
She said, "So the night recording this … I was driving right before the studio, I had dropped off my ex-boyfriend, my boyfriend at the time. He looked at me and was like, 'I'm obsessed with you.' And I was like, 'Me too.'"
The same day, a report by Us Weekly confirmed that the couple had decided to go their separate ways. A source revealed, "Addison broke up with Bryce. She feels that he has a lot of growing up to do and that he brings too much drama into her life. They're so on and off though, so don't be surprised if they get back together at some point."
Fans soon noticed that Addison unfollowed Bryce, while he responded on Twitter, "The media paints me as the villain, it's actually so f--ked lmao."