Is 'All of Us Are Dead' Related to 'Train to Busan'? The Show Itself Seems to Think So
There's no doubting the similarities between these two Korean zombie stories, but is 'All of Us Are Dead' related in any way to 'Train to Busan'?
If you've developed an itch for Korean sci-fi shows on Netflix, then All of Us Are Dead might be able to scratch it for you. The new show is packed with zombie horror, charming coming-of-age storylines, and even some dashes of comedy to boot.
Article continues below advertisement
And if you've had your finger on the pulse of Korean pop culture at any point within the last 10 years, then you know that Train to Busan is another Korean zombie movie with wide appeal. But are these two stories related?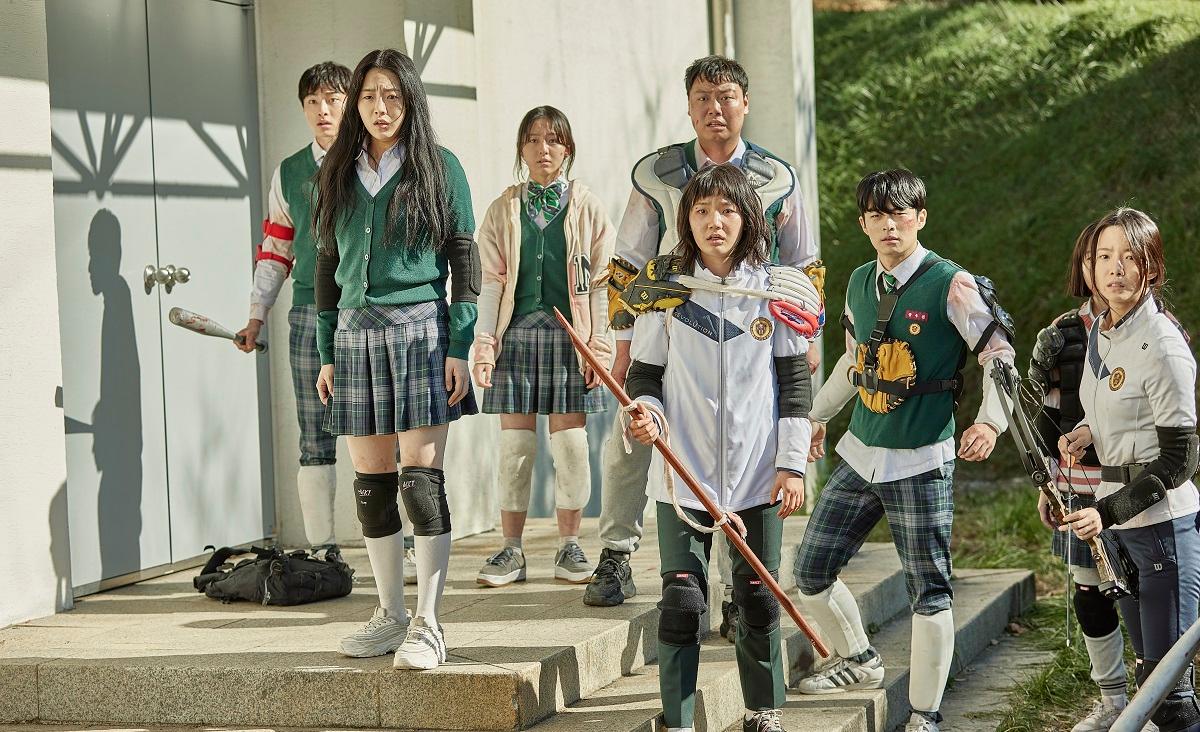 Article continues below advertisement
All of Us Are Dead began streaming on Jan. 28. After an apparent zombie outbreak runs its way through Hyosan High School, the remaining students and faculty must navigate their classrooms and try to survive the spread of the virus. But not even a zombie apocalypse can't get in the way of high school drama like spurned romance, bullying, and class division.
Is 'All of Us Are Dead' related to 'Train to Busan'?
Train to Busan is an immensely popular South Korean zombie film that was released in 2016. When a zombie outbreak starts to run through South Korea, passengers on a train from Seoul to Busan must try to survive in order to reach a supposed safe haven at the end of the line. Train transfers and moving between cars become a matter of life and death as the people on board try to avoid becoming zombies themselves.
Article continues below advertisement
The film made a splash when it was released with record-breaking ticket sales. It was lauded by critics from all over the world as a fast-paced and emotional thrill ride that reinvigorated the overdone genre.
Given its immense international popularity, it's impossible not to draw comparisons between All of Us Are Dead and Train to Busan. Both stories involve common gathering places becoming zombie-infested battlegrounds where working out your personal issues is just as important as surviving.
Given the violent and frenetic nature of the zombies, it'd be easy to mistake the two stories for being related. But in a very charming and tongue-in-cheek manner, All of Us Are Dead takes steps to let its audience know that the two stories are entirely separate.
Article continues below advertisement
After navigating the initial onslaught of zombies, several students hole up in a classroom to catch their breath. As soon as the kids question what's going on at their school, Lee Cheong-san (Yoon Chan-young) is the first to say, "It's like Train to Busan." When they get the chance to contact emergency services, they open by stating that zombies are attacking the school. But Nam On-jo (Park Ji-hoo) tells him not to say "zombie" out of fear that the responders will think they're being pranked.
Article continues below advertisement
Most zombie stories treat the zombie threat as an inexplicable event. Typically, the concept of zombies doesn't exist in fictional worlds where a zombie apocalypse occurs, so people lack the knowledge — the general terms and lore — of zombies as a whole.
The Walking Dead for example, refers to zombies as "walkers" instead of zombies.
All of Us Are Dead drops that pretense in its zombie story, taking place in a world where kids who grew up surrounded by zombie stories know exactly what they're in for. Instead of trying to be the next Train to Busan, the new Netflix show takes a few beats to satirize the genre by using the popular movie as a point of reference for what the show is trying to accomplish.
All of Us Are Dead might not be related to Train to Busan in any way whatsoever, but it's a new show that isn't afraid to use the popular film as a platform for telling its own unique story.
You can stream the entire first season on Netflix.