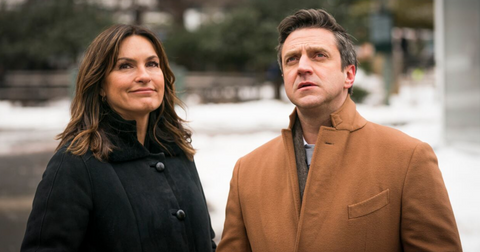 Barba's Return Is the Best Part of 'SVU's Season 21 So Far
By Pippa Raga

Updated
When Olivia Benson started video-chatting with former ADA Rafael Barba at the beginning of Season 21's "Redemption in Her Corner," Law & Order: SVU fans knew they were in for a treat.
Viewers hadn't seen Rafael Barba since he left after a complicated case in Season 19 where he found himself in the unfortunate position of having to turn off a young boy's life support, then was indicted for murdering the child before eventually having the charges cleared.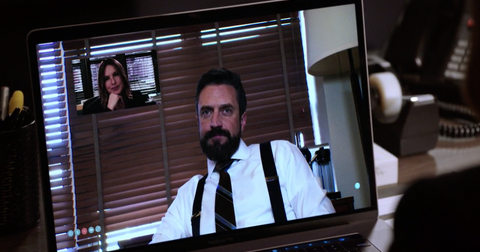 Is Barba coming back to 'SVU' in Season 21?
After the young boy's case in Season 19's "The Undiscovered Country," Barba was so traumatized that he decided to put his 21 years as a prosecutor behind him and decided he had reached his limit.
Barba was replaced by ADA Peter Stone mid-season until former detective and law student, Sonny Carisi, traded in his police badge and stepped over to the "dark side" (Tutuola's words, not ours) of becoming the squad's new ADA.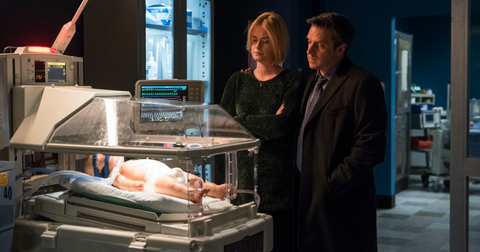 That said, it sounds like the real reason Barba's character was written off the show was because actor Raúl Esparza felt like he was ready to move on from the role. "I had explored a lot of what I thought Barba was about," he said to Entertainment Weekly following his departure.
"I just felt it was time to move on," he continued. "I was also feeling like the role has changed over the years in a way that has been an interesting experience for me ... I just felt I had reached the end of what I wanted to explore where they were writing," he said of his six seasons on the long-running show.
However, the actor never shut the door on the possibility of returning to the crime procedural, especially considering the incredible on-screen chemistry his character had with Mariska Hargitay's. "I don't just miss the role," he told EW. "I miss [Mariska], so any opportunity to get back into a room with her is valuable to me."
The actor continued, "Part of the reason I became Barba, and that it turned into the show that it did for me, was the way I hit it off with her and that was surprising. What was supposed to be a guest starring spot ... morphed into something very rich and surprising ... entirely because of the space that was created between me and Mariska."
In his Season 21 appearance, Barba is video-chatting in from Iowa, where he's "trying to blend in" with a beard. We never find out why he's there (but the episode coincided with the week of the Iowa Primary) because he's more keen to catch up with Benson and wish her a happy birthday before anyone else.
"You know it's been rough. A lot of loss lately," she responds, alluding to the rough season she's had so far, during which both her brother Simon and her ex Ed Tucker have passed away.
Show runner Warren Leight had promised to try and make a Barba appearance happen on this season "sooner rather than later," and expanded on his plan to bring actor Raúl, who he calls his "partner in crime" back this landmark season, which he's envisioning as a three-act story.
"I think we'll see Barba before the third act begins," Warren had teased. We sure hope those few seconds weren't the end of his guest appearance and that we get to see more of the ex-ADA comforting his friend Olivia in her time of need — perhaps a trip to New York's 1PP is in order?
New episodes of Law & Order: Special Victims Unit air Thursdays at 10 p.m. on NBC.