Are Hailey and Justin Bieber Having a Baby? Here's What We Know
Hailey and Justin Bieber have been trying for a baby for a while. The burning question remains, is Hailey pregnant?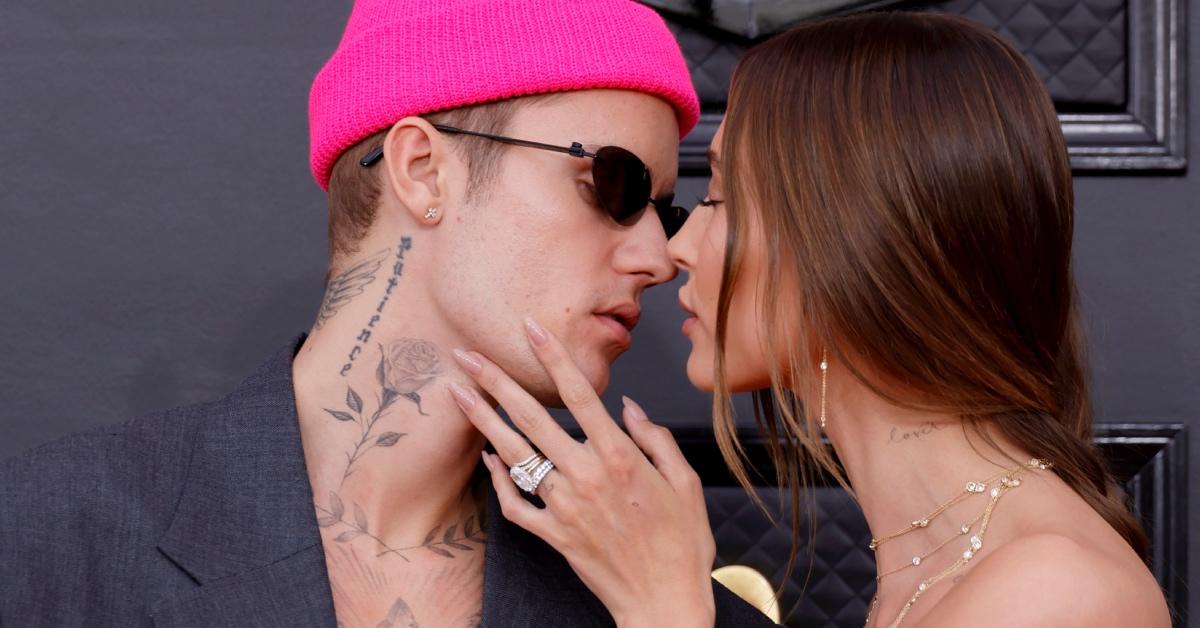 Shortly after "it" couple Justin Bieber and Hailey Baldwin Bieber tied the knot during a courthouse wedding held in September 2018, Justin hinted that he couldn't wait for the two to start a family. Does this mean the couple is trying to have a child? Or the more pressing question might be, is Hailey Baldwin Bieber pregnant? Recent pictures might point to a "yes".
Article continues below advertisement
Although Hailey has been increasingly wrapped up in her skincare line Rhode (which is also her middle name) and Justin is still heavily involved in the music biz, the two have been open about having kids. And it looks like a baby Biebs could be in the picture in the near future.
Is Hailey Baldwin Bieber pregnant? This picture is a big hint.
The couple was photographed enjoying Drake's "It's All A Blur Tour" at The Barclay's Center on July 18th. Hailey is holding her belly in a very "I'm pregnant" kind of way. It also looks like a bit of a baby bump. Could she have eaten too many of the tasty hot dogs they sell at the Barclay's Center? Possibly. We have no confirmation whether it's a hot dog baby or baby Bieber, but it looks kind of suspicious. We'll have to wait for the official word to know for sure.
Article continues below advertisement
But there have been baby rumors for a while now.
Justin has blatantly talked about how much he's looking forward to having children with Hailey. In a post from July 2018, before the two were married, Justin shared an image of him and Hailey at Disney World — Mickey ears and all. The photo was captioned "Love dates with you baby ... one day I'll be doing daddy-daughter dates ... not hinting at anything soon I'm not in a rush. I just wanna enjoy you by yourself for a while!"
Although Justin turned the comments off for the previously mentioned post, we don't know how Hailey responded to that, but it seems that while he was "not in a rush" back then, he can't wait for it now.
Article continues below advertisement
Hailey wasn't keen on getting pregnant — considering she went on birth control.
In an interview with Refinery29, in which the model dished on how she keeps her skin in check, she revealed that she decided to go on birth control, something she'd never done before. Of course, the birth control messed with her otherwise completely flawless skin, and she shared some tips on how she rebalances her skin with the new hormones in her system.
Article continues below advertisement
"That threw off my hormones for sure and made my skin go off," Hailey said of the birth control. "You just have to be patient, let it happen, and let it even out. For me, I'd take that over having a baby right now, so..."
Although Hailey didn't seem quite ready for a baby back then, perhaps her views have changed.
During a May 2023 interview with The Times, Hailey admitted, "I want kids so bad but I get scared." While the birthing process in and of itself is quite scary (but also rewarding), it's the public scrutiny she's worried about. Being a high profile model and musician surely has its perks but the roles don't come without criticism.
While Hailey may be worried about how fans and the general public will respond to a child, the couple still seems excited about having children.