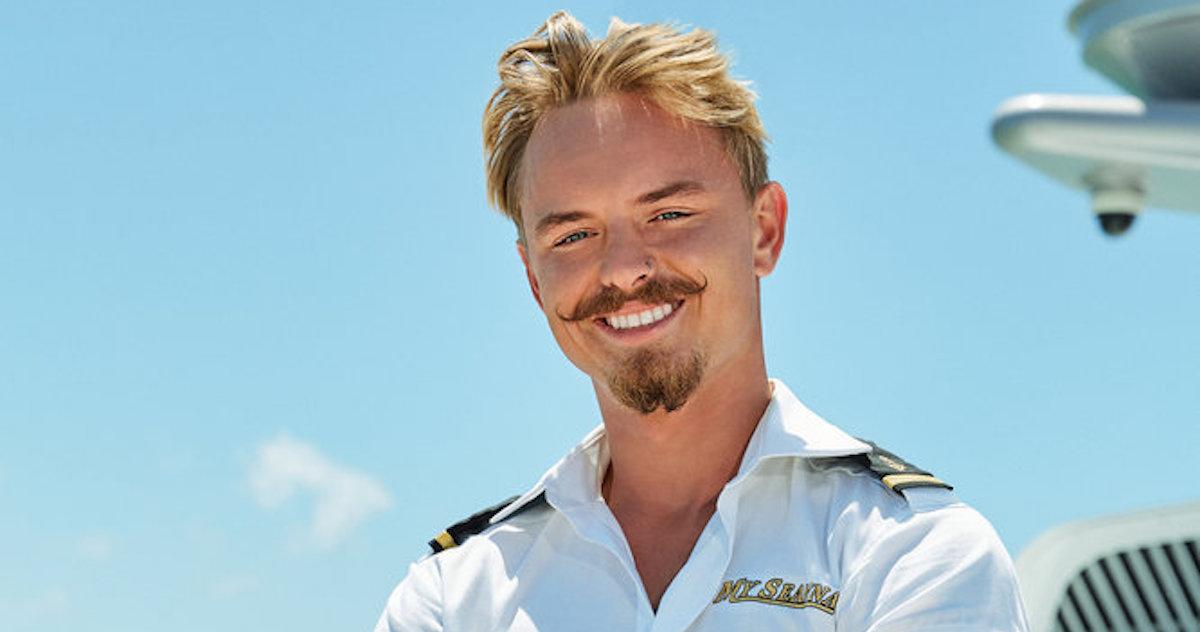 Jake Foulger Revealed He's Actually Engaged After He Kissed Rayna Lindsay on 'Below Deck'
Jake Foulger is the lead deckhand featured on 'Below Deck' Season 9. Though he kissed Rayna Lindsay after the first charter, he shared that he's engaged.
As any longtime fan of Below Deck will know, off-boat relationships often become complicated for the crew members as each charter season progresses. In Season 9 of the hit Bravo reality series, First Officer Eddie Lucas and Chief Stew Heather Chase have already discussed the trials and tribulations of trying to make their long-distance romances work while they are busy working on the My Seanna yacht.
Article continues below advertisement
At the end of the Nov. 15 episode, as several of the cast members enjoyed a late night snack in the crew mess following a post-charter night out, Lead Deckhand Jake Foulger revealed that he, too, was involved in an off-boat entanglement.
While the revelation was shocking enough, because Jake kissed fellow deckhand Rayna Lindsay after the first charter, he then shared that he was actually engaged.
The episode concluded before fans could receive further clarity regarding his relationship status, but he will share details about his fiancée, Paris, later on in Season 9.
Article continues below advertisement
Is Jake Foulger from 'Below Deck' Season 9 engaged?
During the Nov. 15 episode, "Pissed-On Chickens Can't Compare," the newly-appointed lead deckhand dropped a bombshell about his relationship status.
"I'm engaged," he told Rayna and second stew, Fraser Olender, in the crew mess shortly after they shared a three-way kiss in the hot tub.
Rayna stormed off following the announcement, and she expressed that she felt like an "idiot" for kissing someone who is set to get married.
In a teaser clip for the Nov. 22 episode, "Leave Your Emotions at the Cabin Door," Jake clarified what his engagement means.
"She's my fiancée, but she's not my girlfriend," he explained to the rest of the exterior team. "I'm not monogamous, baby!"
When asked to elaborate on the terms of the engagement, Jake shared that it was more of a platonic arrangement.
"She's my mate," he said about his wife-to-be. "She needs a British passport."
Article continues below advertisement
In his confessional, the 27-year-old mentioned his fiancée once again, and he discussed how she would feel about him exploring other romances on the boat.
"I really care for Paris, and I know she cares for me, but we're nowhere near ready for marriage. She understands what I'm like, and she knows that I'm going to be doing all this crazy s--t," Jake said. "I just feel like you gotta spread all the love. All the love, baby."
While Jake's engagement certainly isn't a traditional one, fans are curious to find out more about his fiancée.
Article continues below advertisement
Who is Jake Foulger's fiancée, Paris Field?
It appears as if Jake's fiancée is Paris Field, a 26-year-old who hails from Australia (but who is currently based in Tulum, Mexico). According to her tagged photos on Instagram, Paris has also worked on yachts before. It's unclear at this time if that is how she met Jake in the first place.
Though Jake and Paris were engaged during filming for Season 9, the deckhand made it clear that the two were not technically a romantic item.
"We're not together," he reiterated on the show. "She's not my girlfriend."
Paris and Jake do not have any photos together on their respective Instagram feeds, so it remains to be seen if the two are still engaged after the events of Below Deck Season 9.
The two do still follow one another on the photo sharing app, however.
You can catch Jake on Below Deck, which airs on Mondays at 9 p.m. ET on Bravo.