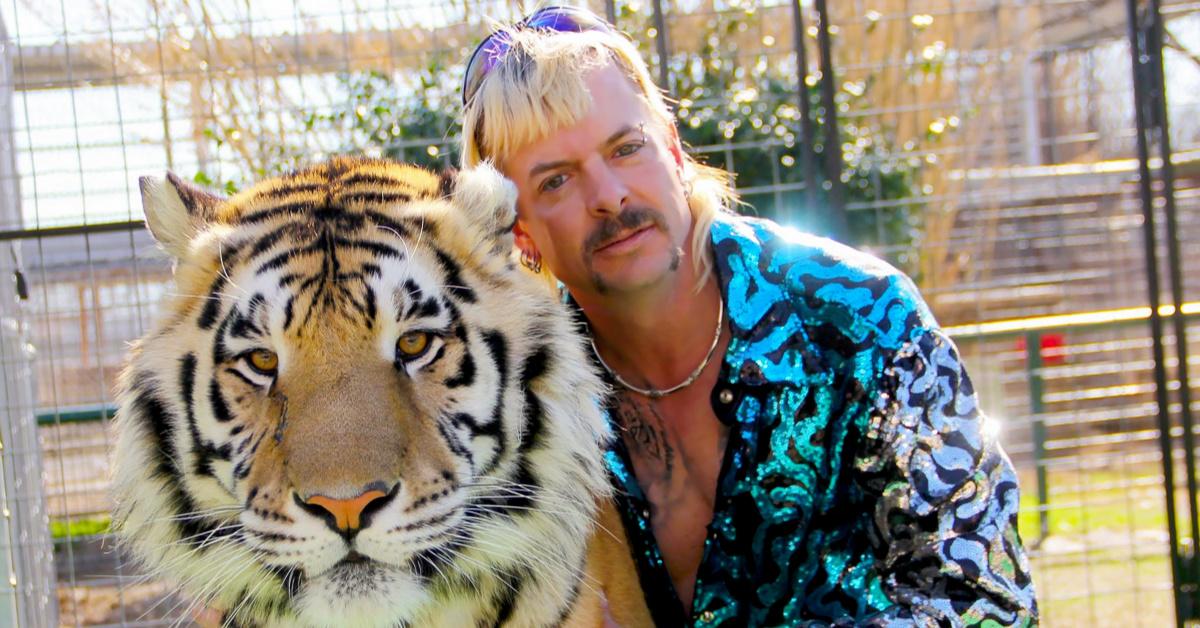 Where Is "Tiger King" Joe Exotic Now?
By Abi Travis

Apr. 8 2020, Updated 5:11 p.m. ET
In case you missed it, the world has now decided that Netflix's docuseries Tiger King: Murder, Mayhem, and Madness is required viewing for all. And it makes sense — who wouldn't want to watch a seven-part series all about a big cat breeder/country singer who may or may not be at the center of a murder-for-hire plot? It basically has everything you never knew that you wanted from a docuseries. 
Article continues below advertisement
If you've already watched to the end of the series, you know that Joe Exotic — the eponymous Tiger King — was sentenced to 22 years in federal prison by the U.S. District Court for the Western District of Oklahoma. That happened in January of 2020. So naturally, we're all wondering: Is Joe Exotic still in jail?
Joe Exotic is indeed still in jail, but he's working on getting out.
At the time of his indictment, Joe Exotic — whose real name is Joseph Maldonado-Passage — was being held at the Santa Rosa County Jail in Milton, Fla. He was then transferred to Oklahoma for sentencing. He's been imprisoned throughout the process and, yes, is still in prison today. However, he has pretty big plans for the future.
Article continues below advertisement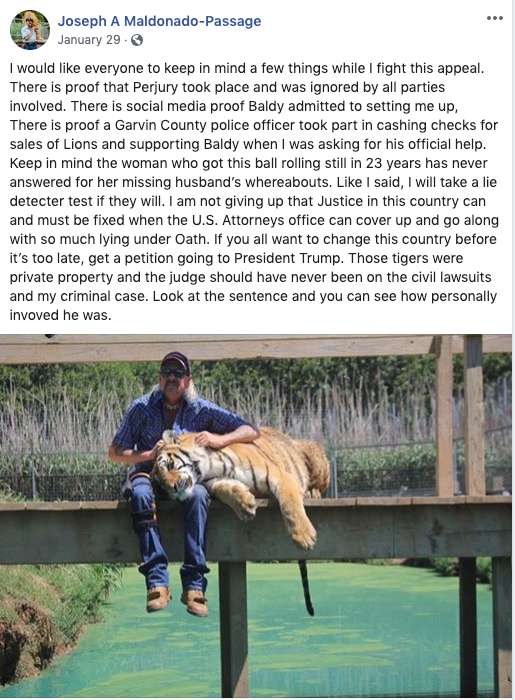 Despite being in jail, Joe Exotic is still very active on social media.
If you look up Joe Exotic on Facebook, you'll see that he's been posting regularly for years — particularly since his arrest in September of 2018. More recently, he has been posting photos of him and his tigers, along with claims that he's been falsely accused and plans to do everything in his power to appeal his case.
Article continues below advertisement
Just before Tiger King was made available to watch on Netflix, Joe Exotic made a post saying the docuseries would allow people to see his innocence for themselves. "At 12:01am Friday Morning 132 countries that get Netflix most will be trapped in their own homes with nothing to do but watch the TV series 'Tiger King' and the entire world will know what these people did to put me here," he wrote. "I have been promised the Government agents won't be able to cover up the corruption they took part in."
Scrolling through Joe Exotic's Facebook feed provides plenty of fodder for conspiracy theories and entertainment — it's almost another episode of Tiger King unto itself! He has countless posts about Jeff Lowe, whom he refers to as "Baldy," and who (along with his wife Lauren) has taken over the Greater Wynnewood Exotic Animal Park in Oklahoma.
Article continues below advertisement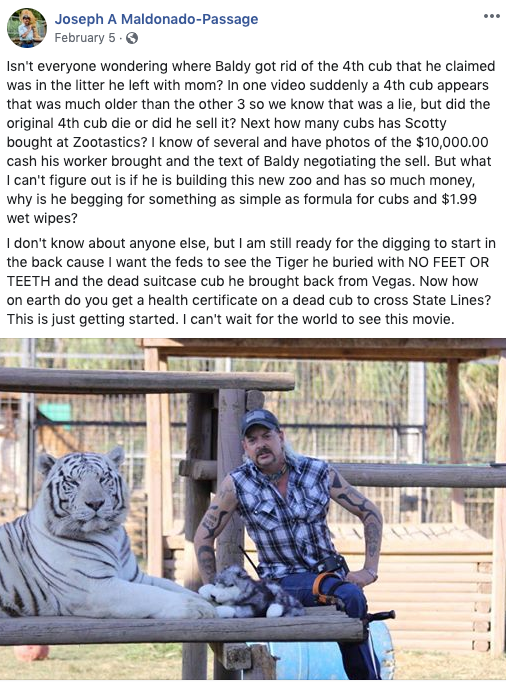 What was Joe Exotic sent to prison for?
Given all that was revealed in Tiger King, you may be wondering what exactly Joe Exotic was ultimately charged with. In the end, he was found guilty of two counts of attempted murder-for-hire, eight counts of falsifying wildlife records, and nine counts of violation of the Endangered Species Act.
As you can probably guess, Joe Exotic doesn't think his prison sentence will last very long. He claims that "perjury took place and was ignored by all parties involved" in the lead-up to his arrest. Thus far, his claims have not amounted to much — he's still in prison and will be for the foreseeable future. But when it comes to Joe Exotic, you really never know what might happen next.