Joe Exotic From Netflix's 'Tiger King' Was Arrested, but Jeff Lowe Is Still out There
In Netflix's latest documentary, 'Joe Exotic,' Jeff Lowe bought the controversial exotic animal park from Joe Exotic, and he's still on the loose.
New in the realm of Netflix docu-series is Tiger King: Murder, Mayhem and Madness. The true-crime show tells the sinister and shockingly true story of exotic animal park owner, country singer, and attempted murderer, Joe Exotic, who tries to literally take down his rival, an animal rehabilitation owner named Carole Baskin. In the end, though, Jeff basically saves the day.
Article continues below advertisement
Article continues below advertisement
First, here's Joe Exotic's backstory.
Joseph Maldonado-Passage, aka Joe Exotic, had attempted suicide after his brother's death, but eventually found solace in taking care of exotic animals, according to NewsWeek. He decided to create the Greater Wynnewood Exotic Animal Park in Oklahoma, a tourist attraction where he bred tigers and other large cats. He started a web-series where he became "Joe Exotic," and eventually, it was discovered he was mistreating the animals.
Eventually, conservatory-owner, Carole Baskin, started coming after him, and a nearly-fatal feud began between them — aside from publicly defaming one another, Joe sent poisonous snakes to Carole's mailbox, and eventually tried to hire someone to kill her, only to find out that he had hired an undercover FBI agent. Joe Exotic was arrested, which was when Jeff Lowe eventually emerged from the depths of exotic animal entrepreneurship.
Article continues below advertisement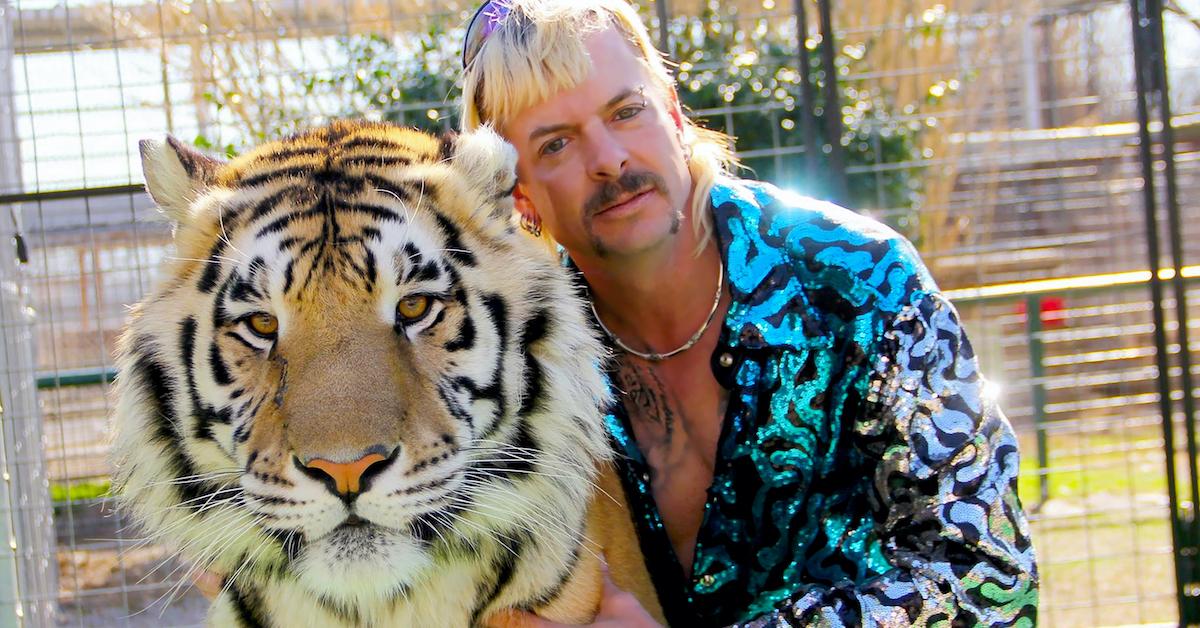 Who is Jeff Lowe in relation to Joe Exotic?
Jeff Lowe ended up buying the zoo after Joe Exotic had been arrested, and is now the CEO. Back in the day, he had reportedly been convicted of domestic violence, and had also illegally smuggled tiger cubs in a suitcase. Despite his sketchy past, though, he continues publicly slam Joe Exotic, consistently reiterating that Joe had gravely mishandled the animals.
Article continues below advertisement
According to PETA, however, there had been a warrant out for Jeff's arrest for several years for failing to obtain proper wildlife licensing, and has been a target of PETA since he bought the animal park for apparently continuing to sell public interactions and photo opportunities with wild animals.
Supposedly, though, he's doing better than Joe had, and according to KIRO 7, Jeff and his wife, Lauren, plan to move the zoo to another location and hope to separate themselves from the image of Joe and his previous animal park.
Article continues below advertisement
Meanwhile, Joe Exotic is now living life in prison.
Earlier this year, in January 2020, Joe Exotic was sentenced to spend the rest of his life in prison, as he was sentenced for the next 22 years. Among his charges were conspiracy to murder Carole Baskin, and for each and every one of the heinous wildlife violations he committed.
The story of Joe Exotic is seriously wild, and although his zoo is in new hands, it doesn't seem as though Jeff is doing much better. We're hoping for the best for G.W. Exotic Animal Memorial Park in Oklahoma — those tigers are in our hearts.