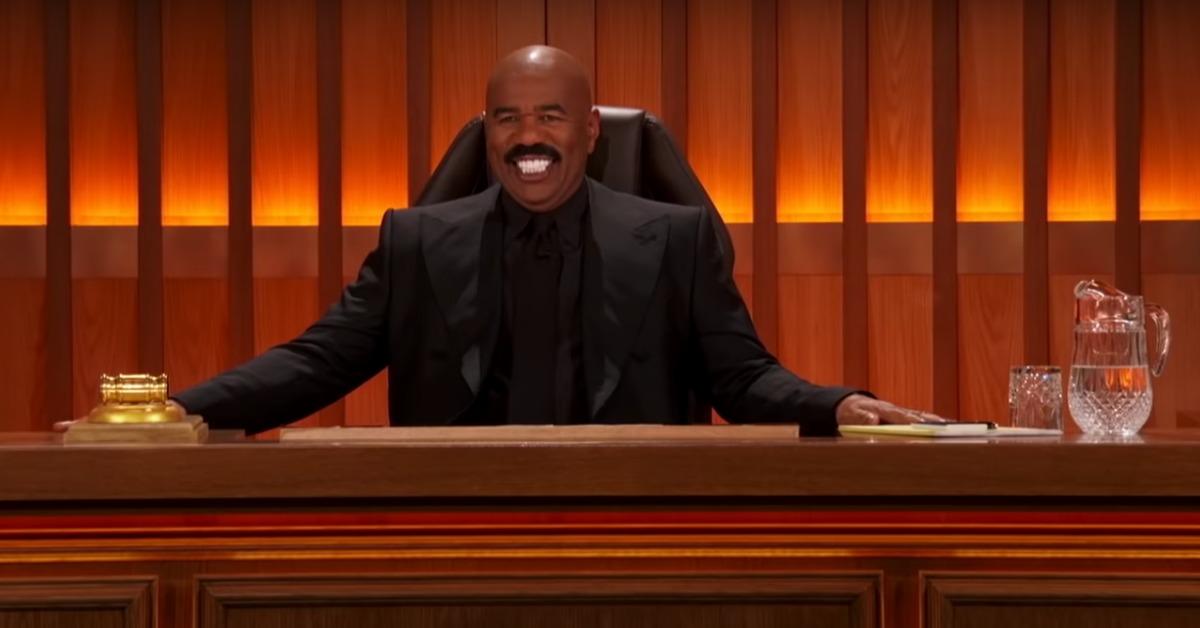 'Judge Steve Harvey' Handles the Cases That Don't Require "Real" Courtrooms
By Chrissy Bobic

Jan. 4 2022, Published 11:53 a.m. ET
Without much warning, Steve Harvey just became a celebrity judge on Judge Steve Harvey — but are we really surprised? He has starred in plenty of movies and TV shows, and he's arguably the most memorable Family Feud host ever.
To see him hosting a primetime judge show isn't a huge stretch, but it does make you wonder whether Judge Steve Harvey is real and how legal the whole thing is.
Article continues below advertisement
So, is 'Judge Steve Harvey' real?
Despite the title of the show, no, Steve Harvey is not a real judge. However, you don't have to be a real judge to run a primetime courtroom reality show, and Steve Harvey gets that better than anyone right now. He's in charge of the cases presented on Judge Steve Harvey, and while Steve himself isn't a judge, the cases are legit.
Article continues below advertisement
He opened up to TV Insider about some notable cases in the show's first season.
"We had two sisters suing one another for $6,000, which is substantial," he shared. "I found out the truth of why they were there, and it wasn't just about money. There was a son who sued his mother. As he was standing there, you could see the people in the gallery turning on him."
'Judge Steve Harvey' participants are paid to be on the show,
Even though the problems on Judge Steve Harvey are real, the people who appear before "Judge" Steve are paid just to be on the show. According to the casting website for Judge Steve Harvey, participants are paid $1,000 for the use of their likeness. And anything else awarded as a result of the case is paid for by production.
Article continues below advertisement
Individuals are encouraged to apply to be on the show if they have any disputes they want to settle on-camera with friends, family, co-workers, or anyone else. The website also says "no case is too big or too small" for the show. And according to the fine print, prodducers will pay to fly participants out to film.
Article continues below advertisement
Is 'Judge Steve Harvey' legally binding?
If the participants on Judge Steve Harvey sign a contract beforehand about the case they bring to the show, chances are it has something to do with arbitration rather than a real court case you'd see with a standard jury and actual judge. Steve is acting as a mediator of sorts.
That being said, with contracts involved, Judge Steve Harvey is likely legally binding. With other courtroom shows, like Judge Judy for example, participants sign documents agreeing to the arbitration rather than an actual courtroom litigation. So whatever happens is within the parameters of the law.
Watch Judge Steve Harvey on Tuesdays at 8 p.m. EST on ABC.