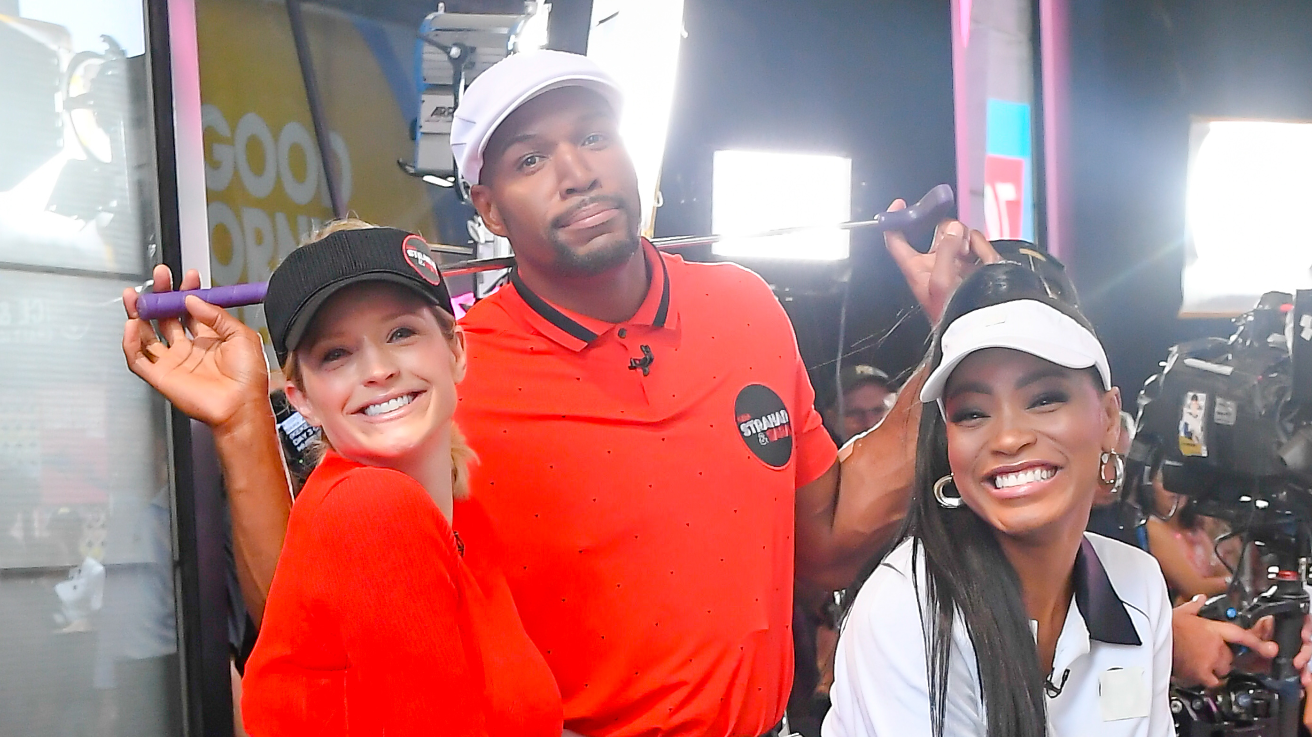 Are Michael Strahan and Keke Palmer Dating? Inside the Co-Hosts' Relationship
There's no denying that Michael Strahan and Keke Palmer would make the cutest couple ever. The pair co-hosts GMA 3: Strahan, Sara, and Keke together weekdays at 1 p.m., so viewers can't help but fall in love with the idea of the duo together. But are the colleagues actually romantic when the cameras aren't rolling? Here's everything we know about if Michael and Keke dating!
Article continues below advertisement
Is Michael Strahan dating Keke Palmer?
If Michael, 48, and Keke, 26, are dating, they are doing a great job at keeping it a secret! As far as we know, the co-hosts are not romantically involved, but since neither party is currently dating anybody right now, there's no surprise that there is a plethora of speculation about their status.
While Michael is 22 years her elder, the two always look happy and giggly during their talk show every day, so the idea of them being more than friends isn't completely crazy.
Article continues below advertisement
The idea of Keke and Michael as a couple became an especially pleasant thought when the former NFL star stuck up for and protected Keke during a segment of their talk show in October 2019. During a recent episode, The Bachelorette contestant Mike Johnson muscled up the courage to ask Keke on a date on live TV after explaining how things with music sensation Demi Lovato didn't work out.
Naturally, Keke was embarrassed after the awkward encounter, but Michael stepped in to ease the situation.
"Mike, let me tell you something. Demi's my girl, I love this one here too now," he said to the reality star. "You mess up and I'm coming for you. You don't want that." We can't tell if he was protecting her because he has a crush on her, or because he looks at her like a little sister. Either way, we love their dynamic!
Article continues below advertisement
Who is Michael Strahan dating?
As of now, Michael is not publicly dating anyone, however he was reportedly linked to Kayla Quick in the past. He was also previously engaged to Nicole Mitchell, but they never ended up saying "I do."
Michael has also been married twice before, to Wanda Hutchins from 1992 until 1996, and to Jean Muggli from 1999 until 2006. He is a proud dad to four children.
Article continues below advertisement
Who is Keke Palmer dating?
As of March 2020, Keke was single and looking to mingle and she's never been married. However, she did recently make a claim that could suggest dating Michael is totally off the table. "I've always had the same philosophy when it comes to dating," she shared with BET.com "Not that I wouldn't give someone a try. But trying to keep my private life outside of my work life, to me, it's easiest when you don't date someone with the same career."
When Keke officially joined Michael and Sara Haines on GMA3 during the summer, Michael gushed over having her on the show, proving how sincere and strong their chemistry is despite just being colleagues. "We appreciate you. We love you," he said at the time. "This is just not a gift for us, this is a gift for America."
Here's hoping Michael and Keke realize they'd be the cutest couple ever sooner rather than later!