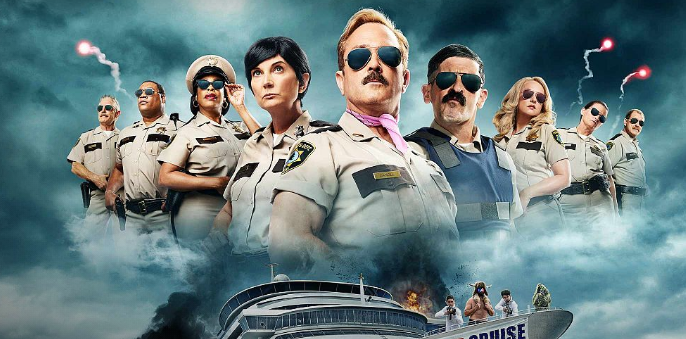 'Reno 911!' Is Available on Both HBO Max and Paramount Plus, Netflix No More
Comedy and irreverence go together like Dennis Reynolds and psychopathy, and Comedy Central made its bones by airing a slew of shows that featured jokes, skits, characters, and situations that would definitely be considered "problematic" by modern standards. South Park probably immediately comes to mind, but there are some Daily Show sketches that definitely fit the bill, and shows like Drawn Together and Crank Yankers could be added to that roster of "impropriety."
Article continues below advertisement
Of course, there's the long-running sketch show Reno 911! that holds a special place in folks' hearts and provides hours and hours of re-watchability. But is it still on Netflix?
Is 'Reno 911!' still on Netflix?
If you aren't familiar with the show, the concept is innately hilarious. It's structured as a mockumentary, Cops-style show that follows the misadventures of the Washoe County Sheriff's Office and Reno Police Department.
It featured an array of top comedians and actors as either featured guests or hilarious satellite characters, like Nick Swardson's Terry, in gut-busting scenarios.
Article continues below advertisement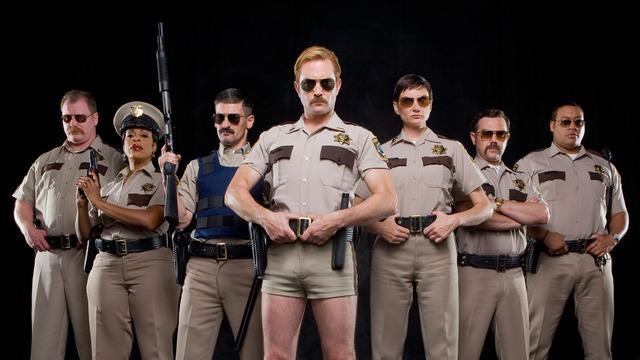 Netflix used to offer all seasons of the show, but like many programs featured on the streaming giant's platform, the deal to air the series was on a limited buyout basis. So as of this writing, no, you cannot stream Reno 911! on the black and red brand.
It is, however, available on two other major streaming services.
Article continues below advertisement
The first six seasons of the show that aired on Comedy Central are available to stream on HBO Max, commercial-free. It's also available on Paramount Plus, which will have advertisements (if you have the basic plan), but you can upgrade to the premium plan that will remove the pesky "word from our sponsors," should you choose to shell out more cash per month to do so.
Where can I watch Season 7 of 'Reno 911!'?
All right, here's where things get a little bit confusing. Season 7 of Reno 911! was a Quibi exclusive, but that platform ultimately went under and was bought out by Roku, so you'll need to either have a Roku device or install the Roku streaming application in order to watch it.
Article continues below advertisement
Word on the street is that Season 8 for Quibi was already in the can before its release, so that may be a part of Roku's buyout deal as well. The content / hardware provider may be biding its time before it releases it, however.
Then there's the matter of Reno 911!: Miami film, which is currently available to rent pretty much everywhere but is included with a Starz subscription.
Article continues below advertisement
'Reno 911!: The Hunt for QAnon' is a Paramount Plus exclusive.
It makes sense that Reno 911! would make its home on Paramount Plus. The movie studio turned TV network turned streaming service is owned by Viacom CBS, which also owns Comedy Central, making it a natural fit for the police-themed comedy series.
Article continues below advertisement
Here's the plot synopsis for the original special: "High Seas, hijinks, and the Hunt for QAnon! The Reno Sheriff's Department has been ordered to serve court papers to the mysterious head of QAnon, 'Q.' They're going deep undercover on Q's Booze Cruise. (Mostly just to go on a free cruise!)"
If you want to watch the one-off featuring everyone's favorite Nevada-based misfit officers, then you'll need to get yourself a Paramount Plus subscription to do so. If you're a T-Mobile customer, then you can get a basic plan for free for a year, but there are tons of other specials, free trials, and limited holiday offers available if you search online for them.
Article continues below advertisement
Godspeed, and let's hope Terry makes an appearance in the special when it premieres on Dec. 23, 2021.