Could (SPOILER) Actually Still Be Alive After Nicaragua? Here's What We Know
Is Soldier Boy still alive in 'The Boys' Season 3? The Crimson Countess thought the Russians killed him in Nicaragua, but what if she was wrong?
Warning: The following article contains spoilers for Season 3, Episode 4 of The Boys on Prime Video.
Is Soldier Boy (Jensen Ackles) still alive in the present day in The Boys Season 3? The old school supe was presumed dead after Team Payback's idiocy led to an attack on a top-secret U.S. military base in Nicaragua.
After all, the Crimson Countess (Laurie Holden) told Grace Mallory (Sarah Swire) that the Russians killed him with a secret weapon and spirited his body away to an undisclosed location.
Article continues below advertisement
However, Billy Butcher (Karl Urban) and the Boys quickly find out that the Crimson Countess misfired in her observations. They make a shocking discovery at a Russian military compound in The Boys Season 3, Episode 4.
Hidden deep within the bowels of the compound was a bearded man trapped in a cryogenic chamber. What happens when he's finally awakened from his slumber?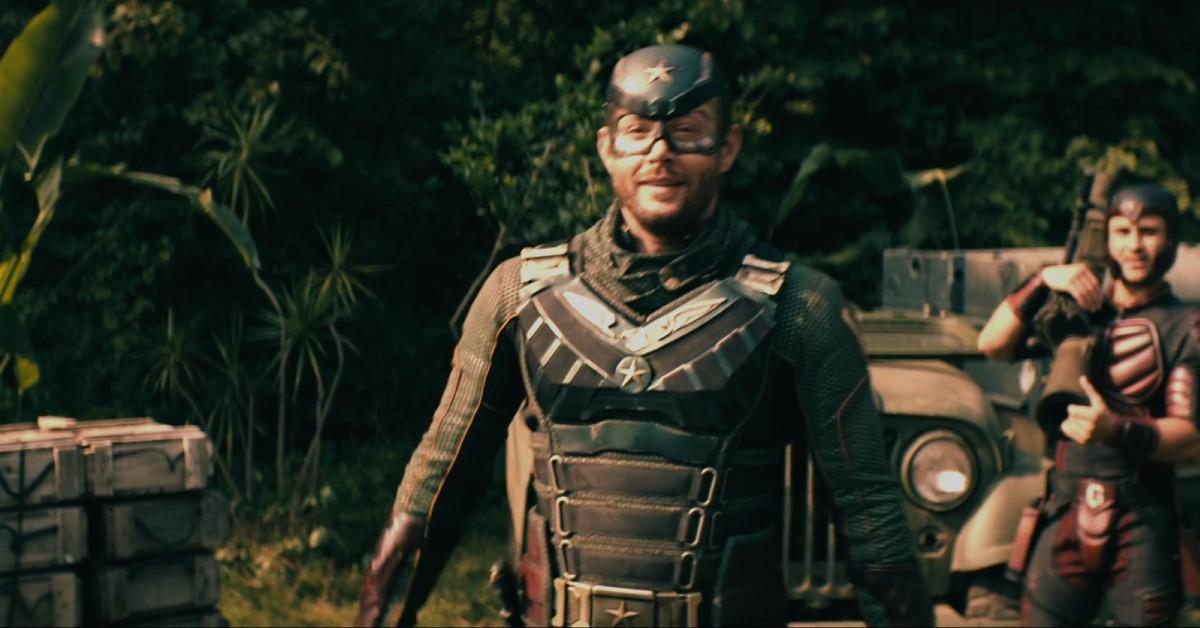 Article continues below advertisement
Is Soldier Boy still alive in 'The Boys' Season 3?
Yes. Soldier Boy is alive and literally beaming in The Boys Season 3.
No, we aren't kidding. What's the first thing Soldier Boy does when he awakens from his slumber? He shoots a powerful beam out of his chest, straight at Frenchie (Tomer Capone)!
Kimiko (Karen Fukuhara) bravely pushes Frenchie out of the way, absorbing the full brunt of Soldier Boy's hyper beam. To Frenchie's horror, Kimiko's healing abilities fail to kick in. "Why is she not healing?" Frenchie asks the Boys. Mother's Milk (Laz Alonso) fights to keep Kimiko conscious as she starts to slip away.
Butcher realizes that the Russians must have done something to Soldier Boy. He didn't have abilities like that before. What was that beam ability anyway?
Article continues below advertisement
Where does Soldier Boy go?
After Soldier Boy beams poor Kimiko, he walks off, completely naked. The present-day Soldier Boy is a far cry from the cocky Soldier Boy that hit on young Grace in Nicaragua. Soldier Boy in the present seems completely disorientated. It's understandable, given the fact that he was released from a cryogenic chamber after decades.
What was frightening was Soldier Boy's complete lack of awareness that people were in his vicinity. He just beamed and dipped out of there!
Article continues below advertisement
Will the Boys be able to find Soldier Boy before it's too late? Soldier Boy's lively presence signals an end to Butcher's quest to find the weapon that supposedly killed him in the first place. Queen Maeve (Dominique McElligott) hoped that her intel would lead to a way to finally defeat Homelander once and for all.
Now, the Boys have two unstable and extremely powerful supes to deal with! Why did Soldier Boy's power beam cause Kimiko's healing ability to fail? We've got more questions than answers at this point. Hopefully The Boys Season 3, Episode 5 will give us Soldier Boy's whereabouts and the status of Kimiko's condition! Will she be Soldier Boy's first modern-day casualty?
We'll just have to wait and see when The Boys Season 3, Episode 5 drops next Friday on Prime Video.