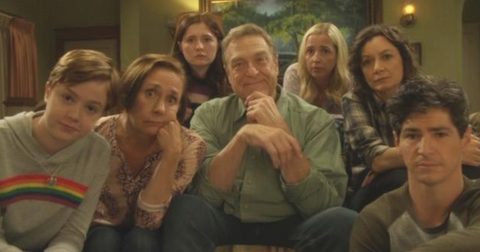 Fans Think 'The Conners' Has Been Canceled After Just One Season, So What's the Real Fate of the Show?
By Samantha Faragalli Younghans

Sep. 17 2019, Published 12:54 p.m. ET
Let's be real. The public would absolutely love to watch some more drama unfold when it comes to Roseanne Barr and the scandal around her popular show, Roseanne. Once the reboot was kicked off the air for her racist tweets in May 2018, ABC bounced back with yet another spin-off called The Conners. 
But after Season 1, fans are doubting that the sitcom will make it very far. So, Is The Conners canceled? Scroll down for everything we know about the show making it to Season 2!
Article continues below advertisement
Is The Conners canceled?
No! The Conners is not canceled. After the spin-off killed off Roseanne, fans were speculating that the show wouldn't be able to survive beyond Season 1 without her. On top of that, the series received a lot of backlash from fans via social media when it was on the air last fall — and the ratings are far lower than the original Roseanne reboot.
However, ABC has not announced the show's cancellation. In fact, they've shared quite the opposite news.
Article continues below advertisement
So, will there be a second season of The Conners?
Yes! The spin-off will return to everyone's TV screens on Tuesday, Sept. 24 at 8 p.m. And unlike Season 1, which only featured 11 episodes, Season 2 will feature 13 episodes. That means two more episodes with everyone's favorite cast!
How can I watch Season 2 of The Conners?
In addition to watching the show live on ABC when it airs at 8 p.m. on Tuesday nights this fall, you can also stream episodes of the series on ABC.com.
And if you're looking to binge-watch all 11 episodes of the first season prior to the Season 2 premiere, you can catch them on either ABC.com, or streaming services like Hulu or Amazon Prime.
Article continues below advertisement
Which cast members are returning for The Conners Season 2?
Season 2 will feature the return of many of the main characters, including John Goodman as Dan Conner, Sara Gilbert as Darlene Conner-Healy, Laurie Metcalf as Jackie Harris, Lecy Goranson as Becky Conner, Michael Fishman as D.J. Conner, Emma Kenney as Harris Conner-Healy, Ames McNamara as Mark Connor-Healy, Jayden Ray as Mary Connor, and Maya Lynne Robinson as Geena Williams-Conner.
Article continues below advertisement
On the series, you will also see the return of Married With Children star Katey Segal as Louise and hopefully the return of Johnny Galecki as David Healy, Sarah Chalke as Andrea, and Natalie West as Crystal Anderson.
It was also revealed that John's Blues Brothers co-star Dan Aykroyd will be joining the show as a guest-star this season.
Article continues below advertisement
What will The Conners Season 2 be about?
In true The Conners fashion, we know Season 2 will be nothing short of hilarious. That said, however, we expect the show to touch on some of the biggest storylines that weren't completed during Season 1.
Some of those storylines include Darlene's love triangle between Ben and David, Becky giving birth, Dan's love life without Roseanne, the lives of Darlene's kids, and many more.
But let's not get too attached to the show quite yet. Or at least until we get word that it has been renewed for Season 3...