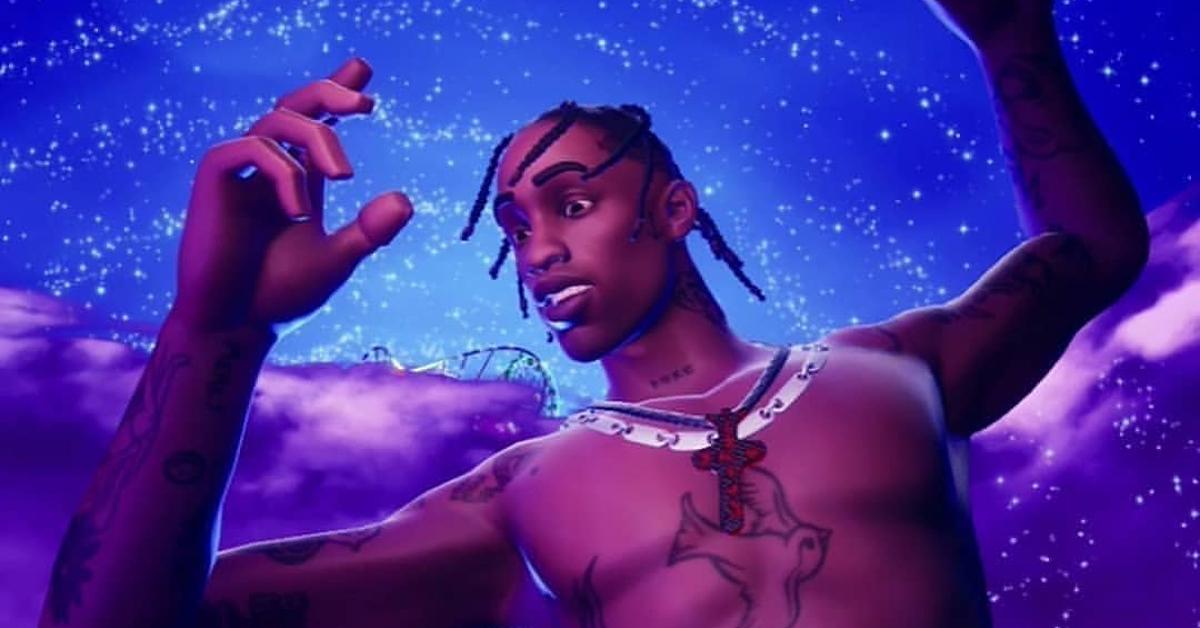 Rumor Has It That Travis Scott's Returning to 'Fortnite' but Epic's Tight-Lipped
Cross-promotional collaborations have been occurring in the video game business for a long, long time, like when Trent Reznor of Nine Inch Nails developed the soundtrack for Quake (which is still a beloved piece of content for gamers today).
The nature of these collaborations has changed over time; celebrity cameos (Kevin Spacey in Call of Duty) and Fortnite events have become popular. And fans of the popular Battle Royale game want to know: Is Travis Scott coming back?
Article continues below advertisement
Is Travis Scott coming back to 'Fortnite'?
If you're someone who eagerly follows all possible Fortnite news and leaks then there's a good chance you've seen some of Hypex's predictions come true in the past. The credible leaker published a tweet that hints Cactus Jack himself "*MIGHT*" return on February 10, which sent gamers who enjoyed the Astronomical Event into a frenzy. If you haven't seen the full in-game concert, you can check it out below.
Article continues below advertisement
Well, Hypex's "*MIGHT*" leak ended up proving true...when it came to the "might" part, and that's because Travis Scott's skin didn't actually return to the game's store. While people were upset, there clearly is a demand to bring the artist back to the game, as the first event was a huge success and people all over the world logged in to witness it.
Article continues below advertisement
Article continues below advertisement
Even though Epic Games hasn't made an official announcement, fans still want to know when the Travis Scott skin is coming back.
If you're a big fan of Scott, then we've got some bad news for you: Epic Games hasn't officially announced when or if he's going to return. It could very well be that the first event with the singer that took place on April 23 through the 25 of 2020 could be the last.
However, seeing as there seems to be a huge demand online for the Travis Scott skin to return, it's hard to imagine that another event or some type of collaboration won't be planned for the future.
Article continues below advertisement
Could another 'Fortnite' event coincide with Travis Scott's release date for his 'Utopia' album?
Scott has teased the release of his 2021 album for quite some time now. He's been posting about the project on social media and fans have been eagerly awaiting when the drop to his wildly successful 2018 effort, Astroworld, will finally be released. The official tracklist hasn't been dropped, but it'll probably include the following already released tracks, as per Genius:
Article continues below advertisement
"The Last Time"
"Franchise (Remix)' featuring Future, M.I.A. & Young Thug"
"Niagara Falls' featuring 21 Savage"
"Franchise' featuring M.I.A. & Young Thug"
"Vision"
"Highest in the Room"
Would you be down to see another in-game event to commemorate the release of Utopia? Seeing as Astroworld packed a hefty 17 tracks, if Travis Scott's follow-up effort follows the same route, then listeners can plan to have around 10 more tracks added to the already released singles above.
Are you excited to hear it? Or are you just more stoked to play as his avatar in the game?