This TikTok Video Claims Zendaya Is Pregnant —but Wait, There's a Catch
A TikTok supposedly announcing 'Dune' star Zendaya's supposed pregnancy with Tom Holland's baby has caused an uproar on social media. What's going on?
As I'm sure you already know, Euphoria star Zendaya and her Spider-Man: No Way Home co-star, Tom Holland, are very much an item. They were first spotted smooching back in July 2021 and the rest is history.
But as they approach their one-year mark, we're starting to wonder: Are they starting to plan a future together? Have they talked about what's next?
Article continues below advertisement
Well, according to the latest internet chatter, they might have just become future parents.
Rumors are swirling that Zendaya might be pregnant with Tom's baby. Is there any truth to this? Let's investigate.
Article continues below advertisement
Why is everyone saying Zendaya is pregnant?
It's crazy how quickly something can spread on social media. One TikTok video, which appears to have been created by a fan and not a reputable source like Zendaya herself, has been making rounds on the platform. The video's copy reads: "OMG, Zendaya and her friends just announced that she is pregnant and tagged Tom Holland."
Article continues below advertisement
The video shows a series of ultrasound photos that are meant to look like it was taken from Zendaya's Instagram profile; however, if you actually visit her Instagram, you'll see that those photos are fake.
But that's not all. At the end of this rather sketchy TikTok, a clip of Kris Jenner dancing that reads "Sike! You just got Krissed! I know you are shocked, now send this to someone to get Krissed," starts playing.
Confused? Well, to break it down, it means that the whole Zendaya video is fake — but don't worry, we'll explain that in the next section.
Unfortunately, a lot of folks weren't actually aware of what "you just got Krissed" meant and started spreading the word about Zendaya's pregnancy on Twitter, though. At one point, "Zendaya Pregnant" even started to trend.
Article continues below advertisement
"You just got Krissed," explained.
Currently, on TikTok, there's a new trend going around where users are making up rumors about literally anything and then placing a clip of Kris Jenner dancing to the song "Lady Marmalade" in a green glittery outfit at the end of their TikToks.
What does this short and spontaneous clip of the reality star/momager have to do with anything? Well, if you're watching it, it means you "just got Krissed" or to explain in simpler terms, "you just got tricked." Duped. Hoaxed. Bamboozled.
Article continues below advertisement
This new trend is somewhat like a modern-day version of the Rick Rolling trend, except the video featured in the "Krissed" bit is actually over 10 years old and was originally posted to Kylie and Kendall Jenner's YouTube channel.
So why is this "Krissed" trend so popular now? No clue. But we do know that if you're watching it, disregard everything you just saw, heard, or learned, because it's all a lie!
On that note, there is absolutely no truth to any of the Zendaya pregnancy claims.
Article continues below advertisement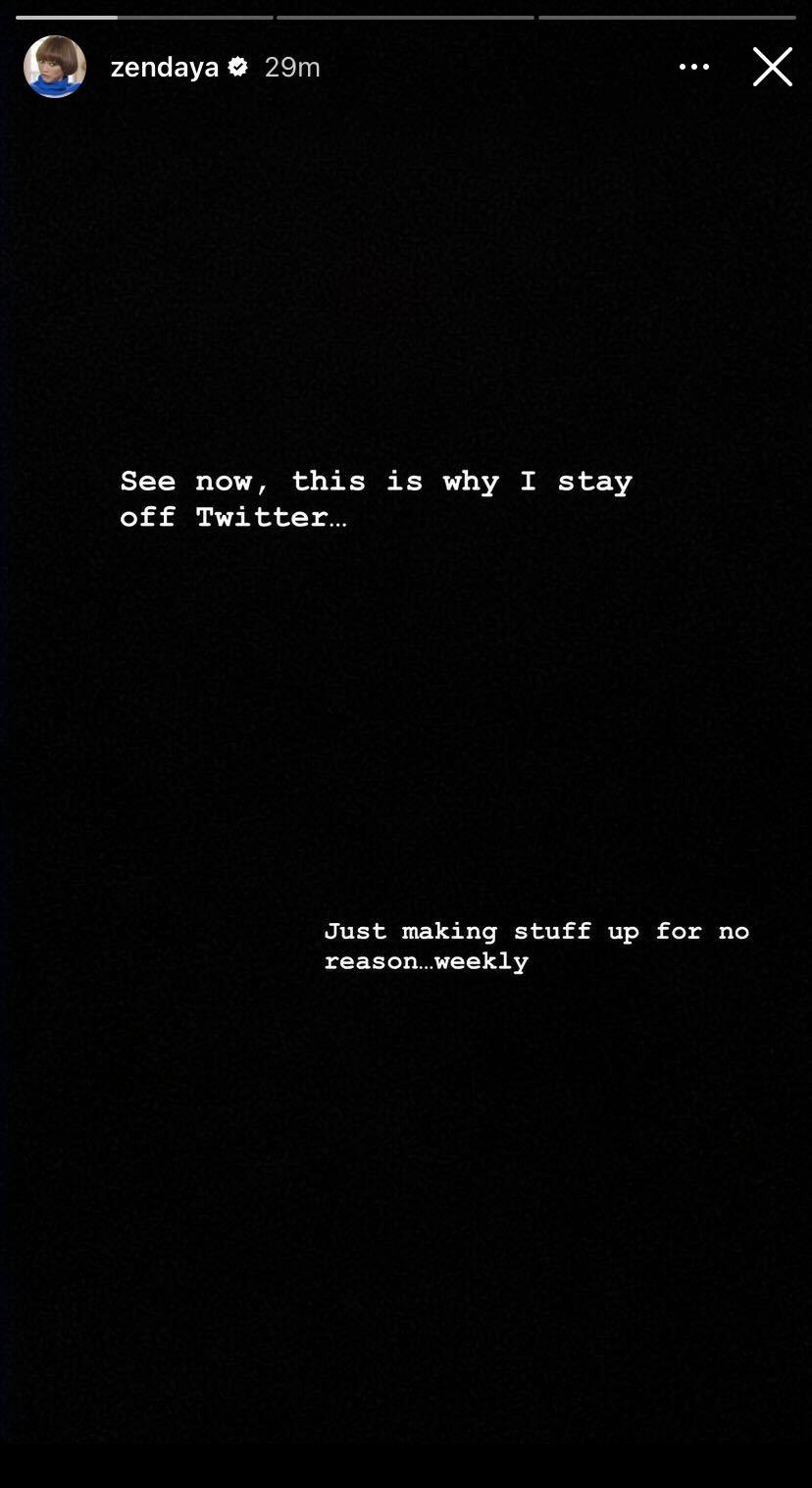 In fact, it seems like Zendaya just hinted that those rumors are indeed false. On her Instagram Story, she wrote, "See now, this is why I stay off Twitter," followed by "Just making stuff up for no reason ... weekly."