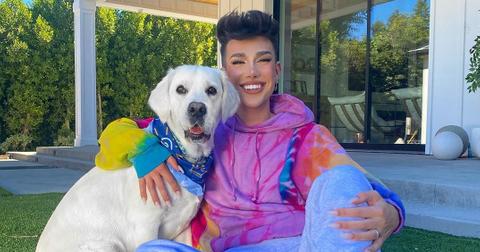 James Charles Is Part of More Public Drama and Is Anyone Even Surprised?
By Chrissy Bobic

Feb. 8 2021, Updated 3:58 p.m. ET
Social media superstar James Charles is embroiled in yet another bout of public drama with other YouTubers, and in other news, water is wet. Because let's face it — he could probably do without more drama on top of all of the other issues he has had with fellow Instagram and YouTube stars. But such is the life of James, who most recently came under fire amid accusations of copying the style of YouTuber Hila Klein's brand Teddy Fresh for his Sisters Apparel's latest line.
Article continues below advertisement
Did James outright copy from another designer for the sake of making sales? At this point, it's hard to say what exactly happened, especially with all of the he said / he said happening. But Hila's husband, Ethan Klein, had some public words with James over Twitter and the internet crowds have gathered with their popcorn and memes at the ready.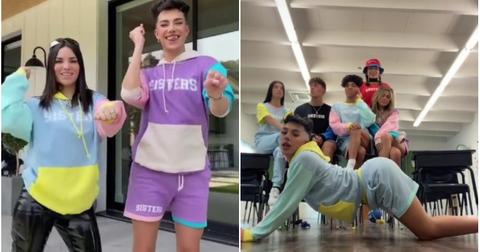 Article continues below advertisement
OK, so what is the James Charles and Teddy Fresh drama all about?
The drama started when James released his new line of hoodies with his clothing company, Sisters Apparel. The hoodies feature blocks of light color and his fans are already making googly eyes at the designs. The only problem is that fellow YouTuber Ethan Klein, of H3H3 Productions, said his wife, Hila Klein, already made clothes with the same exact design and that James actually copied off of them for his line of hoodies.
Not only that, but other Twitter users have come out to agree with Ethan that the designs are eerily similar and that James has some explaining to do. But, it turns out, James did explain himself to some degree. He tweeted that, despite Ethan coming for him on Twitter, he responded to Ethan's DM about the hoodies and was willing to talk about it to come to some kind of solution. According to James, however, Ethan didn't reply back to that and here we are.
Article continues below advertisement
When you DM'd me yesterday, I sent you the original photo that inspired my collection, explained I've never seen your brand, but also asked what you wanted me to do... You didn't reply. After last year, I vowed to keep conversations private and create solutions, not drama. https://t.co/6LGYZRHiCl

— James Charles (@jamescharles) September 18, 2020
Ethan tweeted that James' hoodies feature color blocking are "the same exact design as Hila's." He then relented and sent out a separate tweet that said it could be a "cosmic coincidence," but that James used "identical colors," along with a photo of James in one of his new Sisters Apparel hoodies next to an image of a Teddy Fresh hoodie. After, James tweeted that he is willing to talk more about it through DMs, but shots were definitely fired.
Article continues below advertisement
Who is Hila Klein, the owner of Teddy Fresh?
Hila runs the YouTube channel, H3H3 Productions, with her husband, Ethan. The channel is dedicated to comedy videos, vlogs, and commentary on pop culture. As a result of the channel's success, Hila opened up a second merch store, Teddy Fresh, which features her designs. She said on her website that she comes up with the designs on her own, which are sometimes inspired by artists.
I know we didn't invent colorblocking but I'm having a hard time w the new james charles merch, it's the same exact design as Hila's. Combined with the fact that his audience is so huge, many people will assume he designed it and start accusing us of plagarism. What do you think? pic.twitter.com/sKdTlzIcAx

— Ethan Klein (@h3h3productions) September 18, 2020
Article continues below advertisement
"I love expressing myself through Teddy Fresh and yes I do it all the time! I've always filled many sketchbooks and those are really hard to share," Hila said. "With Teddy Fresh I'm able to take concepts and drawings out of my sketchbook and bring it to life on our clothing and share it with so many people. It's been an amazing experience for me being able to include it as part of our Teddy Fresh story."
James Charles recently made headlines for his JoJo Siwa makeover too.
Though James didn't make headlines for drama with JoJo Siwa, he did get attention for giving her a complete makeover in a similar vein of his own look. Some of JoJo's fans went wild over her look, which made her look totally different and more grown-up than her signature high and tight ponytail and glitter does. In the end, JoJo admitted it's not the look for her, but she seemed to have a great time experimenting with James.
Article continues below advertisement
Unfortunately, this time around, James has more damage control to do than simply fielding sporadic negative comments about someone's makeover. If the Sisters Apparel hoodie designs were similar to those of Teddy Fresh by complete accident, hopefully the YouTubers can all come to some kind of understanding.