'Beautiful Disaster' Author Jamie McGuire Is Being Called Racist and Anti-Trans by Readers
Jamie McGuire, author of 'Beautiful Disaster,' has been in hot water for her strong viewpoints. Here are some of the things she said.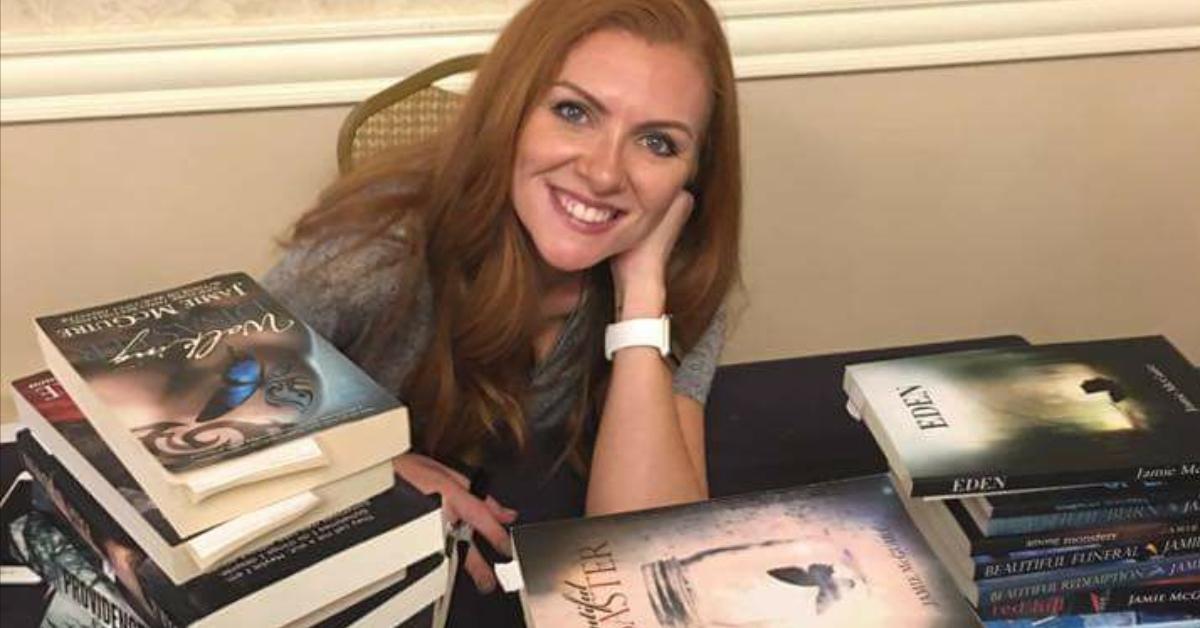 In the film Beautiful Disaster, viewers meet Abby (Virginia Gardner), a college freshman striving to break free from her troubled past all while resisting her attraction to bad boy Travis (Dylan Sprouse).
Leading up to the film's April 2023 release, many Twitter users started discussing the steamy romance title, which is based on a book of the same name by author Jamie McGuire.
Article continues below advertisement
You see, Jamie, who also served as executive producer for the film adaptation, has been known for causing controversy online with her strong viewpoints — which, in turn, has led a lot of folks to dislike her.
Let's take a look at some of the social media posts that she has previously been in hot water for.
Article continues below advertisement
What is the controversy with Jamie McGuire? The author has been under fire for previous racist tweets and other problematic remarks.
It seems that while many people enjoy her novels, Jamie's personal stance on cultural and political issues has turned them off.
Although many of her reported problematic social media posts have since been wiped deleted, some users have been sharing screenshots they took of those alleged posts. In one instance, Jamie showed support for a controversial tweet posted by Harry Potter author J.K. Rowling, who has been widely criticized for her comments about the trans community.
Article continues below advertisement
In other remarks Jamie allegedly made online, she claimed that Black males are responsible for most gun violence, and made an insensitive comment about a dancer's weight.
Article continues below advertisement
Jamie also apparently reposted a controversial video from conservative commentator Candace Owens about the death of Ahmaud Arbery. And she allegedly posted during the Jan. 6 Capitol attack: "Are you all watching the Live Feeds? This is just the beginning. Patriots will fight against fraud and tyranny. We might be looking at the beginning of a new civil war."
In another post, she reportedly wrote: "Didn't you know? Angry black Americans can do anything they want in the name of racism and whites must have absurdly strict consequences despite not breaking any laws. Don't you remember the couple who tried to protect their home against rioters? It's the NEW NORMAL."
Article continues below advertisement
'Beautiful Disaster' has been receiving negative reviews on Twitter.
Whether it's due to Jamie's outlook on issues or just the film itself, Beautiful Disaster hasn't been receiving the best reviews. "The Beautiful Disaster movie was in fact a disaster," one person tweeted.
Another user wrote: "Was a few minutes [away] from buying a ticket for that Beautiful Disaster movie, then I saw the author's tweets. Nevermind."
Article continues below advertisement
The film, which received a 5.3 out of 10 from IMDb, was only in select theaters on April 12 to April 13, 2023. It's unknown why Beautiful Disaster was only out for two days, but it likely would have gotten more publicity if out for longer.
Beautiful Disaster is currently not available to stream on any major streaming services.