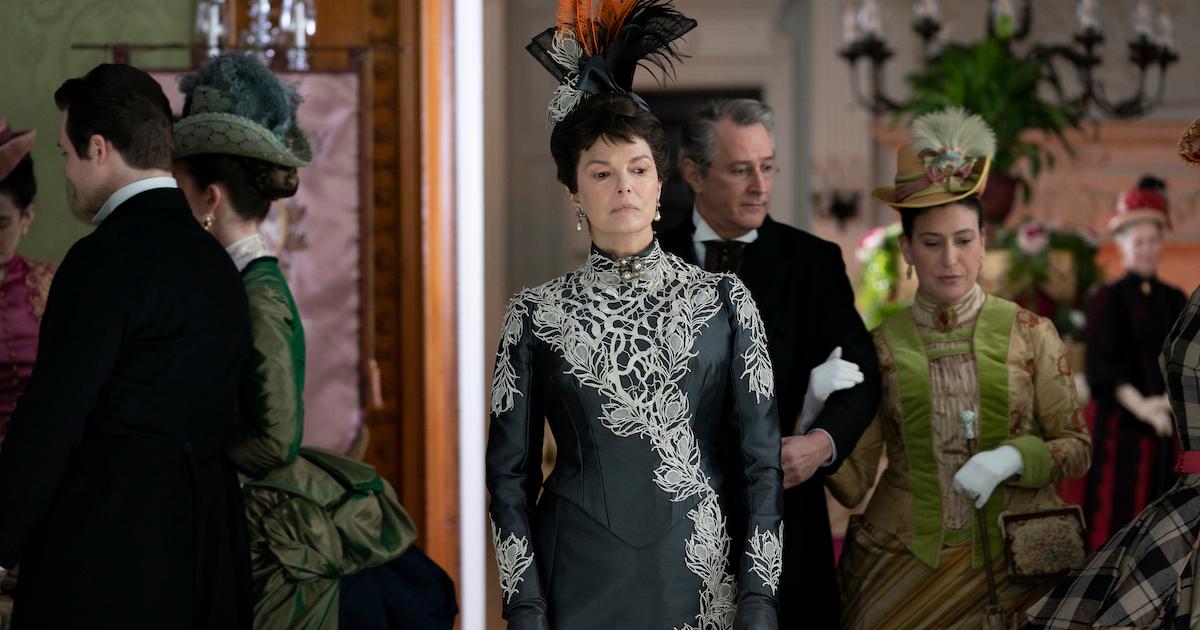 'The Gilded Age' Outcast Mrs. Chamberlain Has a Real-Life Counterpart Just as Scandalous
Although The Gilded Age is still figuring out what's more compelling — the struggle between classes, or the struggle between the different wealthy families — one figure stands out to all of us in Episode 4: Sylvia Chamberlain. Played by Jeanne Tripplehorn, Sylvia is cast out from the inner circle of New York City's high society. Even talking to her is a social death sentence.
Article continues below advertisement
Now, we're finally learning more about the mystery behind who she is. Marian, a naive New York newcomer with an aunt who abides by the rules of old wealth, takes it upon herself to break the rules and talk to Sylvia, and we learn about Sylvia's past. But is she based on a real Gilded Age socialite? And why is Jeanne Tripplehorn so familiar to us?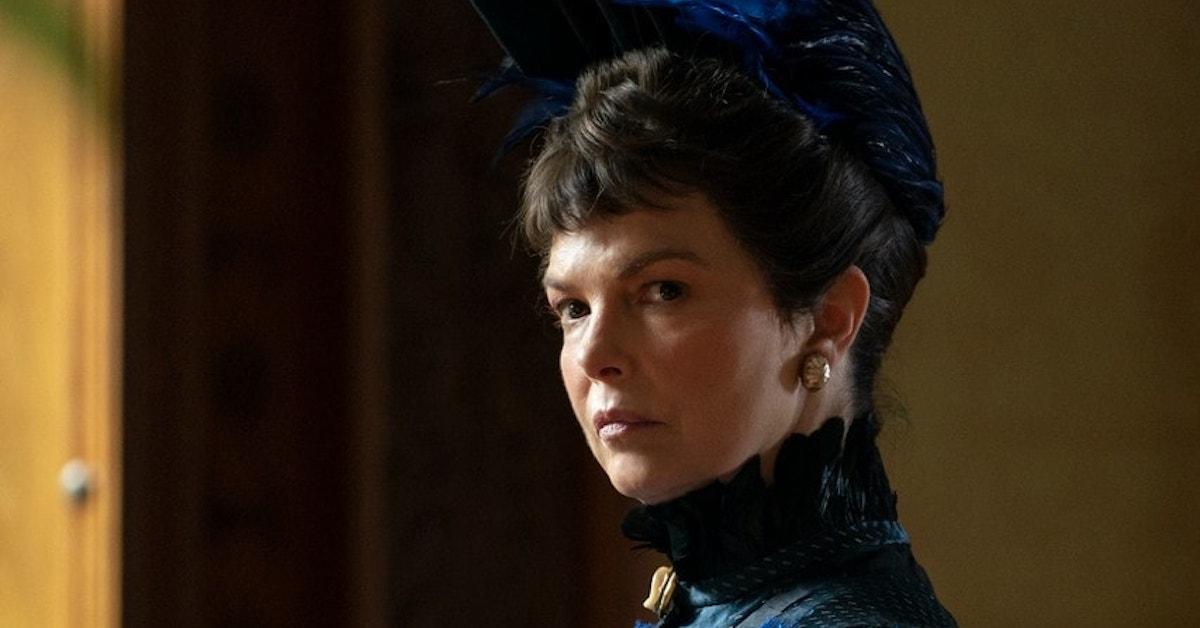 Article continues below advertisement
Sylvia Chamberlain from 'The Gilded Age' is not a real person, but she could be based on one.
Like many of the characters in The Gilded Age, Sylvia Chamberlain does not have a direct historic counterpart. We learn in Episode 4 that the reason she's a social outcast has to do with how she became Lady Chamberlain. She reveals to Marian that she was the mistress of her late husband, Mr. Chamberlain, while his wife was sick and dying.
Sylvia even lived with them and was impregnated by Mr. Chamberlain, so she had the baby out of wedlock, which was a major scandal during the Gilded Age. Once Mr. Chamberlain's first wife died, he married Sylvia and tried to pass off his son as adopted, but secrets rarely stay hidden in New York's finest elite.
Article continues below advertisement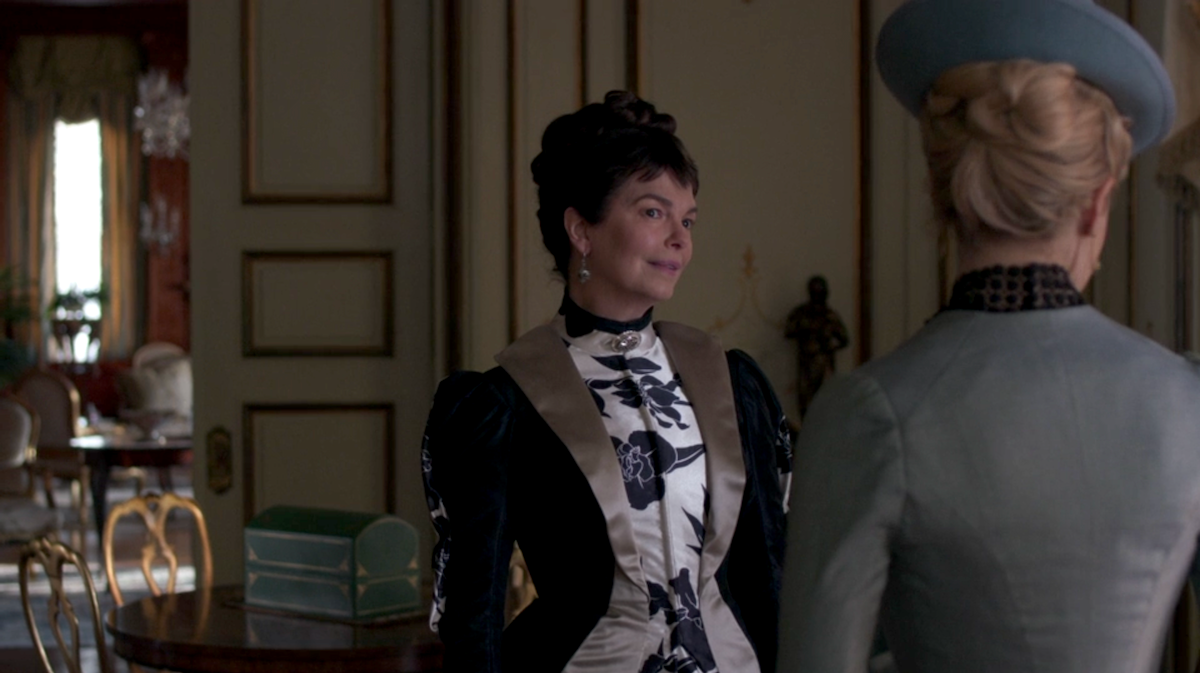 Although Sylvia is wealthy with old money, Aurora Fane and Anne Morris call her money "tainted." But this new conversation between Sylvia and Marian posits that there will be much more of her in the rest of The Gilded Age. One fan even predicted that Marian will get "fed up" with her Aunt Agnes and choose to move in with Sylvia instead.
Article continues below advertisement
So what do we know about Sylvia outside of her social standing? According to HBO's official character bio, "She's a genuine expert in the creative arts and a great art collector," which is clearly evidenced by her art collection full of easter eggs in Episode 4. And while there may not be any historical figure named Sylvia Chamberlain, there are certainly some similar ones.
Article continues below advertisement
One worth mentioning is Arabella Huntington — like Sylvia, she was the mistress to her future husband, Collis P. Huntington, who she likely met while caring for his ailing wife. Arabella then brought her son out of wedlock to the marriage, who Collis adopted. It was widely believed that he was Collis's biological son as well. In addition, Arabella was a renowned art collector, and is responsible for the collection at Huntington Library.
Jeanne Tripplehorn portrays Sylvia Chamberlain in 'The Gilded Age.'
Like many actors in The Gilded Age, Jeanne Tripplehorn began her career onstage. She grew to popularity after starring in Chekhov's Three Sisters on Broadway, and picked up her film and television career. Her first film role was in 1992 in Basic Instinct as Dr. Beth Garner, but more recently, her role as Eleanor Schlafy in Mrs. America turned heads.
Article continues below advertisement
Now, Jeanne brings Sylvia to life in The Gilded Age with her masterful craft of playing a widowing outcast who has all the money in the world.
New episodes of The Gilded Age air Mondays at 9 p.m. EST.