Meet the Real-Life Power Couple the Russells Are Based on in 'The Gilded Age'
'The Gilded Age' is the perfect mix of fact and fiction during an era of scandal. So are George and Bertha Russell based on a real couple?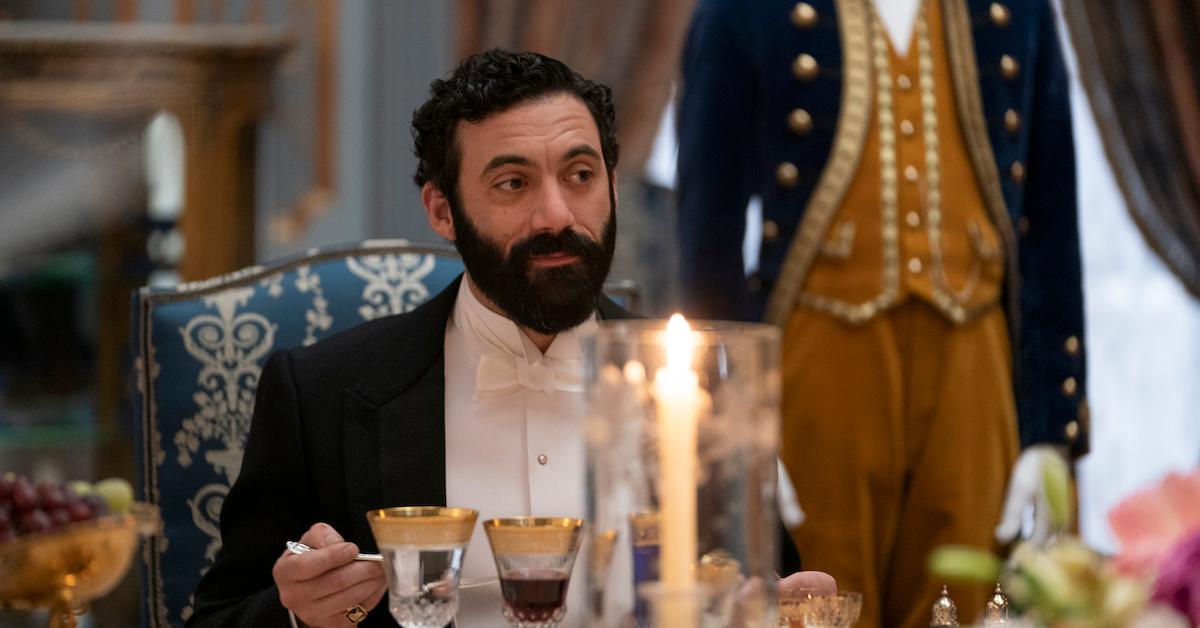 HBO's newest period piece, The Gilded Age, mixes fact with fiction expertly, introducing us to scandalous characters against a backdrop of familiar historical figures. Between the well-known Astors and the infamous Stanford White, there are plenty of characters that map directly to their real-life counterparts. But what about the Russells — are they real people?
Article continues below advertisement
George (Morgan Spector) and Bertha Russell (Carrie Coon) are the patriarch and matriarch of the new money family that moves into the beautiful mansion across from Central Park … and across from the Van Rhijn estate. It's the perfect contrast between old and new money; Agnes Van Rhijn (Christine Baranski) adheres strictly to the rules of old money, closing herself off to all those with new money. The Russells are there to threaten that.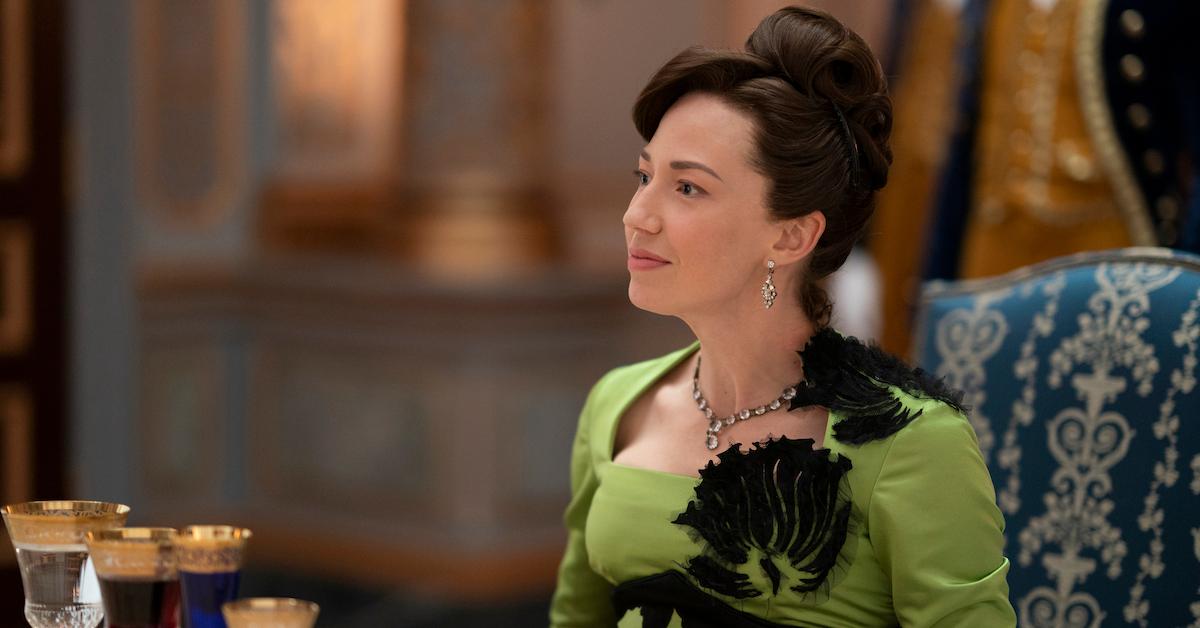 Article continues below advertisement
Within the first three episodes of The Gilded Age, the Russells make their mark on New York City. George Russell is a robber baron not to be messed with, and Bertha is an unyielding woman when it comes to getting what she wants. In this case, that's acceptance into New York City's inner circle of wealth, and the power that comes along with it. So far, no one has allowed her in, but we expect that that will change. But are the Russells based on real people?
George and Bertha Russell in 'The Gilded Age' weren't real historical figures, but might be based on a real couple.
In a promo for The Gilded Age, Morgan Spector compares his character of George to the real-life Jay Gould. Like George, Jay Gould was a robber baron during America's actual Gilded Age. Not only that, but Jay was a family man. Similarly, George puts his family first in the show, and watching Morgan bring him to life is fascinating. In the home, he's a warm, loving figure who supports his wife and children to no end, but in business, he's as cold to the point of lacking any sort of feeling.
Article continues below advertisement
Apparently, Jay also wanted to bring his family into New York's high society, but Mrs. Astor would never allow it … that is, until Jay passed away. Julian Fellowes, the creator of The Gilded Age, has also confirmed that George is at least partly based on Jay Gould.
Article continues below advertisement
Morgan explains, "Gould was really vilified in the papers at the time. He was someone who became a kind of living embodiment of all of the inequalities of the era. He has such insane levels of power and sometimes he uses them on really vulnerable people and just crushes them like ants … There's an aspect of George where he gives his own fury free rein sometimes [that is] almost inhuman."
We've already seen that side of George come out, and we're sure that as a fictional character, he could go even further than his real-life counterpart.
The Russells might also be partly based on the Vanderbilts in 'The Gilded Age.'
The biggest hint that the Russells aren't directly based on the Vanderbilts is that the Vanderbilts are actually mentioned in The Gilded Age. Bertha mentions the Vanderbilts when she talks about getting into high society's inner circle herself. If Mrs. Vanderbilt can do it, so can she. In reality, there are a lot of parallels between the real-life Vanderbilts and the fictional Russells.
Article continues below advertisement
The Vanderbilts are perhaps the most famous and first family to come into wealth through new money: robber baron money. Cornelius Vanderbilt had a very similar trajectory to George Russell, although several decades earlier. In fact, the term "robber baron," was coined to describe Cornelius in the New York Times in 1859. In The Gilded Age, however, it's actually Alva Vanderbilt that Bertha refers to when she mentions the Vanderbilts.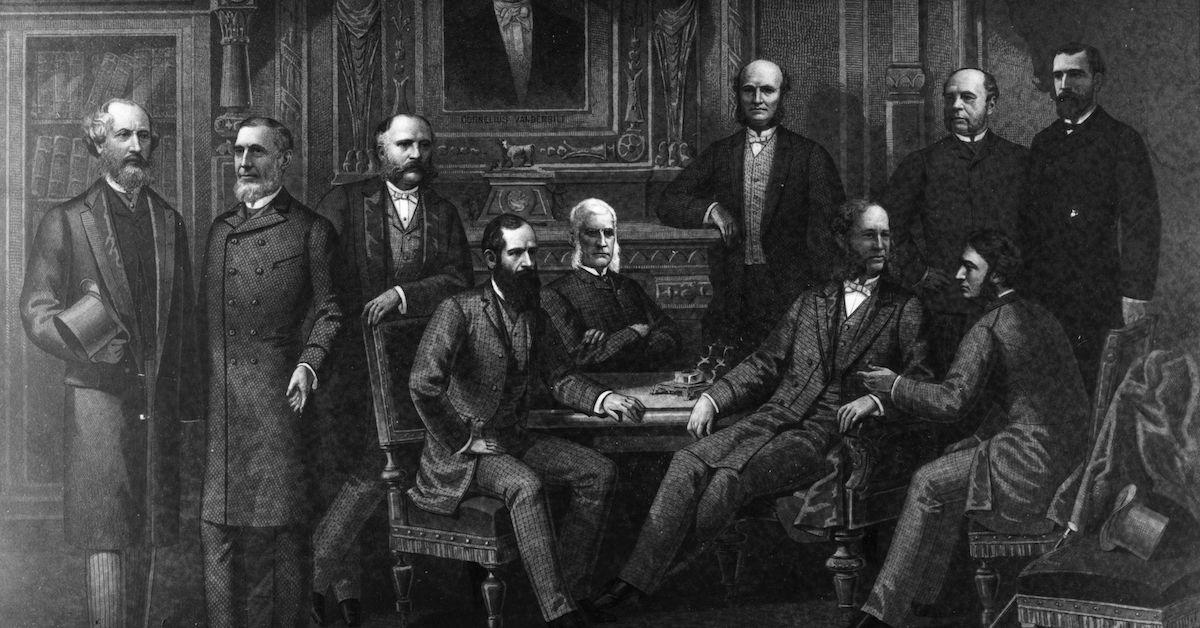 Article continues below advertisement
In reality, Alva, who was the first wife of Cornelius's grandson, was the figure that was able to bring the Vanderbilts into Mrs. Astor's circle. In addition, Alva and William's daughter, Consuelo, was married off to the Duke of Marlborough in another grab at high social status. Could Bertha do the same thing to her daughter, Gladys (Taissa Farmiga)?
A connection between Gladys and the closeted heir of the Van Rhijn fortune already seems to be on the table, and we expect a lot more to unfold as the Russell couple attempts to grab power.
New episodes of The Gilded Age air every Monday at 9 p.m. EST on HBO.