HBO's 'The Gilded Age' Transports Viewers to 19th-Century New York
Starring Cynthia Nixon as Ada Brook and Christine Baranski as Agnes Van Rhijn, HBO's latest historical drama transports viewers to 19th-century New York, an intriguing place where those with old money and those without were caught up in a heated contest.
Created by Julian Fellowes, an actor, producer, and scriptwriter who rose to international fame with Downton Abbey, The Gilded Age aims to take a new look at the titular period of unparalleled growth, expansion, and, of course, drama.
Article continues below advertisement
Are the characters in 'The Gilded Age' based on real people?
Dubbed the American Downton Abbey by NPR, The Gilded Age spotlights the strange intricacies of the Gilded Age, a historical period characterized by wage growth, rapid industrialization, and immigration.
With costumes designed by Kasia Walicka-Maimone and a set dreamed up by Regina Graves, the show offers plenty of eye candy for Downton Abbey fans and beyond. But is it based on a true story? Are the characters based on real-life figures?
Article continues below advertisement
The Gilded Age aims to peel off the shiny surface and take an in-depth look at the real motivations driving characters like Agnes Van Rhijn (Christine Baranski), a high society woman who spends her days dictating letters to her secretary, and Peggy (Denée Benton), a Black woman who wants to become a writer.
It's uncertain if the characters featured in The Gilded Age are based on real-life figures. According to Smithsonian Magazine, their behavioral patterns do ring true to the era. Take, for instance, Agnes van Rhijn's insistence on honoring centuries-old traditions, or Bertha Russell's (Carrie Coon) and her husband, George's (Morgan Spector) attempts to buy their way into the upper echelons.
Article continues below advertisement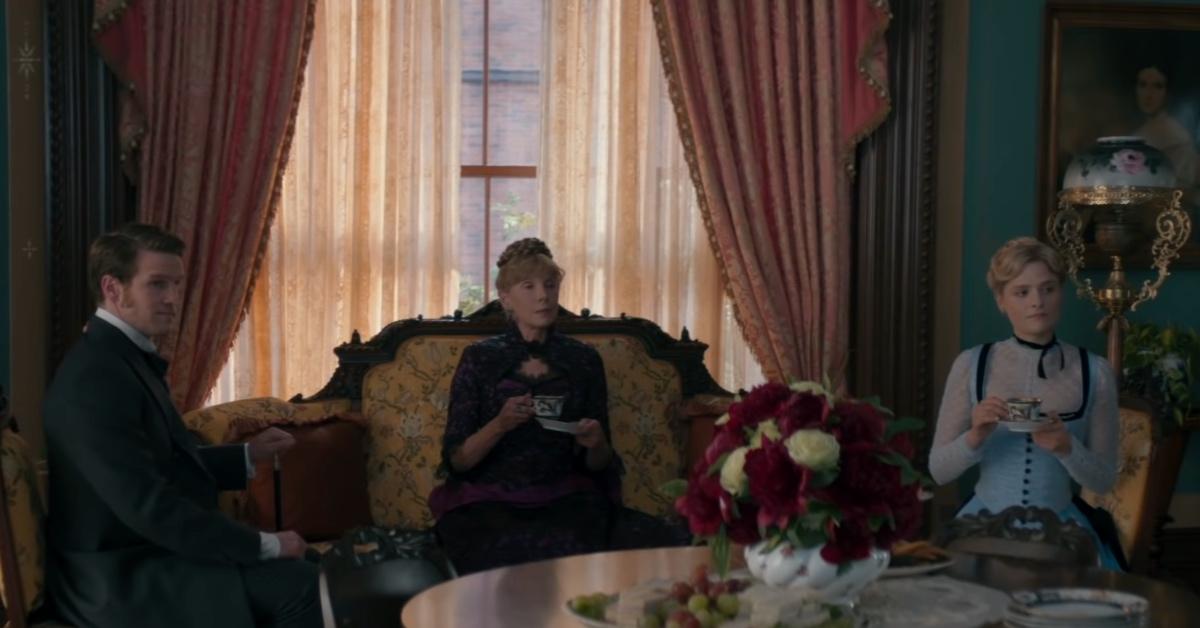 Alternatively, take Ada's attempts to urge her nieces to follow her path and uphold the same gendered ideals. The generational conflict between her and her nieces can be taken as an illustration of the increasingly divergent approaches emerging in the period — as part of which high society women became increasingly able to fulfill their ambitions.
Article continues below advertisement
Although domestic labor continued to serve as one of the most viable and commonplace forms of money-making for Irish immigrants and people liberated from enslavement and their descendants, the Gilded Age was a period characterized by the possibility of change for many, per Smithsonian Magazine.
"There is a palpable connection between this show and 2022 and thinking about how wealth is achieved, how it is safeguarded, how it is inequitable, and ... who gets to live lives that are charmed, at least financially," Erica Armstrong Dunbar, the main historical consultant on the show, told Smithsonian Magazine.
Article continues below advertisement
'The Gilded Age' puts the unprecedented economic growth and the vast inequalities that made it possible into the spotlight.
"It was originally Mark Twain who called this the Gilded Age," Julian Fellowes told Entertainment Weekly. "It was all about the look of things, making the right appearance, creating the right image. That's what was really what distinguished the era. What happened after the Civil War was over was how these enormous fortunes grew out of it. ... You had these great rivalries between the new families and the old."
"While The Gilded Age is a fictional show, it's important to ground the storytelling in authenticity. We want viewers to feel and see a landscape that is from the past yet believable and accurate," Erica said. "We want viewers to experience and marvel at the progress of that moment but to also understand the very real hurdles that existed for many Americans."
The Gilded Age airs its premiere on Jan. 24, 2022, at 9 p.m. EST on HBO and HBO Max.