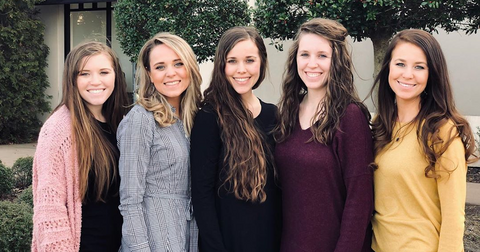 Jessa Duggar on 'Say Yes to the Dress: Atlanta' Criticizes SIL's Revealing Gown
By Michelle Stein

Updated
If you know anything about the Duggar family, then you're probably aware of how extremely conservative and highly religious they are. Michelle and Jim Bob enforce strict rules about modesty and clothing — to the point that their daughters aren't allowed to wear pants, can't show their shoulders, and are required to wear their hair long.
So it isn't too surprising to hear that Jessa Duggar criticized her sister-in-law's revealing gown on a recent episode of Say Yes to the Dress: Atlanta.
As a refresher, Jessa is the 27-year-old daughter of Michelle and Jim Bob. She married Ben Seewald back in 2014, and they now have three children together: Spurgeon, Henry, and Ivy.
Back in May 2019, Ben's younger sister, Jessica Seewald (yes, I know it's confusing) got married. But before that, Jessa helped her sister-in-law pick out the perfect gown to wear on her big day — and she did so on Say Yes to the Dress: Atlanta, no less.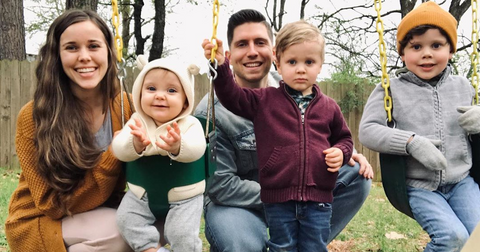 Jessa didn't mince words on 'Say Yes to the Dress.'
A sneak peek of the Season 11 premiere of Say Yes to the Dress: Atlanta — which aired on TLC on March 21 — showed Jessica trying on wedding gowns at Bridals by Lori in Atlanta. Although Jessa encouraged her SIL to pick out more modest styles of dresses, Jessica wanted something more And Jessa didn't hesitate sharing her opinion about her sister-in-law's revealing gown.
"Absolutely, like, no," Jessa declared to the camera, after Jessica came out wearing a low-cut A-line gown. "The neckline was definitely too low. That's not really what you should look like on your wedding day."
"But I love the cut of the skirt and all that," Jessa conceded.
The thing is, the dress Jessa criticized was actually the second dress Jessica tried on — and Jessica she knew right away she liked the first one better.
"The first thing a noticed was my chest just everywhere," Jessica said to the camera, after trying on the "too revealing" gown. "I wanted to show my curves, but this is a little bit too flashy."
"Maybe going out in this dress is a good strategy," she added. "After they see this dress, they're going to be totally fine with the first dress." (In case you were wondering about Jessa's opinion on that first dress, it was a little less harsh: "Yeah, it's a little low.")
Spoiler alert: It looks like that strategy worked for Jessica. An Instagram post from May 2019 reveals what appears to be that first dress she loved so much. "Best moment of my life," she captioned the photo of herself and her new husband Phillips Lester.
Jessa Duggar's wedding dress was quite different.
When it came to her own wedding, Jessa chose a ballgown-style dress — which featured an elaborate beaded bodice — in blush pink. It was both modest and elegant.
"I love that it has a little bit of sparkle to it but not too much," Jessa said on 19 Kids and Counting. "It's blush-colored so it's kind of got a little pink to it. Something a little different. It's just a fun dress. I love it."
It's clear that Jessa and Jessica have seriously different tastes when it comes to wedding dresses. Personally, I love that while Jessica seemed cool with her family offering their opinions on Say Yes to the Dress, she ultimately went with what she liked best. Jessa Duggar's "modesty" opinions, be damned.