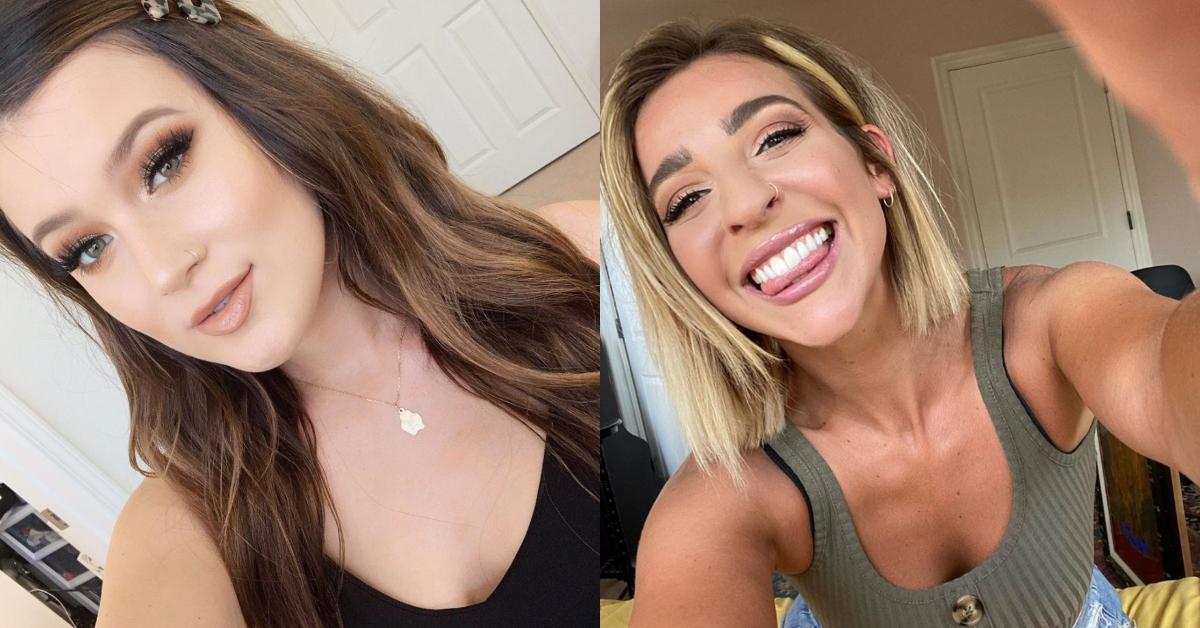 Jessi Smiles Released More Receipts on Her Feud With Gabbie Hanna
The feud between YouTube stars Jessi Smiles (real name: Jessi Vasquez) and Gabbie Hanna has been a long one spanning the last couple of years. While some believed the pair were done fighting after their online brawl in the summer of 2020, the pair have each released more receipts on the matter.
Article continues below advertisement
Article continues below advertisement
What happened between Jessi Smiles and Gabbie Hanna? It all started almost seven years ago.
Article continues below advertisement
Gabbie spoke about the drama on 'TMZ,' placing the blame on Jessi.
In a video interview with TMZ, Gabbie was asked about the drama between her and Jessi. Gabbie said Jessi shouldn't have made public her DMs, in which she discussed her opinions on the lawsuit. She followed it up by saying that she is incredibly toxic as a friend, and needs to go to therapy.
Article continues below advertisement
Jessi retweeted the interview, saying: "I want to make something VERY CLEAR - after Gabbie's video, I tried to reach out to her in a VERY calm way. The second I mentioned screenshots of what she truly said on the day of TMZ, she no longer wanted to speak and said that I was threatening her. The truth is NOT a threat."
This obviously inspired a massive tweet storm from Gabbie's end, claiming Jessi always sought to slander her character.
"Here's some proof from Jessi's own video that shows that Jessi has been actively trying to control my relationships and destroy my reputation for years. This is what abuse looks like. Isolation, control, and eventually, character assassination," Gabbie said in a tweet, along with several others. Yikes.
Article continues below advertisement
Article continues below advertisement
Jessi then released a recorded call she had with Gabbie regarding the drama.
In a series of tweets, Jessi released an edited recording of a call she had with Gabbie the previous summer, claiming she felt the need to release the call to defend herself.
"I never planned to release it. In fact, there's nothing I want more than to never talk or think about Gabbie ever again," she wrote. "But her continued lying about my trauma has officially broken me and I don't know what else to do."
Article continues below advertisement
In the tweets, Jessi shares the recordings detailing their conversation around Gabbie's friendship with Curtis and the since-deleted tweets that have been at the center of their many feuds.
In the call, Gabbie told Jessi she wanted her to release a public apology.
"I want a public statement and apology saying 'I should have never done this. It was inappropriate to share private conversations publicly,'" Gabbie told Jessi. "That is the way that I will stop talking about this."
Throughout the call, Gabbie repeatedly asked for this public apology and threatened legal action otherwise, to which Jessi suggested they battle it out in court.
"Let's keep this offline and just sue me and we'll see what happens in court," Jessi said. "And then we don't have to bring our followers through this."
"I'm more interested in bringing my fans into it," Gabbie replied, "because those are the ones who are affected."
Article continues below advertisement
Gabbie and Jessi both released further videos on the conflict.
Gabbie has started rehashing her old conflicts publicly in a new series on her channel, and while she promises she has more than one video addressing her ongoing conflict with Jessi, she released an entire 30-minute video specifically addressing the clips of the phone call Jessi shared.
In the video, Gabbie claimed Jessi has subjected her to "narcissistic abuse, blackmail, harassment, stalking, slander, smear campaigns, gaslighting, threats of physical violence, and online harassment."
Article continues below advertisement
"It's not right for you to be able to say whatever you want, and then I can't be asked about it, I can't respond about it, I can't defend myself, I can't share my side of the story," Gabbie said. "I was asked about her because since 2015 Jessi has made it her mission to align me with her rapist, and finally in 2019 it worked, and that's been my life ever since."
Article continues below advertisement
While the comments disagree with much of what Gabbie is claiming, Jessi responded directly to the claims in an 80-minute video of her own. In her video, she outlined their previous interactions and attempts to reach a peaceful conclusion and asked Gabbie to "stop talking about [my sexual assault]."
Article continues below advertisement
"I have repeatedly asked this woman to stop. To stop talking about my rape, to stop talking about my trauma, to please leave this out of her narrative," Jessi said. "Talk about anything you want. Stop talking about that. She blackmailed me. I want the truth out there. I want to be the one to deliver my truth. What she's doing on this platform is dangerous. She is a dangerous person to have a platform."
Hopefully Gabbie and Jessi can work things out, but at this moment in time, it seems unlikely. We're certainly hoping for the best.
If you need support, The National Sexual Assault Hotline is available 24/7 at 1-800-656-4673. You will be connected with a trained staff member in your area. Or visit RAINN.org to chat online with a support specialist at any time.
For mental health services, use SAMHSA's Behavioral Health Treatment Services Locator to find support for mental health and substance use disorders in your area: https://findtreatment.samhsa.gov, or call 1-800-662-4357 for 24-hour assistance.