Telling Video Compares How Jill Biden Greeted Joe vs. How Melania Trump Greeted Donald
Jill gave her husband a big, warm hug, and Melania stood stiffly next to Donald Trump, seeming to barely want to hold his hand.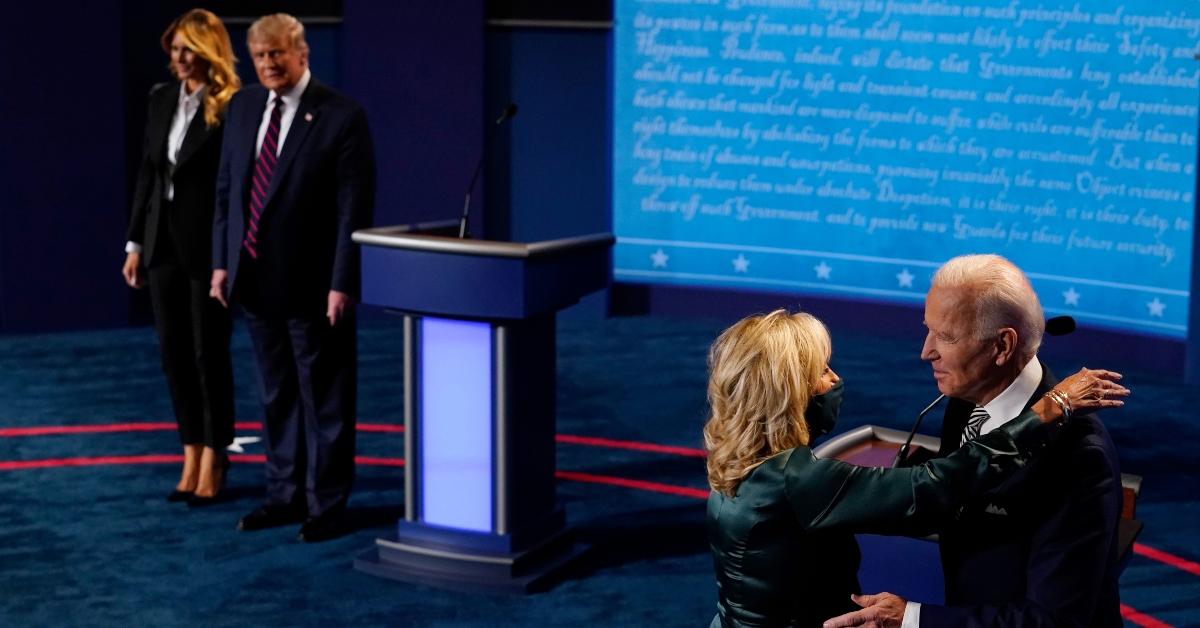 Remember the presidential debate? It was a few nights ago. You probably blocked it out by now because it was terrible in just about every single way. Donald Trump talked over Joe Biden just about the whole time. Moderator Chris Wallace did not take control of the situation.
Article continues below advertisement
It was an unmitigated disaster. Everyone thought so. Jake Tapper of CNN called it a "hot mess inside a Dumpster fire inside a train wreck." AJC posted this hilarious note from the editorial board about "What We Learned From the Debate."
Article continues below advertisement
After a brief note, they post everything we learned from the debate...which was nothing. It's just a blank sheet of paper. The consensus was that this presidential debate was something everyone would rather forget happened.
So why are we here, talking about it again? Well, because after the debate was over, Jill Biden walked up to her husband and Melania Trump walked up to hers. But the way they greeted the men they're married to was very specific...and very different.
Article continues below advertisement
And many people took note. Jill Biden greeted Joe with a warm hug while Melania barely seemed to want to hold Donald's hand. It speaks to the difference in their dynamics and to their notions of family and love. Watch the stark difference between the two interactions below.
Article continues below advertisement
The person who posted this video on Imgur captioned it, "Joe Biden gets a hug from Jill Biden. Trump tries to force something from Melania." That sounds about right.
Many commented on the strange jerky motion of Melania and Donald's hand-holding. What do we think is happening there? Is she trying to escape his grip? Is he trying to pull her closer? Whatever's going on, it doesn't look how you would expect two human beings in a loving marriage to act toward each other.
Article continues below advertisement
One clever Twitter went so far as to speculate about what Melania said to Donald Trump when she approached him, and then what he said back to her. "Don't touch me. I'll call security," they write for Melania's lines. Then, as Donald looks over and sees Jill and Joe in a warm embrace, they imagine him asking Melania, "Can we try doing that next time?"
Article continues below advertisement
It's probably not exactly accurate to what happened, but it honestly doesn't look that far off. One Twitter user wrote, "Jill Biden shows her husband love and support at the end of the debate. Melania looks like she'd rather hug Joe too."
"Even the difference in the way Melania and Jill approached their husbands after the debate speaks VOLUMES," another person wrote. Melania has been caught on camera many times in the past four years balking at Donald's attempts to force her to display affection.
Article continues below advertisement
But when it's right there on stage happening at the same time that Joe and Jill Biden are so warm and loving with each other, it really makes you see the difference in the way these two men relate to their own families.
Being in a loving marriage shouldn't be a prerequisite for the job of President of the United States. But when a president has shown coldness and disregard for others over and over and over again during his term, you can't help but attach meaning to the way his own wife reacts to his presence.