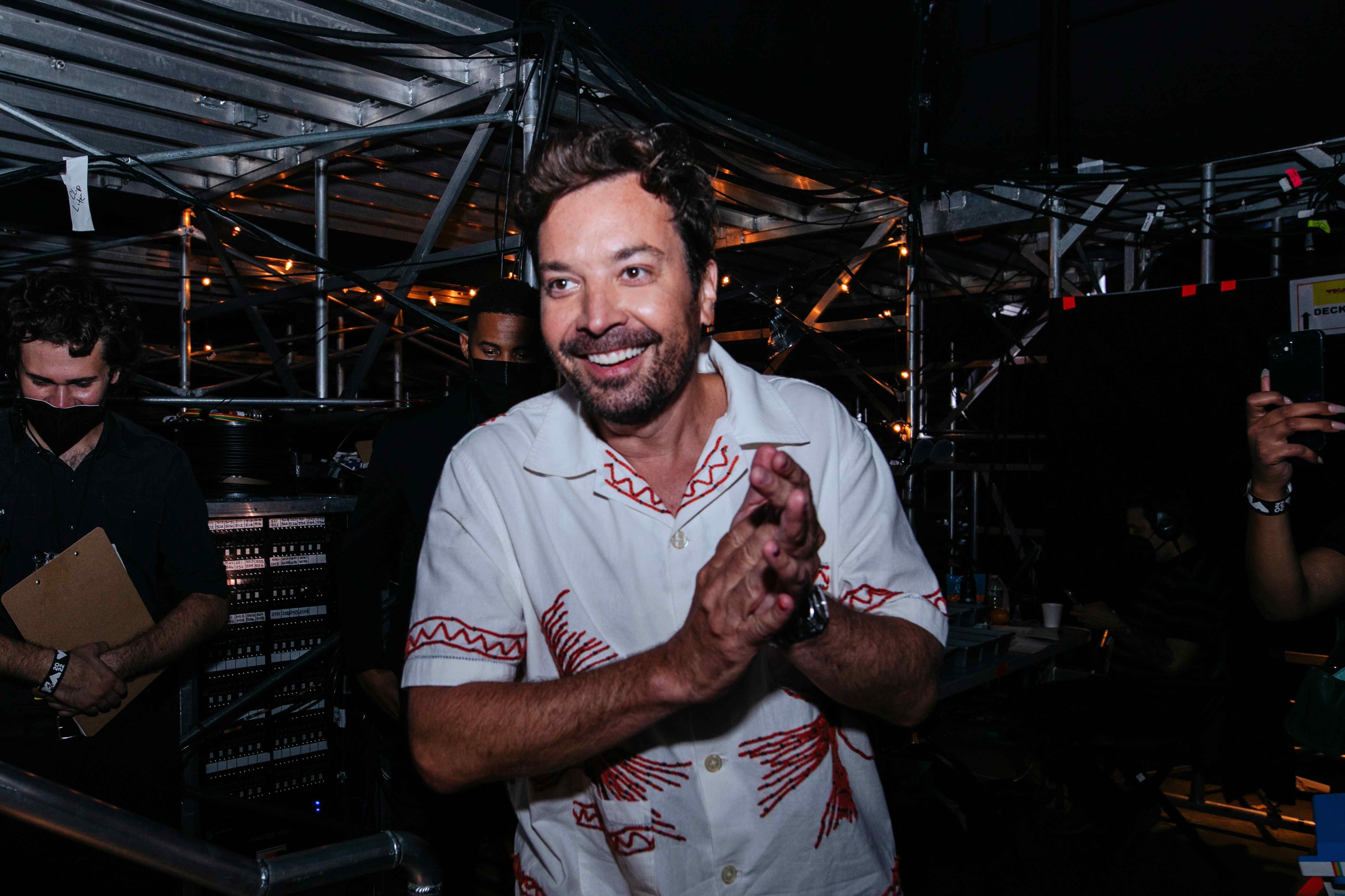 Jimmy Fallon Is the New "White Boy of the Month" Thanks to His Facial Hair
Article continues below advertisement
The comedian and SNL alum displayed quite the rugged look on stage, sporting a loose white button-up shirt and scruffy facial hair that had Twitter in a chokehold. So, what's up with Jimmy Fallon's new look? Keep reading for all the known details.
Article continues below advertisement
Jimmy Fallon's beard has the fangirls in shambles.
After introducing his new look in August 2022, Jimmy Fallon became the latest "white boy of the month" on Twitter. Let's face it — his casual ensemble and unkempt beard had many viewers thirsting after him.
One fan tweeted that Jimmy looked "fine AF" on stage at the Video Music Awards, while another said he was "looking yummy." A third viewer went as far as to claim the actor looked "daddyish," and a fourth referred to Jimmy as a DILF.
Following the unexpected social media reaction, Jimmy took to Instagram and poked fun by saying he's "out here causing 'thirst' and 'confusion.'" The comments on his post are hilarious, with many begging the Taxi star to avoid a razor at all costs.
Article continues below advertisement
Luckily, Jimmy took their advice because he's been back hosting The Tonight Show with his beard!
On Sept. 12, actress and talk show host Drew Barrymore appeared as a guest on the late-night program and kicked off her interview by drawing attention to her longtime friend and Fever Pitch co-star's new beard.
Article continues below advertisement
Drew Barrymore said Jimmy Fallon's beard is "a good look."
"You kept the beard!" Drew teased, adding, "You love it because everyone's saying you're so hot right now."
The 47-year-old Golden Globe winner recalled the first time she saw Jimmy's beard, telling the audience she noticed it in front of a lemonade stand with their respective kids: "I was like, 'Oh, so this is a new look,'" Drew said. "And then I hear that everybody saying how hot he looks, and I've noticed, it's still on!"
Article continues below advertisement
After more teasing, Jimmy offered an explanation (if you can really call it that) as to why his beard is still around: "I just kept it on, I figured, I'm just gonna keep it on, I have nothing ... I figured ... I don't know why, I'm just going to leave it on."
In the end, Drew turned to the audience and said that the beard is a "good look" for Jimmy, and it seems Twitter still agrees because, following the episode, more fans chimed in on Jimmy's facial hair.
"I'm very sorry, but it must be said: Jimmy Fallon looks fantastic with a beard," one person tweeted. "I don't care what y'all have to say about him either, I won't be convinced otherwise." A few other Twitter users wondered if Jimmy was growing a beard for a new movie or possibly a Halloween costume. Whatever the reason, I think we can all agree that we love it.