"Do Your Research" — Woman Unveils a Job Scam That Leads to an Overdrawn Bank Account
In a viral video, a woman reveals that job scams are becoming more common. Luckily, she offers some tips on how to avoid falling for them.
Unfortunately, job scams are becoming more common these days. These scammers prey on the vulnerability of job seekers, offering them the much-needed money they desire. It's a despicable practice, but luckily, many people are spreading the word and offering tips on how to avoid falling for one of these traps.
Article continues below advertisement
On Aug. 4, 2023, TikTok creator Shannon (@shannonjenk) shared a story about her friend getting scammed out of over $23,000. Ugh — we don't know about you, but we're devastated for her.
Read on for all the known details. Plus, stick around to hear what social media has to say.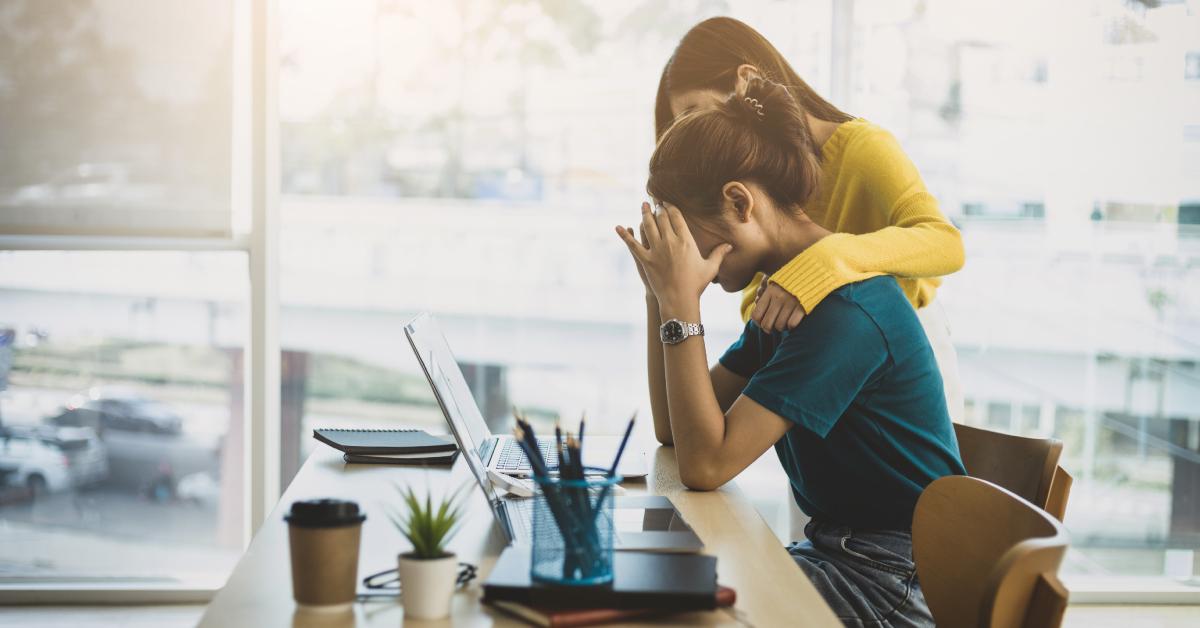 Article continues below advertisement
Beware of this job scam that results in an overdrawn bank account.
"Do not, and I mean do not, fall for this scam," Shannon urged before jumping into a story about her friend falling victim to a brutal job scam that led to an empty bank account.
Shannon said one of her good friends from college was "desperately looking" for a job post-graduation. She'd been on the hunt for a while but eventually found a great opportunity and ran with it. After reaching out to this company, the friend realized it was everything she wanted. Soon after, she got the job.
Article continues below advertisement
She received a contract and even got on-boarded for training: "This person I'm talking about got live training every single day and was sent things to do every day, like homework," Shannon said, adding that her friend talked on the phone with real people every day (they even helped Shannon's friend with her "homework").
Article continues below advertisement
After completing training, Shannon's friend linked her bank account with the company for direct deposit. She gave them her routing and account number, and not long after, she found out her account had been overdrawn.
"They look at their account, and it literally says negative $23,000," Shannon said of her friend, who lost all contact with everyone from the "company" after she realized it was a scam.
Article continues below advertisement

"What I'm saying is do your research on companies ... even LinkedIn, these really credible sites, have scammers. Do your research on the company: Make sure that it's a real company, message people about it, look at reviews. Make sure you do thorough research," Shannon explained.
Article continues below advertisement
"Be smart, do your research, ask for proof," she added. Shannon noted that her friend called the police, filed reports, and called the bank, but the money has still not been replaced, and the scammer has not been found.
Unfortunately, many fellow TikTokers shared similar experiences.
The video, which was posted in August 2023, has been viewed more than 323,000 times and counting.
"This literally happened to me today," one person said in the comment section. "Luckily, I read that offer letter like a hawk and found too many typos for my liking."
Article continues below advertisement

Another wrote, "Same thing happened to me. It was an actual hospital. The offer letter even had a letterhead."
"This happened to me, but it was an actual company! I called the company looking for 'this person' I've been speaking to, and they told me there isn't a person by that name," a third user commented. "I told them what was going on, and they said they weren't even looking for employees to hire — it was INSANE!!!"