Everyone Thinks Joe Burrow Looks Like Macaulay Culkin, and the Memes Soon Followed
Cincinnati Bengals Quarterback Joe Burrow has led the squad to the Super Bowl, but most of the memes involving him feature 'Home Alone' references.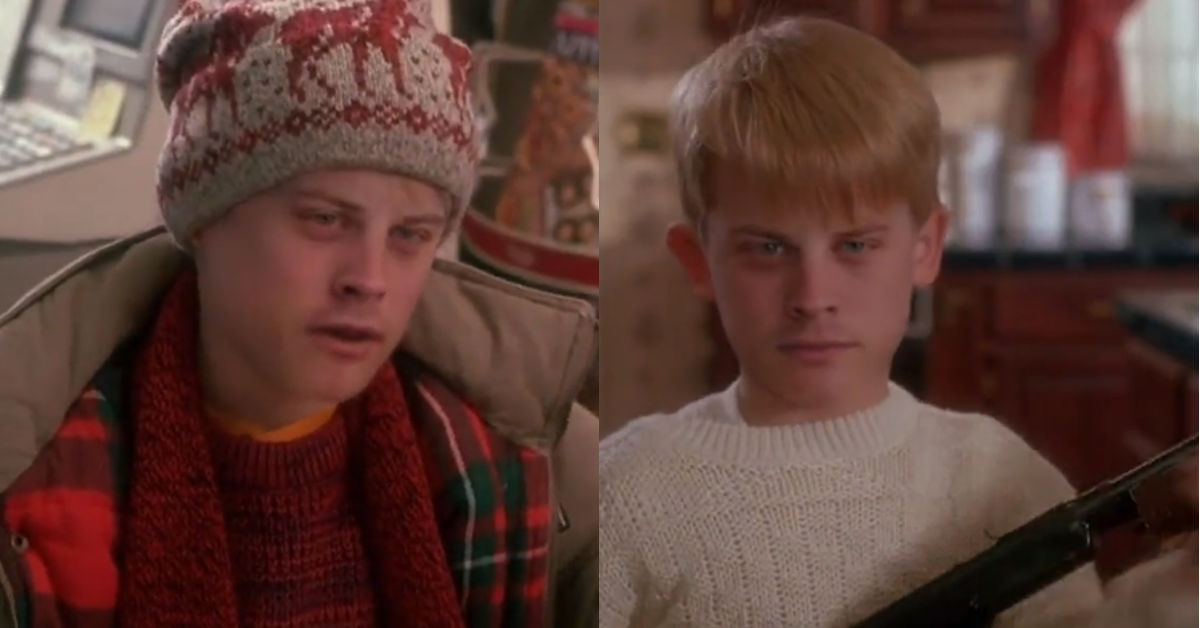 For anyone who followed college football and saw Joe Burrow play, they knew that the LSU quarterback was something special. That's why it didn't come as a surprise when he was drafted into the NFL with a ton of high hopes trailing behind him.
And while many folks are fans of Burrow's cool, calm, and collected demeanor, with some calling him Joe Brrr-ow because of his ice cold dedication to winning, there's another nickname he's been given: Macauley Culkin. And that's because of the resemblance people think he has to the Home Alone star, which has been pointed out in a ton of memes.
Article continues below advertisement
Cincinnati Bengals fans are loving these Joe Burrow 'Home Alone' memes.
Many believe that the point was first made by The Advertiser in 2019 who wrote that pigskin fans were unable to "unsee" the similarities between Burrow and Culkin: "Burrow had just as much fun scoring eight touchdowns Saturday against Oklahoma as Kevin McAllister defending his house against the Wet Bandits."
And from that point onward, tons of folks began posting on social media that they too saw how much Joe Burrow looked like The Good Son actor.
All memes and joking aside, what Burrow has accomplished in the NFL since 2020 is pretty phenomenal - to be playing in the 2022 Super Bowl so shortly after getting drafted is a huge feat.
Article continues below advertisement
Not to mention the fact that the Cincinnati Bengals have never won a Super Bowl previously means that he's giving the franchise the biggest chance they've ever had at securing a Championship than they've ever had arguably in their upcoming contest against the LA Rams.
Article continues below advertisement
A lot of the memes feature carefully selected Joe Burrow pictures paired with photos of Macauley Culkin and it's delightful to see the care that's gone into crafting them.
Article continues below advertisement
A lot of the other memes depict Culkin as Burrow and the Rams opposition as the Sticky Bandits, suggesting that Burrow will triumph over them just as McCallister did when the two crooks tried burglarizing the Chicago Suburban home in the 1990 film.
Article continues below advertisement
Others just appreciated the swag of Joe Burrow, likening them to the inventiveness of the enthusiastic young boy who enjoyed having a house all to himself and relied on his ingenuity to extricate himself for a dire situation.
Article continues below advertisement
And of course it didn't take long for people to bust out the deepfakes, superimposing Burrow's face on Kevin's from scenes of the movie.
Article continues below advertisement
There's no shortage of memes that depict the Rams as the villains in this narrative, and if LA do manage to overcome the Bengals during the big game, then there may be a series of gloating memes that take screenshots of the film where the Sticky Fingers bandits get the drop on Kevin.
Article continues below advertisement
But for now, it seems like Bengals fans are having a field day pumping themselves and other Cincinnati supporters up with the Home Alone memes.
Article continues below advertisement
There are some quips people are making that depict Burrow as an alternate reality Macauley Culkin too. Like what would've happened if Cukin got into sports and hit the weight room or made sure his daily protein intake was higher?
Although there are some people who think that the joke got old real quick.
Article continues below advertisement
What do you think? Is Joe Burrow just basically an alternate reality Macauley Culkin? Or are you more concerned with the commercials that'll be playing during the big game to care?